Social Media a Must
Oregon wine industry embraces online presence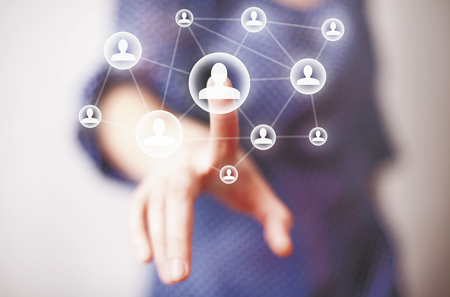 Social media has become a staple of our society with millions swiping through their day, seeking the latest information. No longer just a place to keep up with friends and family, it has developed into a one-of-a-kind peek into the lives of popular celebrities or a way to follow organizations and brands you like. The Oregon wine industry plays an active role in this media phenomenon, even if it took a while.
Oregon wine didn't initially jump on the social media bandwagon with the exception of a couple Facebook pages, primarily because the people in the industry thought more about making the wine than selling it.
"People got into the industry either to make wine or grow grapes," Linfield College Professor Jeff Peterson said. "It never really occurred to them that marketing is needed to sell wine, much less social media"
Over the past five years, social media has boomed in the wine industry, too huge to ignore. Facebook, Instagram and Twitter are now the standards for any winery with an online presence.
"[Social media] can build a deeper connection and maintain the relationship that was built face-to-face," said Matt Wieland, Fullerton Wines' communications/wine club manager. "It's an invaluable way to continue to communicate beyond that bottle someone just had."
Although Facebook started as the primary account for many wineries, over the last couple years, Instagram has become the latest go-to. With its focus on images, this platform represents the new trend in wine social media use.
"The visual element tends to pair beautifully with our industry," Wieland said. "We love to story-tell and doing that through images makes it more authentic."
Authenticity becomes one of the major challenges for wineries trying to tell their story through social media. Managing these different platforms is a full-time job, and owners or winemakers don't have the time to send a post every day. This gap led to the trend of hiring an in-house marketing team or consultant agency to help.
The in-house positions possess the rare opportunity to engage daily with the family running the winery while setting aside the time for strategic posts. They work around the clock during harvest, or at the dinner table with the owners, in order to experience the winery's story.
"Nothing can replace that face-to-face interaction that occurs in house," Wieland said. "There is a level of authenticity achieved leading to a more accurate voice. That's tougher to do when someone isn't at the winery every day."
However, when in-house marketing teams need help with the latest changes to social media use, consultants step in. They spend their days focused on creating strategic social media.
"A consultant is really an extension of the marketing team that keeps up with all of the changes," said Brooke Huffman, owner of The Social Sip. "Our main purpose is to help maximize the impact of social media and calculate the results."
For those who fully commit, social media provides unique opportunities to communicate with customers regularly, developing personal relationships with the winery and could even help people decide on new places to go wine tasting with sites like Yelp.
"[Social media] can help a winery get to the on the top of the consumers mind," explained Brian Richardson, owner of Vinbound Marketing. "Creating interesting content on social media can be a positive experience for both wineries and consumers."
Limitations exist to this media super power, such as its competitive atmosphere, the lack of commitment to new platforms and the hard-to-measure impacts on wine sales. Although, the biggest challenge, by far, is the overflow of posts occurring without strategic planning.
"It's so cluttered that you have to always be putting the best content forward to get through all those other posts and get them to notice your content," Huffman said.
These drawbacks could make any winery wary of these platforms, but with the right guidance, it can really make a winery grow. It does, however, take more than social media to sell wine. In this case, a quality product.
"[A winery] can't make crappy wine and sell it because of their social media in Oregon," Richardson said. "They still need a good product and that personal tasting room experience to be really successful."
The future of social media is a bit unclear because of its ever-changing nature, but it's certainly going to continue as a vital connection for wineries and consumers. One thing is for sure, that the wine industry in Oregon needs to adapt and find new ways to engage with their audience to stand out in this ever-digital marketplace.
Stephanie Hofmann is a freelance writer and recent graduate from Linfield College, who enjoys telling the stories of the wine industry.