Snake River Rising
Mostly Idaho AVA Expands Oregon Side
Copper Belt Wines
Details: 1937 Main Street, Baker City, OR 541-519-4640 www.copperbeltwinery.com Owners: Cook Family Wines: Rancher's White, Estate Riesling, Pinot Blanc, Dry Rosé, Pinot Noir, Reserve Pinot Noir, Rancher's Red, Syrah, Keating Reserve


When it comes to most things Oregon, it's easy to put on blinders. So much activity exists in and around the I-5 corridor that vast portions of the state are unnoticed. Yet, wine, with its agricultural backbone and ability to lure some of the most adventurous, tends to step outside preconceived boundaries.

In the eastern part of the state, well past the rain shadow of Mount Hood and nestled against the Idaho border, is the Snake River Valley American Viticulture Area. Only about one-tenth of this AVA resides on the Oregon side of the state line, but its distinctive climate and soil profile is attracting grapegrowers from near and far.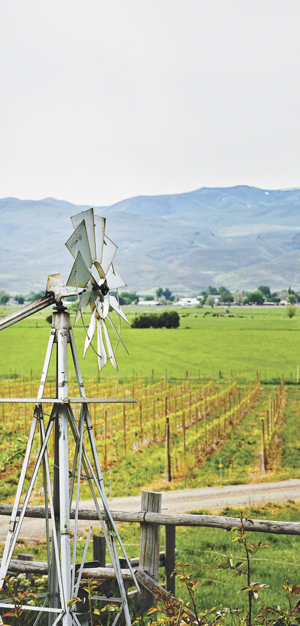 Some of that draw is the beauty and wildness of the land itself. The nearest towns of substance are Ontario and Baker City — each boast about 10,000 people, give or take a thousand. This is arid, high country of long summers and often brutal winters. It's not exactly the siren song for proponents of Pinot Noir, but those familiar with the lay of the land, like Travis Cook, know what to plant.
Given his family's deep roots in the area, that knowledge is practically in his blood. The Cooks settled in what is now the Snake River Valley at the end of the 19th century. Travis' great-grandfather was born in nearby Elgin before moving to Keating Valley, the site of his current estate vineyard.
Cook's label is called Copper Belt, the only commercial brand on the Oregon side of the sprawling 8,000-square-mile AVA. The appellation rests on top of what was once Lake Idaho, which, some five million years ago, would have boasted depths well over 3,000 feet. Scoured by flooding and volcanic activity, the AVA is dry today, comprised of well-draining lake bottom sediments and volcanic soils. While its latitude matches best with the Rhône Valley in France, the high elevations are more similar to nearby Columbia Valley and the Rioja in Spain.
Cook studied horticulture with an emphasis in viticulture and enology at Oregon State University and has been in wine ever since. After a time at Spindrift Cellars in Philomath, he clocked countless miles up and down vineyard rows throughout the Willamette Valley. He managed revered estates, such as Lazy River, Menefee and Ghost Hill, through his former employer, Advanced Vineyard Systems.
In 2010, he sold his truck in order to jumpstart his winery. In between work out west, Cook started managing a few vineyards in the eastern part of the state. The vines he planted in 2004 were now producing quality fruit, and he was turning it into wine in his family garage. Last fall, Cook shifted to work solely at Copper Belt, splitting his time between the cellar and his own vineyards.
On what was the family's homestead near an old mine — set at 3,400 feet in elevation — Cook transformed the land into an estate vineyard planted to Merlot, Syrah and Riesling; these hearty varietals can withstand the area's propensity for extremes.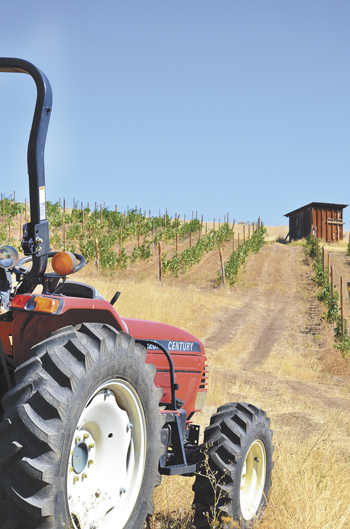 "It's a fun bunch of topography over here that gives each vineyard we have something truly unique," Cook said.
While parts remind him of his days in the Dundee Hills — the red band of clay running through one of his sites, for example — the weather does not. He's forced to delay pruning until just before bud break to prevent frost damage. And when he does prune, it's all the harder because of intense sunlight and howling winds of the previous growing season, which cause the vines to lignify, or create a thick protective layer, of sorts.
The oldest vines on Cook's property will turn 12 this Independence Day. They struggled early on, far from unusual in viticulture. "I think it is the dry winters that get the vines, so we irrigate the heck out of them right before dormancy," Cook added. "This prevents the roots from drying out and desiccating in the sub-zero winters we can get over here."
In terms of aridity, the AVA is quite. Cook estimates it receives around 10 inches per year, much of that in the form of snow — compare that to Portland's approximate average of 39 inches. Summer sunlight is virtually magnified due to the absence of clouds. Snowpack from the nearby Wallowas offers relief for many thirsty vineyard sites. The dryness is deceptive in light of the towering, Montana-like mountains that frame the valley, wearing healthy white caps — most years, anyway — and putting everything in perspective owing to their utter magnitude.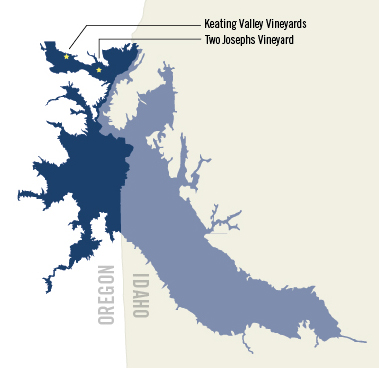 Copper Belt is growing and others will likely follow suit in the area, but Cook's project is a speck in an AVA roughly the size of Massachusetts. He certainly sees potential and forecasts significant growth in vineyards, especially on the relatively untouched Oregon side, within the next few years. Presently, the Idaho Wine Commission estimates there to be some 34 wineries and about the same number of vineyards in the AVA.
His is a prospector's mentality not at all foreign to these parts. A century-and-a-half ago, it was metal — not the possibility of wine — that ushered in newcomers. Silver, mercury and gold were all buried in the hills of Eastern Oregon. Copper was discovered later, an estimated four million pounds from 1907 to 1937 at the aptly named Mother Lode mine, just a couple of miles from where Cook's estate vineyard currently thrives. In fact, Cook's label was initially named after the famously productive mine before assuming "Copper Belt" in 2012.
The ore boom turned primarily to bust courtesy of the price tag of operations and the ensuing World War. Yet, the ghosts of an old industry remain, with several nameless mine shafts dotting the area within a few miles' radius of Cook's vineyard. The fact that wine is beginning to thrive in the area is not unlike the prospering era of old, each fastened to the geology of the area and what riches might be extracted.
The promise of wine is much kinder to the environment, and those at the forefront, like the Cooks, are capitalizing. They are hard at work on a 3,600-square-foot production facility a few miles from the estate vineyard. If things go according to plan, it'll be operational in time for the 2016 crush. Cook says a few hobby winemakers are hard at work in the region, but by and large, it's primarily vast potential at this point.
Last year, he produced 1,200 cases of Copper Belt and envisions doing about twice that in the new facility, which will provide some extra room — enough real estate to turn out 5,000 cases of wine — and Cook is considering custom crush work on the side. A few neighbors have already expressed interest, and it's conceivable Cook will be at capacity well before he predicted.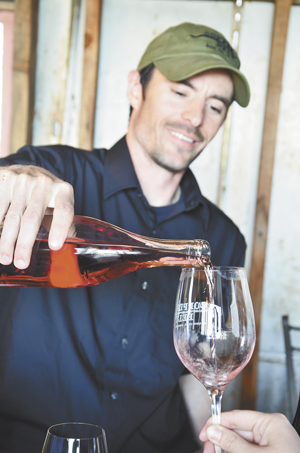 In addition to the winery that will accompany the new cellar, Cook recently opened a tasting room in Baker City, across the street from the historic and impeccably gorgeous Geiser Grand Hotel. It spotlights Copper Belt's wines and showcase local artists' work, as well as host wine appreciation classes.
Unsurprisingly, Cook is a busy guy. He switched to full-time self-employment last fall, focusing all his energy on his burgeoning label. It's a headfirst dive into winegrowing that only someone absolutely convinced of the area's potential would commit.
On the Idaho side, folks have been taking the plunge for a while now. Melanie Krause makes Viognier, Riesling, Chardonnay, Syrah and a few others for Cinder Wines in Garden City, a few short miles from Boise. For about a decade now, she's been building the brand while gaining respect for the region and its potential. She has three growers planting for her presently and says awareness of the area has greatly increased over the years.
"I think it will be unrecognizable in the best sense," Krause said of the AVA's success, "I expect amazing growth in quantity and quality. It's a huge AVA, with three rivers carving through a large valley with huge mountains surrounding it. There is a wealth of slopes facing every aspect that could be planted to vines."
Several dozen labels and vineyards sit on the Idaho side, partly because of its proximity to larger towns. In 2015, the first sub-AVA was created, called Eagle Foothills. Its unique microclimate caught the attention of viticulturists and climatologists a few years back. Nestled along the Idaho-Washington border is the area's newest AVA, Lewis-Clark Valley, bringing Idaho's AVA tally to three and counting, all established in the last nine years.
It's easy to forget how so many AVAs started defiantly, for lack of a better term. Daring winegrowers were told this or that, ultimately disregarding all advice in the name of some research — and gut feeling — that this enchanting new land would bear fantastic fruit. Most of the great AVAs started that way, so why not the Snake River Valley?
Growing pains, of course, can be tough. There is a lot of experimentation on new sites, and dialing in what works takes time. However, with mindful vineyard managers and ample land, the possibilities seem borderline endless. Cook continues to draw from a host of other vineyards throughout the state — farther west — taking advantage of old connections and the many microclimates that exist throughout Oregon.
But it's the Snake River Valley where Cook is most inspired — so much so that he's selling his McMinnville home and heading east for good. He cites complexity in his fruit already, noting a broad flavor spectrum but quality throughout.
"I would say 'intense' is a good descriptor," he said. "We have lots of wild berry flavors that come through on the reds and beautiful tropical flavors that come through on the whites."
Given the history of the area, he can't dodge the obvious question. "I get a lot of questions about if the copper in the ground changes the flavors," he added. "I don't think so. At least, I never get any harsh metallic flavors from the wines, just good integrated fruit and tannins."
In wine, staying ahead of the curve can make all the difference and the prospect of vineyard treasures in the gorgeous expanses of Eastern Oregon has Cook and others talking. With a lot of good Snake River Valley wine already in bottle, it's now as much about realizing, even elevating that potential, as it is daydreaming about it.
Copper was king not long ago, but a new commodity is on the rise. It's only a matter of time until the adventurous arrive in greater numbers to answer that call.
Mark Stock lives and writes in Portland, Oregon, where he is ideally situated within striking distance of world-class wine, trout streams and a Higgins burger. More at www.markastock.com.
Snake River Valley Idaho
3 Horse Ranch Vineyards
5900 Pearl Road, Eagle, ID
208-863-6561
www.3horseranchvineyards.com
Owners: Gary and Martha Cunningham
Wines: Cabernet Sauvignon, Cabernet Franc/Merlot, Syrah/Mourvèdre, Roussanne, Chardonnay, Pinot Gris, Riesling
Bitner Vineyards
16645 Plum Road, Caldwell, ID
208-455-1870
www.bitnervineyards.com
Owners: Ron and Mary Bitner
Wines: Chardonnay, Riesling, Cabernet Sauvignon, Merlot, Petit Verdot, Syrah
Cinder Winery
107 E. 44th Street, Garden City, ID
208-376-4023
www.cinderwines.com
Owners: Melanie Krause and Joe Schnerr
Wines: Viognier, Tempranillo, Syrah, etc.
Coiled Wines
240 E. 32nd Street, Garden City, ID
406-250-3863
www.coiledwines.com
Owner: Leslie Preston
Wines: Riesling, Syrah, Chardonnay, etc.
Feathered Winds Wine
18852 Highway 30, Hagerman, ID
208-352-0150
www.featheredwinds.com
Owners: Bernard and Marguerite Janes
Wines: Chardonnay, Syrah, Merlot, Cabernet Franc, Pinot Gris
Fujishin Family Cellars
15593 Sunnyslope Rd, Caldwell, ID
208-649-5389
www.ffcwine.com
Owners: Martin Fujishin and Teresa Moye
Wines: Viognier, Gewürztraminer, Mourvèdre, Petit Verdot, Petite Sirah, etc.
Hat Ranch Winery
15343 Plum Road, Caldwell, ID
208-994-6416
www.hatranchwinery.com
Owners: Tim and Helen Harless
Wines: Tempranillo, Barbera, Petit Verdot, Cab Franc, Chardonnay, Moscato, Malbec
Vale Wine Company
15343 Plum Road, Caldwell, ID
208-994-6416
www.valewineco.com
Owner: Tim and Helen Harless
Wines: Chardonnay, Riesling, Viognier, Cabernet Sauvignon
Hells Canyon Winery & Zhoo Zhoo
18835 Symms Road, Caldwell, ID
208-454-3300
www.hellscanyonwine.com
Owners: Steve, Leslie, Jocelyn, Bijou and Hadley Robertson
Wines: Cabernet Sauvignon, Cabernet Franc, Merlot, Syrah, Chardonnay
Huston Vineyards
16473 Chicken Dinner Road, Caldwell, ID
208-455-7975
www.hustonvineyards.com
Owners: Gregg and Mary Alger
Wines: Riesling, Chardonnay, Malbec, Merlot, Cabernet Sauvignon, Petite Sirah
Indian Creek Winery
1000 N. McDermott Road, Kuna, ID
208-922-4791
www.indiancreekwinery.com
Owners: Stowe-McClure Family
Wines: Pinot Noir, Tempranillo, Malbec, Chardonnay, Riesling, Viognier, Cabernet Sauvignon, Merlot, Muscat Canelli
Koenig Vineyards
20928 Grape Lane, Caldwell, ID
208-455-8386
www.koenigvineyards.com
Owners: Greg and Kristen Koenig
Wines: Chardonnay, Viognier, Riesling, Rosé, Cabernet, Merlot, Syrah, ice wine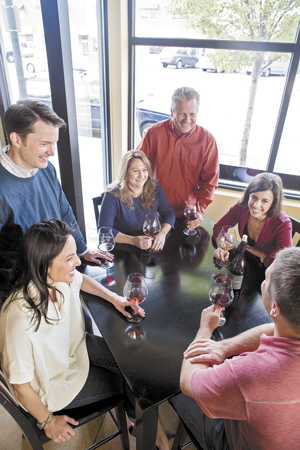 Mouvance Winery
1414 W. Grove Street, Boise, ID
208-629-7781
www.mouvancewinery.com
Owners: Lonnie Krawl and Judy Lassa
Wines: Pinot Noir, Sauvignon Blanc, Viognier
Parma Ridge Wine & Spirits
24509 Rudd Road, Parma, ID
208-946-5187
www.parmaridgewineandspirits.com
Owners: Storm and Stephanie Hodge
Wines: Riesling, Chardonnay, Syrah, Merlot, Viognier
Periple Wines
1904 E. Chicago, Unit D, Caldwell, ID
208-377-7976
www.periplewines.com
Owner: Angie Shaltry
Wines: Pinot Noir, Chardonnay, Merlot
Potter Wines
208-866-7765
www.potterwines.com
Owners: Von and Crystal Potter
Wines: Syrah, Riesling, Original Jalapeño Wine, Chipotle Jalapeño Wine, Jalapeño Wine Lemonade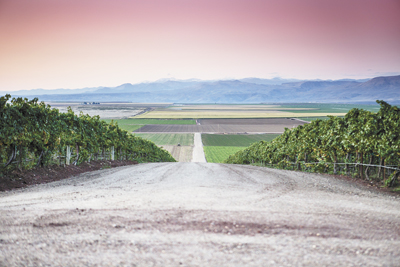 Sawtooth Estate Winery
13750 Surrey Lane, Nampa, ID
208-467-1200
www.sawtoothwinery.com
Owner: Precept Brands
Wines: Riesling, Pinot Gris, Syrah, Merlot, Tempranillo
Snake River Winery
786 W. Broad Street, Boise, ID
208-345-9463
www.snakeriverwinery.com
Owners: Scott and Susan DeSeelhorst
Wines: Chardonnay, Cabernet Sauvignon, Cabernet Franc, Riesling, Merlot, Barbera, Orange Muscat, Sangiovese, Touriga Nacional, Tinto Cao, Vioginer, Mourvèdre, Syrah, Malbec, Blaur Zweigelt, Grenache
Split Rail Winery
4338 Chinden Blvd., Garden City, ID
208-490-0681
www.splitrailwines.com
Owners: Jed and Laura Glavin
Wines: Syrah, Grenache, Mourvèdre, etc.
Ste. Chapelle Winery
19348 Lowell Road, Caldwell, ID
208-453-7843
www.stechapelle.com
Owner: Precept Brands
Wines: Chardonnay, Moscato, Cabernet Sauvignon, Riesling, Merlot, Sauvignon Blanc, Petit Verdot, Malbec, Syrah
Syringa Winery
4338 Chinden Blvd., Garden City, ID
208-440-1616
www.syringawinery.com
Owner: Mike Crowley
Wines: Albariño, Primitivo, Sangiovese, Tempranillo, Pinot Gris
Telaya Wine Company
240 E. 32nd Street, Garden City, ID
208-557-9463
www.telayawine.com
Owners: Earl and Carrie Sullivan
Wines: Cabernet Sauvignon, Syrah, Mourvèdre, Red Blends, Petit Verdot, Chardonnay, Viognier
Vizcaya Winery
8987 S. Greenhurst Road, Kuna, ID
208-870-8354
www.vizcayawinery.com
Owners: Larry and Kay Hansen
Wines: Tempranillo, Malbec, Cabernet Sauvignon, Pinot Gris, Albariño
Williamson Orchards & Vineyards
19692 Williamson Lane, Caldwell, ID
208-459-7333
www.willorch.com
Owners: Williamson Family
Wines: Cabernet Sauvignon, Petite Sirah, Sangiovese, Syrah, Malbec, Mourvèdre, Riesling, Viognier
More Snake River Idaho Wineries
Annadelle Winery: 208-629-9513
Fraser Vineyard: 208-345-9607
M&D Vineyards: 208-250-1336
St. Regulus Winery: 208-549-1861
Stowe Vineyards: 208-922-4791
Terra Nativa Vineyards: 208-863-1976
Weston Winery: 208-459-2631