Smack in the Middle
Strolling McMinnville is a trip through the heart of wine country
"We want to be known as the center of the Oregon wine world because, technically, we are," says my tour guide, Kitri McGuire, marketing manager of Visit McMinnville, as we sip the perfectly pulled espresso at Community Plate, downtown's gathering hotspot.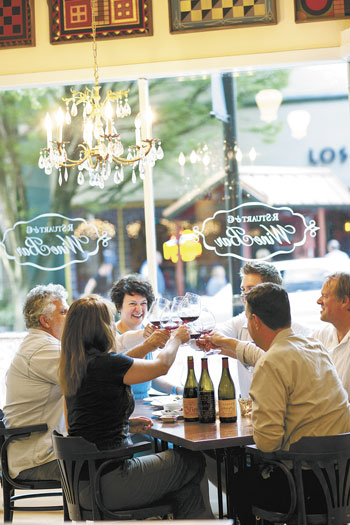 Serving Stumptown's robust coffee and a variety of dishes rivaling any of Portland's line-out-the-door, trendy breakfast — and lunch — diners, Community Plate is only the beginning to a day experiencing small-town authenticity and charm. The restaurant's communal, neighborhood atmosphere already has Kitri pausing between sips to greet those she knows walking through the door.
She continues, "McMinnville is truly the heart of Oregon wine country; we're surrounded by more than 220 wineries within a 20-mile radius."
Wine aficionados, beer lovers and foodies alike have discovered a farm-to-table pilgrimage destination in McMinnville. Home to a bounty of tasting rooms and wine bars, serious breweries — yes, there are three — gourmet restaurants and trendy shops, the city's short drive from Portland — 40 miles — adds yet another glowing attribute to its growing list.
Central to Mac's impressive résumé is wine, the backbone of the town's ever-increasing popularity. So we head to one of many tasting rooms located downtown, a nine-block stretch lined with trees and benches — its charm has other towns, near and far, taking notes.
As we walk, Kitri says, "I always like to start a day of tasting with bubbles, and R. Stuart has some of the best." Upon entering the winery's tasting room, Casee Clark, the many-hat-wearing wine bar manager/wine club coordinator, greets us. As she pours a flight, which includes the area's signature varietal, Pinot Noir, compliments for the city itself continues. At the moment, my two hosts boast about the town's family-friendly culture.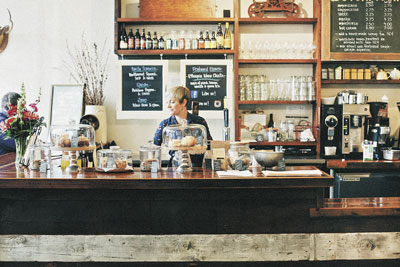 McMinnville offers a variety of family fun: an annual UFO festival, a bustling farmers market, live theater, tree-packed parks, u-pick farms, Linfield College — with its athletics and community programs — and more. Plus, Mac is home to the Evergreen Aviation and Space Museum, where the Spruce Goose, among other flying treasures, and the state's only inside waterpark reside. Kids have it made here.
Back to the wine. And the pitch. "Folks who stay in McMinnville can spend their days enjoying vineyard views all over the Willamette Valley, and then return to a boutique hotel, listen to live music or indulge in one of our fine dining restaurants," Kitri says. "Slowing down, taking time to explore... that's what McMinnville offers in a beautiful year-round wine country destination."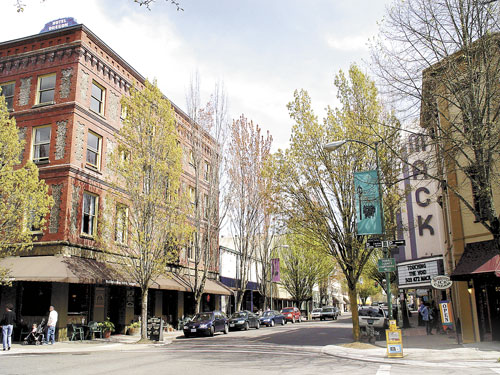 As we make our way toward the Granary District to visit Brittan Vineyards, kids on bikes fly by on what I am sure is a grand adventure, couples, hand in hand, explore the inviting shops and locals stop to chat on the sidewalk. Again, this place is much more than a tourist stop yet you can't deny the wine all around.
For those here for the wine, Visit McMinnville wants to help with its brand new virtual guide: the Wine Walk Passport. Showcasing wineries, distilleries and breweries, the app is a great resource — hours, addresses, tasting notes from the producers — to use and fun to peruse. It is also a way to track tastings with virtual stamps redeemable upon completion of the walk for various prizes.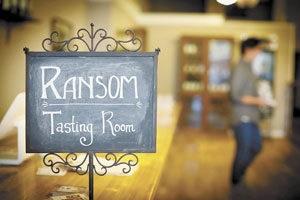 Approaching the Granary District, we pass what will most definitely top a future visit, Elizabeth Chambers Cellar. Housed in what I am told is the city's original electric station, the winery's architecture and industrial vibe lets me know we are near our next scheduled appearance.
Down a small alley running between R. Stuart's towering production facility and Buchanan Cellers, a pet and farm store I must add to my next trip — the list grows with every step — a sprawling open square marks the center of the industrial chic gem. Grain Station Brewery stands next to coffee roaster Flag & Wire which looks out onto working wineries, tasting rooms and more local businesses. The open space and recently constructed stage is home to events such as the Walnut City Music Festival and Habitat for Humanity's fundraiser, Blues, Brews & BBQs.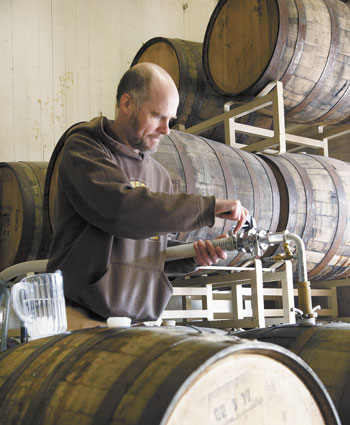 Down another nearby road, even more wineries, including the historic Eyrie Vineyards and Italian-loving Remy Wines, and yet another brewery, Heater Allen, line the street.
"McMinnville's craft beverage scene is nearly entirely walkable," said Jeff Knapp, executive director of Visit McMinnville.
Our appointment at Brittan doesn't disappoint. A busy yet incredibly engrossing Robert Brittan expounds on the Pinot Noir and Chardonnay he harvests from Mac's gently rolling hills with Jory and Chehalem soils, we get an impromptu crash course in the area's wine history — Winderlea Wines also shares the space.
Kitri ends the tour back on Third with a taste of something a touch stronger at Ransom Wine & Spirits, my favorite being the Gewürztraminer Grappa — the floral bouquet bursts with violets and fresh wildflowers — a balanced and beautifully crafted beverage.
As a lover of fermented beverages, I heed Kitri's advice after saying our goodbyes to explore The Bitter Monk. The cozy bottle shop offers a dozen-plus beers on tap, all on display via the cool digital menu above the bar. In my case, the Block 15 Sticky Hands IPA was what ended up in my pint glass.
Others at the bar also suggested a walk down to the other end of Third, where Golden Valley Brewing has been making beer in wine country since 1993. Adding yet another note to my must-do list, I recollect friends speaking highly of the brewery's Dundee Porter, Third Street Wheat and Chehalem Mountain IPA.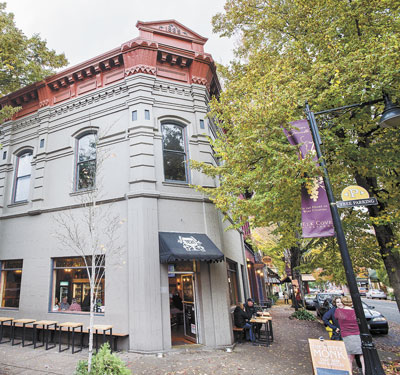 After all the eating, drinking and, most of all, walking, I visit the 3rd Street Flats, a posh place to put up your feet — after you climb its flight of stairs to the historic building's upper floors. In the middle of downtown's hubbub, the flats greet guests with a bottle of Dundee Hills Pinot Noir, fresh sea-salt caramels and an elegance you won't find for miles. Not only are the rooms immaculate, but staying in a vacation rental rather than a hotel allows you the chance to take advantage of the local wine selection and produce at Harvest Fresh Grocery, yet another jewel down the way.
As for exploring all the high class restaurants and wineries in town and just beyond, there is only so much a person can accomplish in one trip — or write about and stay within word count. Having written that, I have already prepared an extensive itinerary for next time, and the time after that.
Who knows? I may just make Mac my stomping — or should I say walking — grounds.
From his first sip of wine to the last Scotch tasting, Ryan Stevens has loved the craft and the journey behind the bottle. As a contributor for Busted Wallet and Ask Men, he has found his niche showcasing the nuances behind the vices that make life a celebration.
Wineries
Biggio Hamina Cellars: www.biggiohamina.com
Brittan Vineyards: www.brittanvineyards.com
Coeur de Terre Vineyards: www.cdtvineyard.com
Coleman Vineyard: www.colemanwine.com
Denison Cellars: www.denisoncellars.com
Dominio IV: www.dominiowines.com
Elizabeth Chambers Cellar: www.elizabethchamberscellar.com
Eola Hills Tasting Room: www.eolahillswinery.com
The Eyrie Vineyards: www.eyrievineyards.com
Jackson Family Wines: www.jacksonfamilywines.com
Lumos Wine: www.lumoswine.com
Lundeen Wines: www.lundeenwines.com
Goodfellow Family Cellars/Matello Wines: www.matellowine.com
Maysara Winery: www.maysara.com
Meristem Wines: www.meristemwines.com
Naked Winery: www.nakedwinery.com
Public Road Wines: www.publicroadwines.com
Stuart & Co.: www.rstuartandco.com
Ransom Wine Co. & Distillery: www.ransomspirits.com
Remy Wines: www.remywines.com
Stevenson Barrie Cellars: 503-781-0424
Stony Mountain Vineyard: www.stonymountain.com
Terra Vina Wines: www.terravinawines.com
Vinum Ferus: www.vinumferus.com
Vista Hills Vineyard: www.vistahillsvineyard.com
Walnut City Wineworks: www.walnutcitywineworks.com
Westrey Wine Co.: www.westrey.com
Willamette Valley Vineyards Wine Center: www.wvv.com
Winderlea Vineyard: www.winderlea.com
Yamhill Valley Vineyards: www.yamhill.com
Youngberg Hill: www.youngberghill.com
Z'IVO Wines: www.zivowines.com
Food
The 411 Eatery: 503-435-0880
The Barberry & 1882 Grille: www.kaosmac.com
Bistro Maison: www.bistromaison.com
Community Plate: www.communityplate.com
The Diner: www.thedinermcminnville.com
Gem Creole Saloon: www.mcminnvillegem.com
La Rambla: www.laramblaonthird.com
Nick's Italian Café: www.nicksitaliancafe.com
Peirano & Daughters: 503-687-2120
Pura Vida Cocina: www.puravidamac.com
Thistle: www.thistlerestaurant.com
Valley Commissary: www.valleycommissary.com
Beer
The Bitter Monk: 503-379-9559
Golden Valley Brewery: www.goldenvalleybrewery.com
Grain Station Brew Works: www.grainstation.com
Heater Allen Brewing: www.heaterallen.com
Wine Shops
Harvest Fresh Grocery & Deli: www.harvestfresh.com
NW Food & Gifts: www.nwfoodandgifts.com
Woodard Wines: www.woodardwines.com
Lodging
3rd Street Flats: www.thirdstreetflats.com
A' Tuscan Estate: www.a-tuscanestate.com
McMenamins Hotel Oregon: www.mcmenamins.com
For many more food, bars, lodging and other attractions, check out:
www.visitmcminnville.com.