Slow and Steady
Oregon wineries win over Italian organization focused on good, clean, fair wine
By Sophia McDonald
While many modern Americans remain mired in a quest to increase efficiency and boost productivity, Brad Ford believes there's nothing wrong with slowing down. The winemaker at Dallas' Illahe Vineyards uses draft horses to bring up grapes from the vineyard at harvest time. He's increased organic grape plantings by 150% in the past year and began using only native fermentation for Pinot Noir in 2016. He even makes a wine — appropriately dubbed the 1899 Pinot Noir — using only the principles or equipment available to winemakers in the 18th century. For example, a bicycle powers the wine pump and destemmer, so Ford doesn't have to use electricity. All bottles are hand-corked, and the wine is delivered to the distributor via stagecoach and canoe.
It's not that Ford won't use additives in his vineyard when necessary, or climb aboard a piece of farm equipment come harvest time, or age in stainless steel when a wine calls for it. "We're not dogmatic about any of these processes, which, to be honest, I think is somewhat important," he says. "You need to be a little bit flexible and look at what science has to offer. But when these natural processes work, they work very well, and it's always really enjoyable what we get. It's just like having patience in general in life. When you're slow and you don't have an immediate duty right in front of you, your imagination begins to expand. You get to think about what you're doing instead of just doing it. It's really important to have quiet time, time to think, time to experience the process."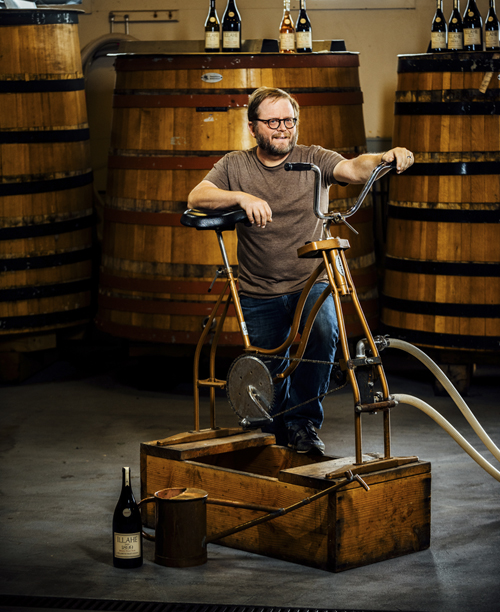 For him, slowing down yields a superior wine and gives the consumer a more satisfying experience. And when people do the same — take time to sip a wine slowly, contemplatively, perhaps alongside good food and good friends, confident the beverage in their hand was produced with loving care by a thoughtful and principled winemaker — something already rife with meaning and community becomes even more so.
These ideas are the embodiment of Slow Wine, a subset of the Slow Food movement. Although the international NGO is best known as a gastronomic organization, it is also the publisher of the Slow Wine Guide, which connects people to winemakers who abide by its principles. In 2019, Oregon became the second U.S. state to be included in the guide. The 2020 version, which will be released this spring, will profile even more wineries throughout the state.
Slow Food is an activist movement founded in Italy in 1986. Its goal was to push back against the increasing "speed" of food and preserve the natural environment, people and cultural traditions involved in making quality, nurturing foods.
As part of that mission, the organization created a number of publications, including compendia of traditional cheeses and salumi. In the late 1980s, it began printing a guide to Italian wine in partnership with the publisher Gambero Rosso. That partnership ended in 2009, and the Slow Wine Guide took its place in 2010. At first, the new book stuck to Italian wineries. California was added in 2016, with Oregon coming on board three years later.