Seductive Starters
Tempt your palate with these little love bites
Black Truffle Fondue with Grilled Crostini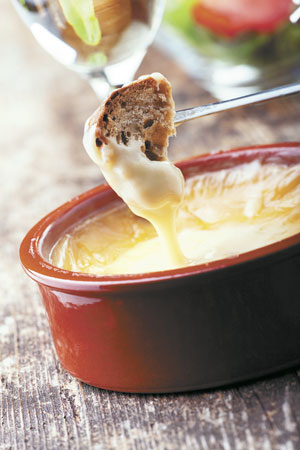 Wine Pairing: Sparkling
INGREDIENTS
1 clove garlic, cut in half
1 cup dry white wine
2 cups Emmentaler cheese, grated
2 cups Gruyère cheese, grated
4 teaspoons cornstarch
1 tablespoon lemon juice, freshly squeezed
2 tablespoons black truffle oil
* kosher salt and freshly ground white pepper
24 slices baguette, grilled with olive oil, salt, pepper; then cubed
METHOD
Rub garlic cloves on inside of bowl set over a pot of simmering water. Add wine and heat until steaming.
In large bowl, toss both cheeses with cornstarch until evenly coated.
Over low heat, add cheese blend, ½ cup at a time, stirring until melted. Continue until all cheese is melted into wine, forming a smooth, glossy cheese sauce, about 10 minutes.
It is important that the fondue remain below a simmer once you start adding cheese, or there's a risk it could separate or break. Whisk in the lemon juice and truffle oil until fully incorporated. Season with salt and pepper.
Transfer fondue to a fondue pot to keep warm and melted at table. Serve with grilled bread cubes and/or lightly blanched vegetables for dipping.
Note: If fondue gets too thick, add small splash of wine to loosen it.
Dungeness Crab Beignets
Yields 24 pieces
Wine Pairing: Riesling
INGREDIENTS
12 ounces Dungeness crab meat, well-cleaned
½ cup water
¼ cup butter, unsalted
½ teaspoon salt
½ cup all-purpose flour
2 eggs
1 tablespoon onion, grated
2 teaspoons creamed horseradish
1 dash Tabasco sauce
METHOD
Bring water, butter and salt to boil in saucepan, making sure butter is completely melted.
Remove pan from heat; add flour all at once. Stir vigorously with wooden spoon until it forms a smooth ball that pulls away from sides of pan.
Transfer mixture to mixing bowl; on medium speed, beat in one egg at a time — beat thoroughly until mixed.
Remove bowl from mixer; stir in onion, horseradish and Tabasco. Gently fold in remaining ingredients to keep lumps of crab in the mixture.
Scoop one tablespoon of batter and gently release into hot oil (350°F).
Fry 2 minutes. Turn; fry 2 minutes on other side. Remove from oil and drain on several layers of paper towels.
Serve immediately with dipping sauce (see below).
Sweet and Sour Sauce
Yields 1¼ cups
INGREDIENTS
½ cup rice vinegar
¾ cup brown sugar
2 tablespoons ketchup
2 teaspoons red chili flakes (more or less to taste)
½ cup plus 2 tablespoons water
1 tablespoon corn starch
METHOD
Combine vinegar, brown sugar, ketchup, chili flakes and water in small saucepan; bring to a simmer over medium-high heat, whisking to combine until sugar is dissolved.
Combine remaining 2 tablespoons water and corn starch in small bowl; whisk with fork to form slurry. Whisk into sauce and bring to boil.
Allow to cool and serve.
Dark Chocolate, Hazelnut, Raspberry Brie en Croûte
Yields 6 servings
Wine Pairing: Pinot Noir
INGREDIENTS
1 sheet puff pastry dough, thawed
1 small wheel Brie (8 ounces)
3 ounces dark chocolate, chopped
2 tablespoons ground hazelnuts, toasted
¼ cup raspberry preserves
1 egg, beaten
METHOD
Preheat oven to 400°F.
Lay one sheet puff pastry on baking sheet lined with parchment paper. Brush entire surface of pastry with beaten egg using pastry brush.
Place Brie in middle of pastry dough; spread raspberry preserves on top of Brie, then top with chocolate and hazelnuts.
Pick up all four of edges of dough; wrap dough around Brie, gathering edges together at top.
Tie pastry with butcher's twine to create a package. (Dough edges will flop over onto top of wrapped Brie.) Brush pastry with beaten egg.
Bake 20 minutes or until pastry is golden brown and puffed.
Remove string with scissors; place brie en croûte on platter. Serve with sliced baguette and sliced pears.