Family Discussion
Jackson Family Wines Executive talks Oregon
Hugh Reimers, executive vice president and chief operating officer of Jackson Family Wines, grew up in the Barossa Valley of South Australia where his father was a professor at Australia's most famous winemaking school, the University of Adelaide; Reimers received his bachelor's there in 1991. He worked as winemaker for Orlando-Wyndham and as senior red winemaker for Yalumba before moving from his homeland to California in 2002.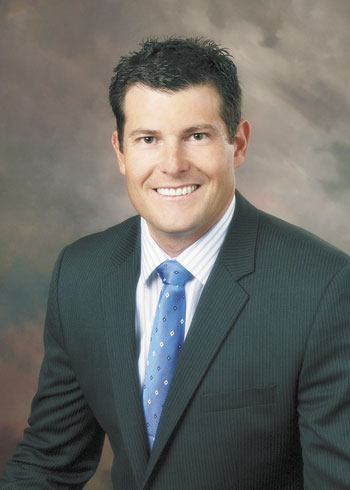 Reimers first worked for Pacific Wine Partners, which began as a joint venture between Constellation Brands and BRL Hardy of Australia — and later became a division of Constellation. He spent a year as chief winemaker for Constellation.
In 2009, he joined the team at Jackson Family Wines, at first as vice president of production services, then president of California production; he was named to his current post in 2011. As COO, he oversees a diverse portfolio that includes brands such as Kendall-Jackson, La Crema, Cambria, Stonestreet, Cardinale, Lokoya and several global wineries.
Why invest in Oregon?
World-class wines are coming out of the Willamette Valley, and we want to be a part of that. The pursuit of a pure expression of Pinot Noir, a commitment to quality, a respect for the land, that's what the Oregon wine community is known for. We share those values. From the very beginning, the Jackson Family has been focused on crafting luxury wines from the coolest growing areas, so expanding northward was a natural fit. We have a few vintages under our belts now, and my level of excitement for Willamette Valley wines continues to grow.
How do Oregon and California compare in regard to Pinot Noir (past, present and future)?
With such an expressive grape, the differences in Oregon and California Pinot Noirs can be quite pronounced. Oregon Pinot Noir tends to be more refined, earthy and with great balance and ageability. California offers more richness and lushness. From a consumer perspective, we see a lot of interest in Oregon as an up-and-coming wine region, with a sense of discovery and excitement about exploring what these wines have to offer.
Name an "ah-ha" Oregon wine that you had you personally excited about expanding into the state or, perhaps, was the impetus for the expansion.
Penner-Ash 2011 Zena Crown Pinot Noir proved world-class wines can be made in the Willamette Valley from even the most difficult vintages.
How does the recent acquisition of Willakenzie Estate affect your overall JFW brand?
Willakenzie complements all we've done in the Willamette Valley so far. The wines and vineyards are highly regarded. Great wines come from great vineyards, and we try provide our winemakers access to exceptional fruit, and then give them freedom to create the best wine they can. Willakenzie fits right in to that vision. It also enables us to put some more attention on Pinot Gris; I think there's a lot of opportunity for that varietal.
Any interest in Oregon's non-Willamette Valley AVAs?
With our emphasis on Pinot Noir, Chardonnay and Pinot Gris, I think the Willamette Valley is the right place to focus our attention.
Anything else you would like our readers to know about JFW?
As a family-owned company, we make decisions for the long-term, and believe that how we treat our land, our community and our employees is as important as the care we take in crafting our wine. Jackson Family Wines was founded with the hopes the company will last for generations, and that's something that continues to drive what we do every day.