Savoring Late Summer
Corn on the cob and heirloom tomatoes a perfect match
Grilled Corn, Lobster Mushroom and Tomato Quiche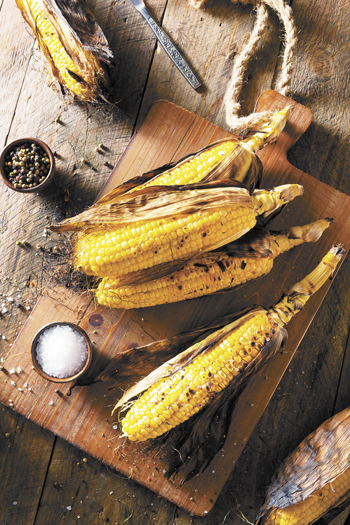 Serves 6 to 8
Wine Pairing:
Chardonnay or a dry sparkling
INGREDIENTS
12 fresh duck eggs
4 cups heavy whipping cream
1 cup crème fraîche
8 ears sweet corn, cut from cob
1½ pounds heirloom tomatoes, diced and drained from liquid
1 pound lobster mushrooms, sliced thick
1 bunch parsley, rough chopped
1 bunch chives, finely sliced
1 large onion, finely diced
1 pound guanciale or thick bacon, diced
1 pound butter
1 sheet puff pastry or pie dough
DIRECTIONS
In large skillet, sauté guanciale (or bacon) over medium heat until most fat has rendered out; remove from pan. Add diced onion to pan and cook over low heat until translucent. In medium-sized pot, melt 1 pound butter. Add sliced lobster mushrooms and cook covered over low heat for approximately 15 minutes, or until fork tender. Remove mushrooms from butter and cool. Cut into smaller chunks. Reserve butter for later.
In large mixing bowl, add onions, mushrooms, guanciale, chives, parsley, tomatoes and corn. Set aside.
In separate bowl, add all duck eggs and beat well. Whisk in heavy whipping cream and crème fraîche. Strain reserved butter and beat into egg-cream mixture.
Gently oil a 10-inch spring-form pan; line with pastry, gently crimping edge around top. Generously season onion-mushroom mixture in large bowl and toss. Pour into pastry-lined pan. Pour egg mixture over and return to cooler to chill for 10 to 15 minutes.
Once chilled, place in 425°F oven for 35 minutes. Reduce temperature to 350°F and cook for another 35 to 40 minutes, or until center is set and knife inserted comes out clean. Let rest for 10 to 15 minutes. Enjoy warm or room temperature.
Optional: Garnish with fresh greens or tomatoes.
Grilled Corn Gazpacho with Roasted Tomato Salsa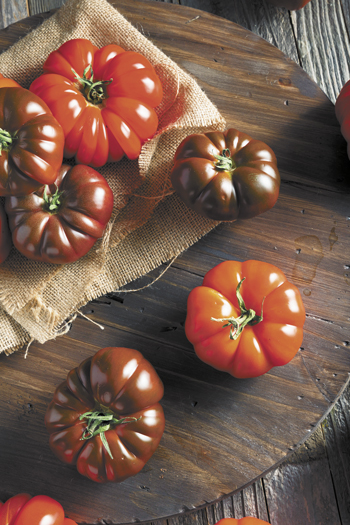 Serves 6 to 8
Wine Pairing:
Pinot Noir Rosé
INGREDIENTS
2 dozen ears sweet corn
*salt and black pepper, to taste
8 large heirloom tomatoes
1 head garlic
*few sprigs fresh thyme
*few sprigs fresh rosemary
½ gallon heavy whipping cream
½ gallon milk
¼ cup buttermilk
¼ cup sour cream
2 tablespoons Champagne vinegar
6 tablespoons extra virgin olive oil
¼ stick butter
DIRECTIONS
Season corn with salt and pepper. Drizzle with olive oil and roast over hot grill, or large sauté pan, for a few minutes on each side until lightly browned. Set aside to cool.
Cut all tomatoes in half and toss in large bowl, seasoning with salt and pepper. Drizzle olive oil and add crushed garlic, thyme and rosemary. Place tomatoes on a baking sheet, skin side up, and into 450°F oven for 15 to 20 minutes, or until skin is lightly browned. Remove from oven. Discard skins and herbs. Allow to cool.
Once cool, remove seeds; reserve flesh in small mixing bowl. Finely chop remaining garlic; add to tomatoes. Smash tomatoes with fork; add champagne vinegar. Season to taste. Set aside in cooler.
Cut corn off cob and place cobs in large pot with milk. Simmer for 10 to 15 minutes. Let stand to cool. Strain and discard cobs. In a separate pot, place corn kernels, whipping cream and bring to a boil. Let stand to cool. Once cool, add milk to cream and corn mixture.
Add cream and corn mixture to blender, processing on high until smooth. Alternately, add olive oil and butter until thickened. Season to taste. Reserve in cooler until ready to serve.
To serve, fold in sour cream and buttermilk. Pour into chilled bowls. Garnish with roasted tomato salsa. Trout or sturgeon roe make for a wonderful garnish if you desire.
Summer Succotash
Served 6 to 8
Wine Pairing:
Pinot Gris
INGREDIENTS
4 cups shelled favas or English peas
2 smoked ham hocks
8 ears of corn, kernels cut from cob
8 large heirloom tomatoes, cut in wedges
*olive oil
1 large onion, finely diced
2 medium summer squash, medium dice
5 cloves garlic, minced
2 bunches basil
¼ cup fresh chèvre
*salt and black pepper, to taste
DIRECTIONS
In medium pot, place ham hocks and cover with water. Simmer for 30 or 35 minutes until meat is tender enough to pull from bone. Remove and reserve meat. Bring same cooking liquid to a boil. Add favas or peas. Cook for 1 to 2 minutes; then place favas or peas in separate bowl of ice water. Save cooking liquid for later.
In large skillet, add touch of olive oil and cook onions over low heat until just cooked. Add meat from hocks to onions. Add corn and tomatoes to pan and cook until tomatoes are just soft. Then add squash. Add enough cooking liquid to barley cover all vegetables. Simmer for 15 to 20 minutes.
Add cleaned favas or peas and cook for a few minutes more. Season to taste. Garnish with freshly chopped basil and fresh chèvre.