Saturday Flight Fever
Wine bars heat up after sundown
Wine has a way of enriching a room. The magnetic pop of a cork alone invites celebration. Once-quiet, the atmosphere blooms to life with the clinking of glasses, telling and retelling of stories and general hum of satisfaction. It's an incredibly popular, sacred, somewhat silly song and dance we've been carrying out for longer than anyone can remember.
Once wine enters the room, its closest ally might just be music, whatever the genre. Some would argue the two are representations of each other: one edible; the other audible. They each have a narrative: one set to rhythm and timbre; the other to tannin and mouthfeel. They are each bound to history, reflect place and delight the senses. In fact, wine and music are so alike, they've probably swapped roles many times in previous lives.
Oregon wine may be relatively young, but the practice of setting it to music feels undeniably ancient. It is, perhaps, the easiest, most danceable way to time travel. Mushy philosophy aside, it's just plain enjoyable. People in the know have different takes on the pairing, but all are in agreement that it's something endearing and special.
We asked four Oregon wine bar owners dedicated to hosting musicians to riff on wine and music. Here are their responses:
Corkscrew
Portland, Lauren Smith
What's the most memorable live music moment at your bar?
I think the jazz-bossa nova trio of Adlai Alexander (guitar), Phil Baker (stand-up bass), and Eddie Parente (violin) was my personal favorite. All three are great musicians on their own, but for me, seeing them play together was a treat.
Why music and wine?
Wine is the best beverage there is, and I would pair it with any activity.
If you could host any artist, dead or living, who would it be? What would you offer them to drink?
I think I would die and go straight to heaven if Billie Holiday could perform at Corkscrew. I would serve her sparkling rosé in a Champagne coupe!
503 Uncorked
Sherwood, Deb Yannariello
What's the most memorable live music moment at your bar?
We were in our original, smaller location. We had a packed house and musician Robert Tackett started playing "Sweet Caroline," and the entire bar was singing along at the top of their lungs. It turned into one big party.
What's your favorite concert that you have hosted?
My favorite concert was for our one-year anniversary. We had at least 300 people show up. I hired Nicky Croon & The Swingin' Richards. The band plays Rat Pack/Sinatra-style music. It was a magical evening of celebration, dancing and a lot of wine flowing.
Why music and wine?
Why not? I am lucky enough to share and continue this time-honored tradition. It's a perfect combination of two things that I love, and I believe it creates an enjoyable, relaxed environment for people to build relationships and have fun in.
If you could host any artist, dead or living, who would it be? What would you offer them to drink?
I grew up in New Jersey listening to Billy Joel's music. He's a classic. Of course, I would offer him our unique 503 Uncorked house Pinot Noir, made exclusively for us by Rallison Cellars.
Vie de Bohème
Portland, Leni Ortenburger
What's the most memorable live music moment at your bar?
Probably the most memorable live music moment was a show with Lulo Reinhardt (great-nephew of the late Django Reinhardt). It took a great deal of political arm-twisting, with the help of Ron Wyden and Jeff Merkley's offices, to get his band cleared for entry into the U.S. Literally months of work, and finally, they were there! The entire show was fantastic, but one piece in particular used an array of unusual percussion instruments that transported the audience to a nighttime scene in an African desert. Truly mesmerizing.
What's your favorite concert there?
I personally always love when we have Gypsy Jazz at our place. For example, when The Djangophiles play, which they do once a month. It is beautiful music that makes you feel happy and it fits in with the mood of our venue so well.
Why music and wine?
I can't think of two things that fit together better than music and wine. Both are all about shared experience and conviviality. Live music brings people out of their social isolation for an evening of fun and dancing and wine is the perfect libation for that. We can all enjoy our separate cocktails, but wine is all about sharing an experience: The history, geography, weather, and people shaped the unique expression of that bottle, at a particular moment in time when we open it and enjoy it, together.
If you could host any artist, dead or alive, who would it be?
I think Mark Knopfler, because he's a great musician. I once saw perform at a small, intimate venue in Mill Valley, California. Our venue is great for those kinds of up-close and intimate performances. There is no raised stage, so you feel very close to the performer and very connected to the music.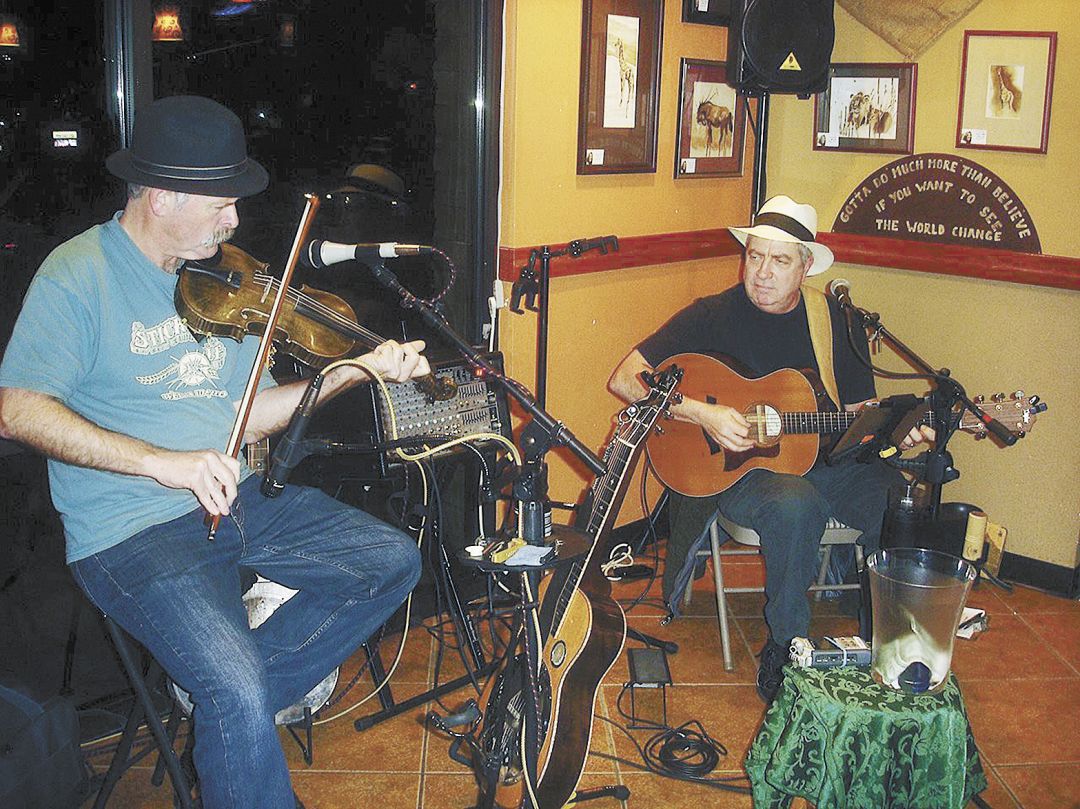 My Coffee & The Wine Experience
Roseburg, Heidi Underwood
What's the most memorable live music moment at your bar?
[The first moment was] when Inoke played and everyone ended up dancing even though our space is incredibly small. They would dance their way out one door and back in the other door. The energy that night was beyond! Everyone had a great time. The second moment would be when Dennis Roderick of the very popular local band Hat Trick sang a song to his wife who had been recently diagnosed with a life-threatening and debilitating illness.
Why music and wine?
The elements for music and wine intertwine. Music is what feelings sound like! People can come in to meet a friend and chill out while enjoying a nice glass of wine. They can leave their worries at the door and just be in the moment.
If you could host any artist, dead or living, who would it be? What would you offer them to drink?
Randy Newman. I love his strong, firm, melancholy voice that lifts you up, giving you hope and brightening your day. Plus, I love that he almost always has a full orchestra in his music, which would never fit in our space but, hey, a girl can daydream! I would offer him a glass of one of the best of wines ever, Abacela winery's 2013 Grenache, and maybe even a cigar on the outdoor patio.