¡Salud! Goes Online
Pinot Noir auction adds cyber bidding
For those wine enthusiasts who anticipate the annual ¡Salud! Oregon Pinot Noir Auction, waiting for November to arrive to bid on some of the best Pinot Noir in the state, we have good news: This year, the organization is welcoming a new online auction to its 2018 event season.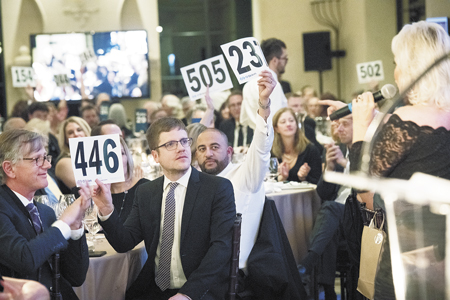 The online bidding is open to consumers in states where shipping is legal and will debut at 8 a.m. PST on Tuesday, July 17. The auction will feature 40 lots of 12-bottle cases of Oregon Pinot Noir ¡Salud! Cuvée. This pre-sale opportunity runs through Thursday, July 19, ending at 8 p.m. This new avenue gives Pinot fans across the country a chance to access exclusive wines produced by members of the Vintners Circle, 40 of Oregon's premier wineries. The online auction replaces Summertime ¡Salud!, a fundraiser dinner held for five years in July at Stoller Family Estate.
Pat Dukes, ¡Salud! Steering Committee Co-­Chair and owner of Dukes Family Vineyards, comments, "We are thrilled to be able to share our exclusive ¡Salud! Cuvées with a broader national audience through this new online auction. These wines are blends of the best barrels, made exclusively for ¡Salud!, and only five cases of which are produced. Now, even if you can't attend the event in November, you have a chance to win a case of these exceptional wines."
The program's 27th annual November celebration is also being re-envisioned to provide an enhanced experience for guests. The Big Board Auction and Pinot Party held at Ponzi Vineyards on Friday, Nov. 9, will open its doors earlier, at 2 p.m., with a sparkling wine welcome, music and silent auction. The party officially kicks off from the stage an hour later with a brief presentation featuring 40 of Oregon's winemakers, ¡Salud!'s mission is to bring healthcare to vineyard workers and a quick bidding tutorial. Guests will spend the next two hours bidding on select lots and tasting through the Vintners Circle's 2017 Pinot Noir ¡Salud! Cuvées. A new winemaker after-party, at 5:30 p.m. will include a band, additional wines and hors d'oeuvres.
The next Saturday will feature the Grand Dinner &and Live Auction Gala at Domaine Serene's Clubhouse. A sparkling reception opens the evening with a silent auction followed by a multi-­course dinner, paddle raise and live auction — last year's weekend events raised $830,000.
¡Salud!, a truly unique program in the wine industry, is the only charitable cause that both raises funds for and provides healthcare services to its beneficiaries: vineyard workers and their families. Working in conjunction with OHSU Tuality Healthcare of Hillsboro since its founding in 1991, ¡Salud! has raised over $15 million.
The 2018 ¡Salud! Vintners Circle members crafting 2017 ¡Salud! Cuvées include: Adelsheim Vineyard, Alexana Winery, Amalie Robert Estate, ArborBrook Vineyards, Archery Summit, Ayoub, Beaux Frères, Bergström Wines, Bethel Heights Vineyard, Big Table Farm, Brittan Vineyards, Chehalem, Cristom Vineyards, Domaine Drouhin Oregon, Domaine Roy & fils, Domaine Serene, Dukes Family Vineyards, Dusky Goose, Elk Cove Vineyards, Erath Winery, Evening Land Seven Springs Estate, Gran Moraine, Hamacher Wines, Hyland Estates, Lange Estate Winery and Vineyards, Lavinea, Patricia Green Cellars, Penner­Ash Wine Cellars, Ponzi Vineyards, Purple Hands Winery, R. Stuart & Co., Résonance, ROCO Winery, Scott Paul Wines, Shea Wine Cellars, Soter Vineyards, Stoller Family Estate, Trisaetum, WillaKenzie Estate and Winderlea Vineyard & Winery. Additional winery partners include: Argyle, Sokol Blosser, and Willamette Valley Vineyards.
To register and for more details on how to participate, visit saludauction.org. Online auction winners will be shipped their wine when cuvées are bottled beginning in spring 2019.