Twenty-Fifth Fête
¡Salud! auction honors quarter century
Millions of people go without basic medical care in this country, and migrant farm workers and their families have become a part of that ugly statistic. Because many are undocumented, move from crop to crop, and have temporary status with employers, this group rarely has access to medical insurance, much less basic medical care.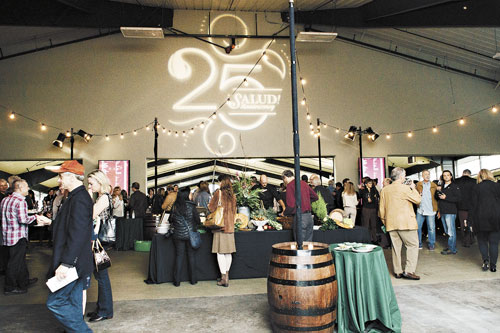 Twenty-five years ago, a group of Oregon winery owners and Tuality Healthcare physicians united in their mission to address the challenges faced by seasonal workers regarding basic healthcare. Together, they set out to create a program that could assist these workers and their families with their health and accessing resources in the medical system. And so ¡Salud! was born.
¡Salud! is unique to Oregon; no other place in the U.S. has committed to helping their population of farm workers this way. Leda Garside, registered nurse and the ¡Salud! clinical services manager, promotes wellness and prevention by building trust in the community and giving people something they can depend on.
Garside says, "Families like the Ponzis and the Casteels took a leap of faith starting ¡Salud!, providing healthcare from the heart, showing respect and dignity for the fabric of the United States."
Since its founding in 1991, ¡Salud! has raised more than $13 million.
Ultimately, the program funds a variety of community-based clinics, a fully-equipped dental van and a mobile wellness outreach program offering cholesterol, diabetes and vision screening, blood pressure checks, flu and tetanus vaccinations, as well as occupational, nutrition and mental health information. The program also helps fund medical clinic visits for primary care, emergency room visits and hospitalizations, as well as CPR and first-aid certifications.
Each year, Oregon wineries craft their best barrels of wine to donate to the ¡Salud! Program Barrel Auction. This milestone year, 43 wineries generously contributed to the cause. On Friday, Nov. 11, the Cuveé Tasting and Big Barrel Auction took place at Ponzi Vineyards, raising more than $173,000 — through robust partnerships in the medical community, every $1 is more equivalent to $3.
"We have a number of Hispanic people on our staff that are very much invested in the ¡Salud! Program, so they care about this wine in particular," says winemaker Luisa Ponzi of Ponzi Vineyards. "We invite them to participate in the blending process, and not only do they help us come up with the ¡Salud! blend we're pouring here today, they bottle and label this wine lovingly by hand."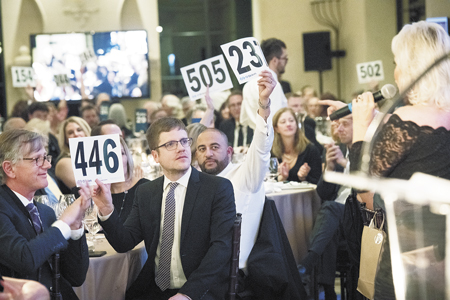 Saturday, Nov. 12, guests gathered at the Sentinel Hotel where they tasted wines from the Vintners Circle, enjoyed sparkling wine from an ice luge artfully sculpted to honor the silver anniversary, and bid on the silent and live auction packages. An array of tempting packages ranged from extensive collections of current and library wines, to private winemaker dinners, wine country helicopter tours, vineyard hikes, overnight stays in winery guesthouses, exotic trips to New Zealand, France and the Rogue Valley, a TED Talks package, wine club memberships, framed art and more.
The live auction and gala, which began with a poignant performance by Storm Large singing "America the Beautiful," netted $737,000, for a grand total of $911,300 — a bit shy of the $1.2 million goal. The highlight of the live auction, and maybe it was more like the Grand Finalé at a fireworks show, was when Ronni Lacroute, philanthropist and former owner of Willakenzie Estate, offered a booming $100,000 donation hoping someone would match her. Though the generous offer was not matched in one lump sum, it did trigger a gigantic wave of cash donations.
The ¡Salud! program teaches us many valuable lessons about hardworking individuals who don't have access to basic health care, about giving back and how wine can bring us all together. The next time you raise your glass, remember the migrant and seasonal farm workers who helped provide the wine you're toasting with, convey cheers to them and consider how you can help.
For more information on how to contribute to the ¡Salud! program, visit www. saludauction.org.
Impressions of the 2015 Vintage
The ¡Salud! Cuveé Tasting and Big Barrel Auction on Friday has long been deemed the official peek into the upcoming vintage.
The 2015 growing season was lengthy and warm, resulting in high yields and a precocious vintage. Though not yet bottled, the wines are already extremely approachable and fruit forward. As is typical in warm vintages, they're showing higher alcohol; however, it's impressive to see how skilled winemakers have toned them down — the cool-down at the end of the season may have been the mitigating factor.
Overall, the wines are well balanced, bright, juicy, expressive and complex with minerality and earthiness. Great wineries and vineyards, like those participating in ¡Salud!, certainly go the distance. These wines are built to last.
Tamara Belgard is a freelance writer and who explores the Oregon wine scene from her home in SW Portland.