Saintly Sensation
Praise be to the American version of Saint-Marcellin
I remember the moment I saw it, sitting there on the table in its sweet little crock, alluringly runny paste escaping from a nearly perfect, translucent, wrinkled rind. An American-made Saint-Marcellin. Genius.
St. Albans magically appeared on my radar back in August when it debuted at the American Cheese Society conference in Des Moines. With one taste, I was hooked.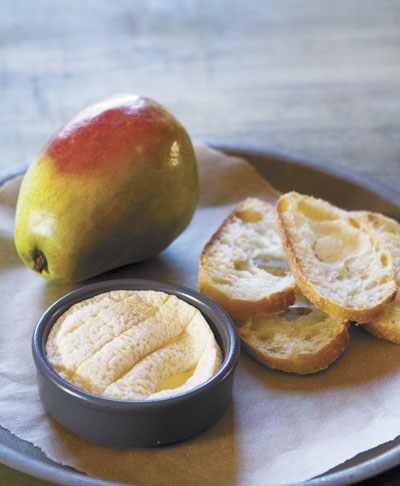 Though my first taste was "blind," as the exterior packaging was removed, I was not surprised to learn the cheese was the latest introduction by Vermont Creamery, a pioneering American company known for introducing fresh chèvre and crème fraîche to the U.S. market more than 30 years ago.
This American version of a traditional French cheese — crafted since the 13th century in the Rhône-Alps region — is the company's first all-cow's milk aged cheese as well as their first non-GMO-verified offering.
Imported Saint-Marcellin disappeared from U.S. shelves about two years ago, when the final French producer making cheese for the American market transitioned to raw milk production in order to comply with the cheese's name-protected status.
In early 2015, a large retail chain approached Vermont Creamy co-owner Allison Hooper about the possibility of collaborating on a stateside version. A reliable recipe combined with years of experience producing and packaging other small, ripened cheeses led to a swift, successful roll out.
Milk is a critical factor in the St. Albans story. As one of the leaders in sustainable cheesemaking, Vermont Creamery worked with St. Albans cooperative, a group of 300 family dairies supplying milk to many Vermont institutions — including Ben & Jerry's and Stonyfield Farm — to create its first verified non-GMO cheese.
Although skeptical of the economic viability of non-GMO production, co-op board members were ultimately willing to help Vermont Creamery with its request. One dairy was selected to transition into a certified non-GMO herd, becoming the exclusive milk supply for the cheese.
"I've been here before, and it's just how I roll," said Hooper, co-founder of the 32-year-old creamery and a pioneer of the American goat cheese movement.
"I see something and people say, 'This can't happen.' I say, if we take little bite-sized pieces, before you know it, we've created something that has momentum," she explained. "Other people will jump on. I feel good about that. Two years ago they laughed, but now we have something."
The selected dairy was already grass-based, and the family intended to highlight milk from their 100-percent Jersey herd in Fairfield, Vermont. The creamery pays a premium for the milk, covering costs of the transition to non-GMO, which includes higher feed costs and the predicted loss of yield. For her part, Hooper has her doubts about how much yield reduction will occur. All parties are keeping careful track and utilizing efficiencies. They are committed to producing a non-GMO product and educating consumers about its importance.
For a vision- and mission-based company like Vermont Creamery, a major part of the appeal is addressing climate change and agriculture's role in affecting it.
"When I talk about this cheese, I'm trying to make connection between climate and soil health," Hooper said. "Lots of eyes are watching this project to see the results and what might be possible.
"Much to our glee and dismay, we [have been] completely sold out from the get-go," she said. "People love it and are clamoring for it."
St. Albans is designed to ripen slowly over time. Enjoy it young, and you'll have a milder, yeasty taste with fluffy, spreadable texture and the hint of tender rind. With a few more weeks of age, the interior sinks a bit and the rind visibly shrivels. At this stage, the paste is deliciously spoonable. Expect a fair bit of complex but not overpowering funk.
For now, find St. Albans at Whole Foods as well as gourmet cheese shops. It will roll out at additional cheese counters in the next few months.
If you find it, don't hesitate, just buy it. Undoubtedly, St. Albans will be the star of this year's finest holiday cheese plates.
Roasted Cauliflower with St. Albans
INGREDIENTS:
1 large head cauliflower
2 tablespoons olive oil
1 teaspoon coarse salt
* black pepper, to taste
2 cloves garlic, minced
1 crock St. Albans
METHOD:
Preheat oven to 425°F. Slice cauliflower into large florets. In large bowl, combine cauliflower and olive oil, mixing to ensure evenly coated florets.
Toss with salt and black pepper.
Spread florets in single layer on large, foil- or parchment-lined, rimmed baking sheet. Bake for 20 minutes. Remove from oven; sprinkle with garlic. Stir cauliflower to ensure even browning. Return to oven 8 to 10 minutes, until garlic is fragrant and cauliflower is golden brown.
Place St. Albans crock in oven with cauliflower for final 3 minutes of cooking to create molten fondue for drizzling or dipping. Serve immediately.