Sabering the Holidays
Toast the season with sparkling
Nothing says celebration like a toast with sparkling, especially the holidays. May I suggest an Oregon bottle?
If you are not totally familiar with the state's sparkling scene, you are not alone. Over the summer and into fall, I went on a mission to discover the state's growing number of Champagne-style producers, but first I had to start with none other than Argyle, which meant a trip through the winding Dundee Hills to Knudsen Vineyards.
Planted between 1972 and 1974, the 120-acre Knudsen site has been the primary source of fruit for Argyle's sparkling wines since its inception, demonstrating how the area's cool-climate Pinot Noir and Chardonnay winegrapes have always been "ripe" for making traditional bubbles. In 1987, Argyle created its first vintage sparkling, starting a successful business venture that continues today.
Over the years, changes have been made, including ownership shifting from founders Rollin Soles and Brian Croser to Lion Nathan; longtime vineyard manager Allen Holstein remains and Nate Klostermann is now head winemaker — although Soles still maintains oversight at Argyle under a long-term consultant arrangement.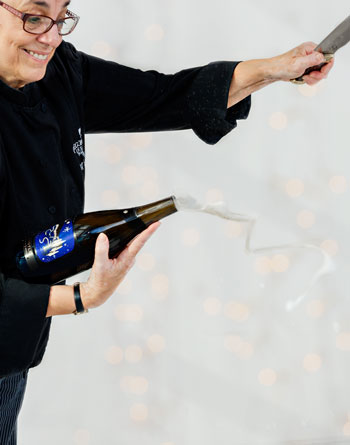 The property has transformed, too. Last year, Argyle opened its new tasting room in what was once the production facility — all wines are now made in Newberg. Rustic yet elegant, the "tasting house" features reclaimed wood with many windows to connect the interior with the impressive patio. Riddling racks and a chandelier in the shape of a Champagne bottle and wire cage add to the bubbly décor.
In October, Argyle revealed an exciting new project: The Art of Sparkling. The winery commissioned three students from the Pacific Northwest College of Art (PNCA) to convey themes of celebration and renewal as they relate to the winery. Initially, the winery planned to choose one winner but was so pleased with all three that they decided to create a three-pack ($100) showcasing the talented trio. Proceeds from the wine go toward the artists' continuing education, as well as scholarships for future art students.
Laurel Ridge Winery, while not as well-known as Argyle, also figured early in the Oregon sparkling market. In 1986, owners David and Susan Teppola began their foray into sparkling when vintages — Susan says two out of 10 — were not ripe enough for still wine. Proud to have produced its initial sparkling wine before Argyle's first vintage, Laurel Ridge's intentionally intermittent bubbly program has led to some fantastic wines over the decades. Ask for a sip inside the tasting room near Carlton, situated on a 240-acre valley floor estate.
My sparkling checklist next landed me at nearby Anne Amie Vineyards with its expansive estate, spectacular views and super-friendly staff, including winemaker Thomas Houseman. Much newer to the bubbles game, Anne Amie, founded in 1999 — with the purchase of Chateau Benoit by Dr. Robert Pamplin Jr. — started its sparkling program with the 2011 vintage. I was fortunate to visit Anne Amie's Twelve Oaks Estate Boisseau Vineyard on another occasion. Exploring the sparkling-specific site made a lasting impression; connecting with the vines created a sense of place, which translated into the glass.
Down the road at Soter Vineyards, Tony and Michelle Soter have been refining sparkling since 1997. Sitting down with a glass at their rustic-chic tasting room outside Carlton at the couple's Mineral Springs Ranch, I was further convinced the Willamette Valley is doing it right. They offer three high-priced — and well worth it — sparkling for your palate pleasure.
Just north of Carlton, in Yamhill, Roots Wine Co. owner/winemaker Chris Berg also has a knack for bubbles. He's been making it for years and for other brands, as well. He currently offers four under a project he's named Art Brut, a term used to describe art created outside the boundaries of official culture. Sporting work from significant artists within the genre, the sparkling — a Blanc de Noir, Blanc de Blanc, one called "Outsider Cuvée (Pinot and Chardonnay) and Melon de Bourgogne — represents art unto itself and even better experienced on the estate tasting room deck offering stunning scenery.
Next on my agenda: R. Stuart & Co. The McMinnville winery operates both a tasting bar downtown on Third Street and a production facility in the nearby Granary District, a few blocks away. Starting in 1999, owner/winemaker Rob Stuart worked with bubbles aficionado Frank Blair to develop a sparkling for the popular brand. Finally, in 2005, R. Stuart's first sparkler, Rosé d'Or, was released. Now the winery boasts an additional bubbly, a beautifully crafted Blanc de Blanc.
Coming full circle, my final stop was ROCO, Rollin Sole's personal venture with his wife, Corby, near the town of Newberg. Argyle's founding winemaker continues his love of bubbles with the launch of RMS, a highly successful brand launched with the 2013 vintage. After decades of crafting sparkling wine, Rollin has not lost his touch.
There are many others to mention (see more wineries represented in the tasting notes side bar), but this writer was limited by time, money and word count. Even so, I definitely developed a feel for Oregon bubbly and the labor of love it takes to produce. Not only time-intensive, it's also technically challenging, requiring specialized — aka expensive — equipment.
The traditional method, méthode Champenoise, is the crème de la crème of bubbly. For this ancestral style, wine undergoes a secondary fermentation in the bottle by adding yeast and sugar, also known as tirage. In order to decrease the wine's cloudy appearance it is riddled, which means the bottles are turned with the neck downward and lightly shaken to shift the lees/sediment to the neck of the bottle. Next, the wine is disgorged. In other words, the neck of the bottle is frozen, and the plug of sediment removed. A small amount of sugar is added, the dosage, followed by the final cork and wire cage. The bottles are then stored for aging and released according to winemakers' wishes, from two to 10 years.
Equipment and duration — remember, time is money — add up, explaining why many wineries do not make Champagne-style sparkling even with the Pinot and Chardonnay to produce it. But with the help of entrepreneurs like Andrew Davis, bubbly has become a more viable option.
In 2013, Davis, a former apprentice under Rollin Soles at Argyle, launched Radiant Sparkling Wine Company, the Willamette Valley's first sparkling mobile unit. While the Soles are original investors in this exciting venture, Davis has made the business into a booming success.
Joining Davis in this new-found market is Joe Dobbes and Dobbes Family Estate, which recently announced plans for a similar venture using different equipment (see page 12 of this issue for details).
With so much more to explore, I realize my adventure into sparkling has really just begun as the industry bubbles with such potential and talent. Now that is something to toast. Cheers and happy holidays!
Karla Erovick has visited and written about wine from Napa, Sonoma, Mendocino and the Penedès region of Spain. She lives in the Willamette Valley.
Argyle 2015 The Art of Sparkling Vintage Brut
Aromas of peaches and bread combine with flavors of apple, more peach and honey for a fantastic taste experience. Its long finish, smooth yet dry, simply adds to the overall delight. (60% Pinot Noir, 40% Chardonnay) www.argylewinery.com ($100/three bottles)
Argyle 2005 Extended Tirage
On the nose, golden honey, cherry and raspberry show strong with flavors of subtle citrus, ripe peaches, brioche and almond on the palate. A creamy lingering finish. What a beautiful bubbly for celebrating a special occasion. (65% Pinot Noir, 35% Chardonnay). www.argylewinery.com ($75)
Soter 2011 Mineral Springs Brut Rosé
This delightful, opulent wine shines in the glass with a bright shade of pink, a nose of summer fruit and flavors of ripe strawberries and cherries. (90% Pinot Noir, 10% Chardonnay) www.sotervineyards.com ($65)
Anne Amie 2012 Marilyn Brut Rosé
Elegant and dry, the blushing bubbly achieves the perfect balance of fruit and acid with a dry finish. The nose offers aromas of raspberry, stone fruit and minerality, while the palate tastes of strawberry, citrus and baking spice. (100 percent Pinot Noir) www.anneamie.com ($45)
Laurel Ridge Winery 2011 Laureate Grand Brut
This bottle of bubbles offers scents of brioche and summer fruit, while flavors of pears, honey and bread dominate the palate. A rich, elegant finish adds to overall enjoyment. (80% Pinot Noir, 20% Chardonnay) www.laurelridgewinery.com ($36)
Roots Art Brut 2011 Sienna Ridge Estate Blanc de Blanc
Aromas of citrus and crisp apple lead into a burst of flavor, most notably Granny Smith and yeasty bread. A crisp, dry finish satisfies, encouraging the next sip. www.roots.wine ($35)
Stuart & Co. NV Blanc de Blanc
The wine boasts aromas of lemon, pear and apple, followed by flavors of tart raspberry and strawberry. A crisp finish completes the invigorating taste experience. www.rstuartandco.com ($28)
ROCO RMS 2013 Brut Summer Release
A beautiful sparkling the fragrance of brioche, honey, citrus and pear. Flavors of apricot and nectarine burst as bright acid and a creamy mouthfeel make it one balanced bubbly. (67% Pinot Noir, 33% Chardonnay) www.rocowinery.com ($65)
St. Innocent 2007 Blanc de Blanc
One of the older vintages tasted, the wine contains aromas of bread, vanilla bean and dried fruit, while suggestions of stone fruit, ripe tropical fruit and brioche add to the delicious taste adventure. www.stinnocentwine.com ($60)
The Pines 1852 2012 Brut Rosé
A beautiful pale salmon color, this sparkling offers aromas of fresh bread and bright summer fruit; flavors on the palate include ripe strawberry, raspberry and brioche, all punctuated with a long finish. www.thepinesvineyard.com ($40)
Left Coast 2012 Blanc de Noir
Notes of pear, pineapple and lemon waft from the glass, while flavors of honey, orange and baking spices linger on the palate. www.leftcoastcellars.com ($55)
Analemma 2011 Atavus Blanc de Noir
Citrine in color, this sparkler intrigues with aromas of green apples, fresh-baked bread and Anjou pear. On the palate, citrus, tart strawberries and hint of pine needle makes for a fine wine with a lingering, dry finish. www.analemmawines.com ($56)
REX HILL 2010 Grande Cuvée Brut
The wine's pale straw color swirls in the glass as aromas of fresh baked bread and notes of peaches waft from it. Notes of honey and brioche on the palate and a lingering finish make for a memorable sip. (67% Chardonnay, 33% Pinot Noir, less than 1% Pinot Meunier) www.rexhill.com ($85)
Capitello NV Brut
This elegantly crafted bubbly shows lovely aromas of pear and bread, and flavors of honey, ripe pear and a whisper of pine forest. Crisp finish. (70% Pinot Noir, 30% Chardonnay) www.capitellowines.com ($35)
Raptor Ridge 2013 Harbinger Vineyard Brut Rosé
A beautiful raspberry color, the wine smells of red summer fruit, tea leaves and citrus. On the palate, ripe strawberries, raspberry and dried fruit impress with a rich, lingering finish. (100% Pinot Noir) www.raptorridgewinery.com ($63)
Kramer Vineyards 2014 Brut
Apples, pear and yeast on the nose with flavors of peach, apple and minerality make for a delightful wine. Bright acid and dry finish complete the package. (65% Pinot Noir, 20% Chardonnay, 15% Pinot Meunier). www.kramervineyards.com ($30)
RainSong 2014 Classic Sparkling Cuvée
Pale in color and enticing on the nose with caramel and fresh baked bread aromas, the wine's flavors include green apple, and ripe strawberry with a hint of honey. www.rainsongvineyard.com ($25)