Q&A-List
Ruddick/Wood | Kyle Lattimer [Newberg]
Ruddick/Wood opened in downtown Newberg in 2013. Since then, the casual restaurant/tavern has consistently served locally focused, seasonal, new-American fare alongside craft beer, imaginative cocktails and, most importantly, Oregon wine. Working owners Kyle Lattimer and Paul Losch brought with them nearly 30 years of combined restaurant experience when they opened their doors. You can add three more, with many more to come. OWP and OWB are honored to include Ruddick/Wood as a 2016 Oregon Wine A-List Award winner.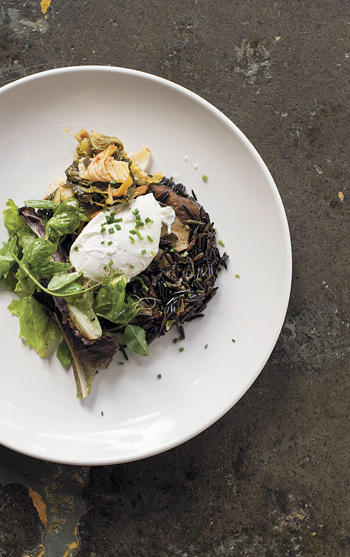 Why is it important to support Oregon wine?
I've never lived in another wine country, so I can't really speak to how Oregon stands out in the whole grand scheme of things. But, we love all things Oregon. We love the land, the climate, the food and the people. It inspires us every day.
We love cool-climate wines because of their elegance and weight. We love that we are able to support our friends and customers by selling their wines on the list. It is important to us that we can relay the passion for Oregon wine to our customers.
Other than that, though, it's important to support Oregon wine because, in our opinion, Oregon produces some of the best wine in the world. And it's important to drink a lot of good wine.
What are a couple of your favorite food and wine pairings at the restaurant?
I'm actually not a huge advocate for food and wine pairings. I find that most Oregon wines can go with a variety of dishes, and there is too much pressure for most people to find a perfect pairing. We like balance, and as long as the food has balanced acidity and flavor, then balanced wine will pair every time. I like to tell people to stick to the basics, and go with what makes sense. Food and wine pairings are important to understand, but it is not a concept that we like to push at Ruddick/Wood. We'll keep the food and wine pairings to the somm-driven wine programs. Although, I'm happy to suggest a wine to go with a guest's meal.
What is the last bottle of Oregon wine that super-impressed your palate.
For me, it's not just a bottle or a vineyard or a brand, it's about the people behind it. It's about the cellar hand who comes to the tavern on Wednesdays with stained hands and an eager thirst for good whiskey. It's about the veteran vintner who comes to the restaurant to drink his wine to see how it has progressed and matured. We like to sell wine made from good people who we see ourselves sharing a drink or a smoke with after a long day.
To name a few, drink Montebruno 2011 Crawford-Beck Vineyard Pinot Noir, or J. Christopher 'Sandra Adele' 2013 Pinot Noir, or Morgan Long 2014 Yamhill Vineyards Chardonnay, or Minimus 2015 Vitae Springs Vineyard Pet-Nat of Müller-Thurgau.
What would you like our readers to know about Ruddick/Wood?
Paul and I started working on this project over three years ago now, and what I've taken from it is that it will always be an evolving entity. We have had our ups and downs, but I truly feel like we are building our strongest team of people yet and the combination of service and food is as cohesive as it has been since opening in 2013. Restaurants are much like wine, I think. They are ever-changing beasts. They have their awkward phases. They have their times of stubbornness and uncooperativeness. But then, time nurtures the beast, and a personality starts to bloom. I think that although Ruddick/Wood is far from perfect, we have developed a distinct personality as an entity, and it's what makes our restaurant interesting.