Roserock Blooms
Drouhin family's new brand a rosy story
"What's in a name? That which we call a rose by any other name would smell as sweet."
Not so fast, Shakespeare. Names matter, especially when the story surrounding them is so interesting. The Drouhins can attest to this with their latest venture: Roserock.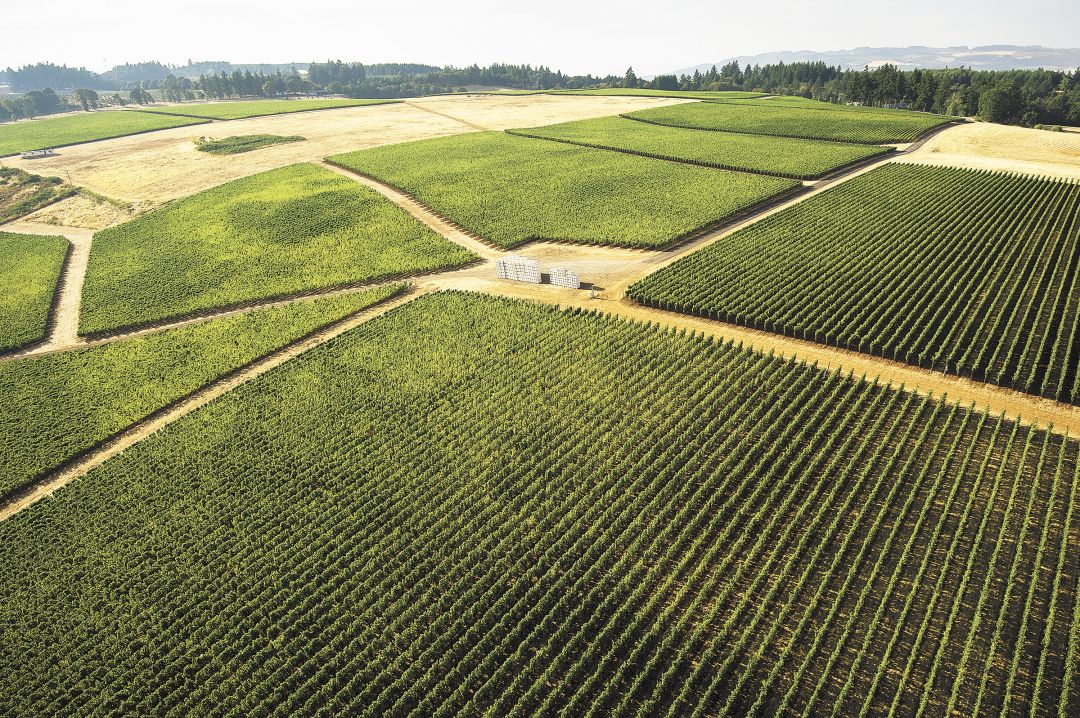 The famous Burgundian family, founders of Domaine Drouhin Oregon in the Dundee Hills in 1988, celebrated their first releases from the newly acquired vineyard in the Eola-Amity Hills. In December 2013, the Drouhins purchased Roserock Vineyard, a former Premier Pacific Vineyards (PPV) site planted between 2004 and 2007 as an investment property for CalPERS.
"We always kept our eyes open," said Véronique Boss-Drouhin, daughter of DDO founder Robert Drouhin and DDO's longtime winemaker. "We are very happy with what we have in the Dundee Hills, but we have always been interested in growing our business. We have had lots of propositions — as you know, a lot is happening here in the Valley — but it was never really the right site, until Roserock came up for sale.
"We did not know if we could afford it, but we made an offer," Véronique continued. "We thought if there was one place, this is it. I don't know if our offer was the highest — I honestly don't think so — but it seems like they were very happy to work with us."
Véronique, along with her father and brothers, Frédéric, Laurent and Philippe Drouhin, bought the 279-acre property with 122 already planted mostly to Pinot Noir; 11 of those acres to Chardonnay. They were already familiar with the vineyard — they had purchased fruit from it for Cloudline, the family's other brand — and had always loved the Eola-Amity Hills AVA, having fostered great relationships with area winegrowers, such as the Casteels of Bethel Heights.
They knew Roserock was high quality — fruit from this vineyard was previously sold to fine producers such as Soter, Ponzi and others — and they were familiar with its Dijon clones and volcanic-type soil, specifically Jory, Nekia and Ritner; Jory prevails at DDO.
Elevation at Roserock is also similar to DDO; although the latter has a bit more variation. With cooler breezes from the Van Duzer Corridor, ripening at the new site is most likely to occur after DDO's — not a bad situation to stagger picking dates when handling an entirely new load of fruit.
For the inaugural 2014 crush, Véronique had to find a home for the new Roserock crop; DDO was nearly at capacity. Longtime friends Rollin Soles of ROCO Winery and Joe Dobbes of Dobbes Estate both supplied space and labor at their respective facilities. Harvest 2015 followed suit, and plans for 2016 and the near future look much the same.
"Hopefully, we will build a winery on the Roserock property," Véronique said. "That is the idea, the goal. But building a winery is another big investment, so we need to wait, and see how we do with this wine."
If the 2014 wines are any indication — and the family's deeply entrenched wine heritage — Roserock is already a great success. Totaling roughly 16,000 cases, the three releases are proving stunning in the glass. Offerings include a Chardonnay ($35), Pinot Noir cuvée ($35) and a reserve Pinot Noir ($60) called Zéphirine.
What's in a name, William?
This is where the story gets good.
Named by the man who planted the vineyard, Bill Hill, Roserock truly fits the Drouhins, especially Philippe, who manages the Drouhins' Oregon vines.
"Philippe has two passions in life — besides wine — and that is cooking and roses," Véronique explained. "He has about 300 roses in his garden in Burgundy. And in it, he has the Zéphirine rose."
But this isn't just any rose. The flower's full name is Zéphirine Drouhin.
"It is not related to our family," she explained. "The rose was created by a priest in Dijon in 1868; he named it after his niece, Zéphirine."
Also known as a Bourbon Rose, Zéphirine likes to climb, grows in bushes and contains no thorns. The petals are a lush coral pink, and the fragrance is strong.
"If you walk six feet from it, you can still smell it," Véronique noted.
For a visual, just take a look at the Roserock Pinot labels: You'll find a painted version of Zéphirine Drouhin.
What a name. What a story. Blooming right before us.
I'm certain the Bard would have wanted a sip.
For more information, please visit www.domainedrouhin.com.