The Changeup: Roll On, Columba, Roll On
Unusual blend sings different tune
Nate Ready bringing grape varieties like Macabeo and Albillo Real to the Columbia River Gorge represents the most significant Spanish-American collaboration since Julio Iglesias performed with Willie Nelson. The result is a white wine unlike any other in Oregon, the super-rare Hiyu Wine Farm "Columba."
Ready describes his journey to Hood River as "following from one inspiration to another." Those inspirations included a part-time college job in a Malibu bottle shop selling wine to celebrities like Danny DeVito and Pierce Brosnan, earning a master sommelier credential and working for such illustrious restaurants as The French Laundry in Napa Valley and Frasca Food & Wine in Boulder, Colorado.
Along the way, he also worked harvests at wineries in California, Northern Italy and Slovenia. Those experiences convinced Ready he wanted to make wine. He packed his belongings and moved to Oregon, joining the team at Antica Terra.
While working there with winemaker Maggie Harrison, Ready traveled the state checking out locations for his own winery. When the time came, Ready settled in the Columbia River Gorge, a region with diverse microclimates and relatively affordable land. It also offered the opportunity to get out of the shadow of the Willamette Valley and "King Pinot."
Ready, and his partner in all things, China Tresemer, purchased the old Pheasant Valley Winery, renaming it Hiyu Wine Farm. The property offers a stunning view of Mount Hood, surrounded by orchards, lavender fields and the curving bend of the Hood River. Over the past eight years, with help from business partners, Geoff and Colleen Burke, Ready and Tresemer purchased neighboring properties to create a 30-acre working farm. This oasis on the edge of Mount Hood National Forest is also where Ready tends a most eclectic collection of 80-plus grape varieties, ranging from Assyrtiko to Xarel-lo.
Walking Hiyu's estate vineyard is unlike anything I have experienced in Oregon. The slopes are steep, and the terrain is a series of natural bowls and winding swales covered in powdery loam. Ready's mentor, Harrison, describes the soil's texture as "like walking on the moon."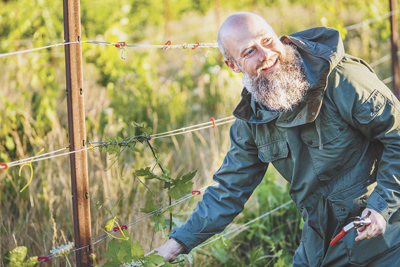 Queen Anne's lace and other groundcovers grow as tall as the grapevines. Every square inch of the hillside is alive with plants or Kunekune pigs foraging for dandelions and insects. Hiyu is a living, breathing wild kingdom, the perfect place for Ready to create the kind of wines he loves to make and drink.
Ready's philosophy of winemaking embraces minimal intervention while paying attention to what the land is telling him, including borrowing bits and pieces from ancient Roman agricultural texts, Rudolf Steiner, polyculture, permaculture, organic farming and making wines without adding yeasts, nutrients, enzymes, sugar, acid, or water. The only substance Ready adds to his wine is a homeopathic amount of sulfur before bottling. You might call Ready a "natural winemaker," but the only labels he cares about are attached to his wine bottles.
The Hiyu Wine Farm 2016 "Columba" ($65) is a blend of Spanish grape varieties, including Albariño, Albillo Real, Arinto, Macabeo, Verdelho and Xarel-lo — a grape that sounds like Superman's long-lost cousin. There are a few other grapes in the "Columba" as well, like Trousseau Gris, but Ready is fond of maintaining a bit of mystery regarding what he's growing.
These vines are inter-planted in a half-acre section of the vineyard. The grapes for this inaugural vintage of "Columba" were hand-picked, hand-sorted, tread by foot and left for two days to macerate on the skins. They were finally pressed by foot into 205-liter Champagne barrels. By the time it was bottled several months later, there was enough wine for a mere 18 cases. In other words, there are 216 bottles of "Columba" for millions of Americans to share. It is worth the effort to find one of those bottles.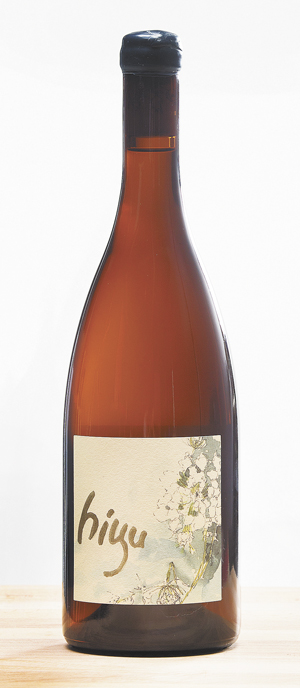 "Columba" tells the story of the untamed nature of Hiyu Wine Farm. It's on a mission to convince you to drink more wines with a wild streak, just like the wine's namesake, a sixth-century Irish abbot who set off for the highlands of Scotland to convince the locals to change their ways. This modern-day "Columba" is no saint, but if you are lucky enough to find a bottle, you will know wine miracles do happen.
Tasting Notes
Hiyu Wine Farm 2016 "Columba" Its light golden hue conjures up visions of fresh straw and the glow of a Mason jar filled with fireflies. The first swirls unleash a complicated set of scents destined to take you down the "rabbit hole." At first, there's a savory, smoky quality like grilled peaches wrapped with slices of Jamón ibérico; next up, a burst of salinity and white grapefruit pith followed by a sharp turn, nailing my nose with a clean, herbaceous note mixed with pine needles and the dried leaves of a pineapple sage plant. The olfactory onslaught continues, with wave after wave of flavors, including tart quince, tangy Valencia blood oranges, honeycomb and a wet clay note that evokes images — for folks of a certain age — of the pottery wheel scene in "Ghost." The wine clocks in at 13.5-percent alcohol, with a medium-bodied mouthfeel, acidity brisk enough to snap your palate to attention and a decent amount of tannins. —M.A.
The changeup is a baseball pitch designed to disorient and confuse. It's the perfect representation of the unknown and its mastery over those who think they know what to expect. This column is devoted to those unorthodox Oregon wines you never saw coming.