Valuable Imports
Robert and Ellen Brittan making their mark in Oregon
Despite occasional comments to the contrary, good things do come from that large state sprawling southward below Oregon's southern border.
Let's see: There are movies, and at least a few worth watching. Then there is television, particularly the kind that comes commercial-free. There is good weather, which, unfortunately, can't be exported. And there is good wine, which can be exported. But being faithful Oregonians, we should support our own excellent industry.
There are the Coastal Redwoods, the Golden Gate Bridge, San Francisco Bay, Monterey and Carmel, Lake Tahoe, Big Sur and lots of beautiful beaches. But like the weather, you have to head south to enjoy such sights, as they can't be exported either.
Brittan Vineyards
Address: 829 N.E. Fifth Ave., Ste. 700, McMinnville
Hours: 11 a.m.–4 p.m., Fri.–Sat.
Phone: 971-241-8228
Website: www.brittanvineyards.com
Then there are people. These are the most diverse, interesting and mobile of all exports. When they move here, of course, they become imports. And in the Oregon wine business, such imports are considered valuable commodities.
That brings us to the case of Robert and Ellen Brittan.
Robert is a Californian, born and raised in Bakersfield. But we won't hold that against him. After leaving his hometown to spend a couple of years discovering the world, he decided to major in physics at Oregon State University.
His father, a professional photographer, died on Christmas Day of 1973. So Robert returned home at the beginning of 1974, forsaking studies to help his mother.
Needing to earn some money, he learned of an opportunity to work in the lab at a large central valley winery, the Bear Mountain Growers Co-Op, which processes 140,000 tons of grapes when harvest rolls around. He jumped at the chance.
Keep in mind, 140,000 tons is nearly three times Oregon's entire wine grape yield. Though not yet finalized, estimates for 2013 range from 55,000 to 60,000 tons. Lending further perspective to the comparison, California's total tonnage for 2012 runs upwards of 4.4 million tons.
Robert enrolled at the University of California at Davis, the American mecca of wine education. Among his classmates were Rollin Soles, co-founder of Dundee's Argyle Winery, and Randall Grahm, famed Bonny Doon founder and maestro of gonzo wine marketing.
Once all those top-tier viticulture and enology studies had been absorbed, imprinted and certified with a bachelor's degree, Robert was hired by Far Niente, a Napa Valley gem owned by Gil Nickel. Nickel was processing only 140 tons a year, but turning them into world-class Cabernet and Chardonnay.
Robert admitted that going from 140,000 tons to 140 required quite an adjustment. But the concept of handcrafting individual vineyard wines in small lots fit perfectly with what would be his Oregon wine future.
In the meantime, young Ellen Marek followed her father's career as a commercial artist. When he moved from Chicago to Seattle in 1967 to take a job with Boeing, she finished her public school education and moved on to the University of Washington, where she studied the Romance languages.
"I thought I'd end up teaching French. Instead, I married right out of school, and found myself in San Diego looking for a job."
She walked into a San Diego bank one day to open an account and didn't walk out again until she had gotten hired as a teller. That was the beginning of a successful 20-year career in financial consulting, which took her from Southern California to the Napa Valley.
"In 1988, I was hired by a high-powered New York firm that had its West Coast office in San Francisco. But right when I joined them, one of the owners decided to move the office to the Napa Valley, and I went along for the ride."
With the electronic world making it possible to work from anywhere, she found wine country life both enjoyable and profitable.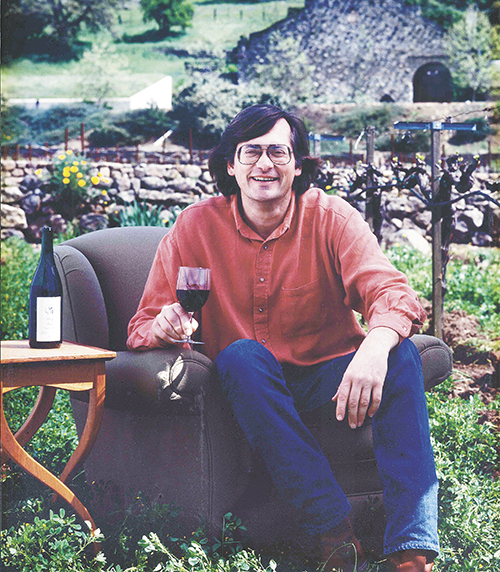 She met Robert at a party in 1989. By then, his Napa Valley adventure had taken him from Far Niente in Oakville to Stags' Leap in Yountville, where he remained for 17 years.
He served as founder Carl Doumani's general manager and head winemaker for nine years. From 1991 to 1999, he also made his own Pinot Noir from Carneros District fruit. He worked closely with Doumani when his boss formed a partnership with Steve Girard of Oregon's Benton-Lane Winery.
Eventually, Beringer bought the business, and he remained as general manager and winemaker. In 2000, Foster's of Australia acquired all of Beringer's assets, including Stags' Leap; Robert continued another five years under Foster's ownership.
When Robert and Ellen met, both were married. But they became friends and remained in touch for 14 years. They didn't begin dating until 2003, by which time they were both divorced.
"I'd given up on women," Robert said. "But when you're not looking, it can happen."
In 2005, Robert decided to leave Stags' Leap and make wine only for his own projects. In the meantime, Ellen had left a 20-year career in finance for a wine industry job offering more fun at less pay.
"I fell in love with food and wine," she said. "It made me happy. It was what I wanted to do."
Along the way, she helped launch the Rudd brand in 2000, when owner Leslie Rudd bought a 55-acre Oakville estate.
Both wine-immersed, the couple began looking for a place to plant their own vines. It should come as no surprise that Pinot Noir was their grape of choice for the endeavor, which naturally led them to Oregon.
Their wine involvement may have been nurtured in Napa, but the lure of Oregon wine country ultimately proved irresistible. In 2004, their search led them to a 128-acre hillside in the McMinnville AVA.
"We wanted an all-estate winery," Robert said. "There were 18 acres already planted, but more than half of that has since been replanted with new clonal and rootstock combinations, including the Swan clone. We've also planted 3.5 more acres of Pinot, 1.5 acres of Syrah and 4 acres of Chardonnay."
To begin the enterprise, Robert commuted for four years. They made their first 720 cases of wine in 2006, but didn't make the move north until 2008. In conjunction with that move, they made legal a bond 19 years in the making.
"He asked me to marry him in front of a whole crowd of wine people," Ellen said. "That was one of the few times in my life that I have been utterly speechless."
By 2013, production grew to 2,000 cases from two distinctive blocks — Gestalt and Basalt. They were able to produce signature Pinots exemplifying two of the five soil series that comprise the vineyard's complex terroir.
Robert and Ellen swiftly became an integral part of the local wine industry. He landed consulting winemaker agreements with several wineries, and she became general manager of Carlton Winemakers Studio.
"We had outgrown our small space at Coeur de Terre, and went to CWS looking to expand our production capabilities," Ellen said. "We struck an agreement, settled in and began to make some suggestions. It was apparent organizational issues needed to be dealt with and, before I knew it, I was asked if I would become general manager."
Ellen began working at CWS in 2010, and Robert made wine there the next two years, as she organized the business.
Needing to expand further, Robert and Ellen, in partnership with Bill Sweat and Donna Morris of Winderlea, leased a 10,000-square-foot space in McMinnville's Granary District. In addition to his own Brittan wines, Robert oversees production at the facility for Winderlea, Blakeslee, deLancellotti, Fairsing, Youngberg Hill, Ermisch and Noble Pig. Assistant winemaker Vincent Vidrine also makes wine under his own label, Meristem.
Ellen moved on as well when, in late 2014, she was named director of wine education at Linfield College in McMinnville, ending her work at CWS.
Robert serves on the boards of the Willamette Valley Wineries Association and Oregon Pinot Camp. Ellen is now the president of the Oregon Winegrowers Association and chair of the Oregon Wine Board. She also serves on the board of the International Pinot Noir Celebration.
It appears this ex-California couple is giving the Golden State a stellar name among members of Oregon's winemaking community.
Brittan Vineyards
829 N.E. Fifth Ave., Ste. 700, McMinnville
Hours: 11 a.m.–4 p.m., Fri.–Sat.
Phone: 971-241-8228
Website: www.brittanvineyards.com
Captions
Robert in 1990 when he was GM and winemaker at Stags' Leap Winery in the Napa Valley. Photo provided.