Riesling Invasion
Event makes splash for misunderstood white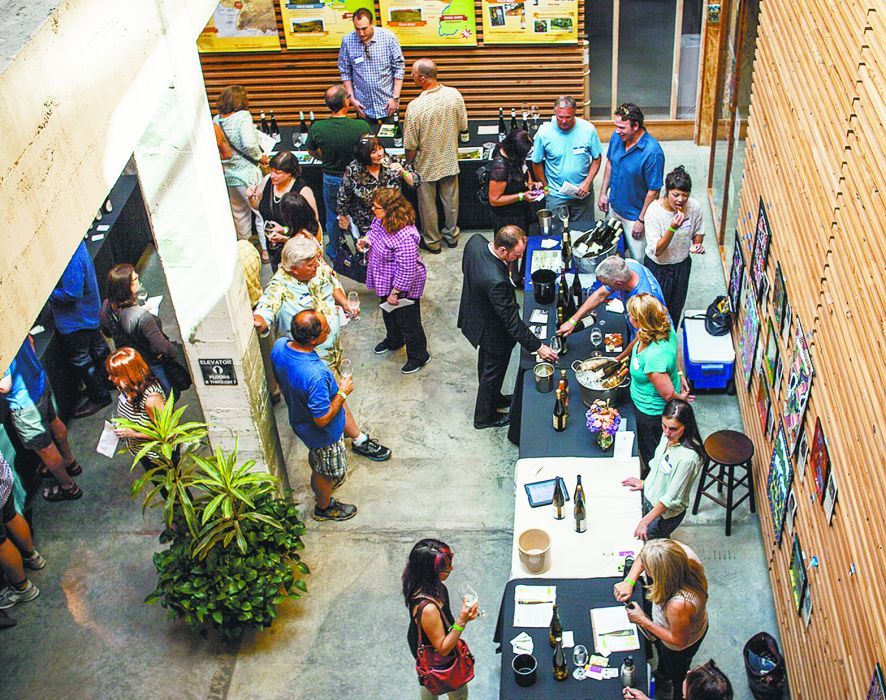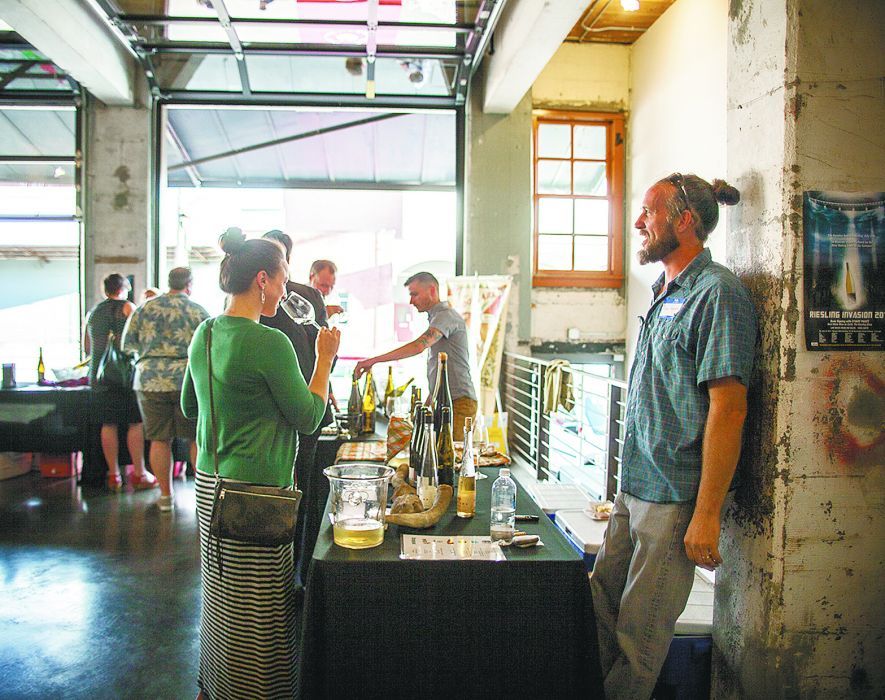 Participating Oregon Riesling Producers
5Q Wines, A to Z Wineworks, Alexana Winery, AlexEli Vineyard, Anam Cara, Anonymity, Argyle Winery, Bethel Heights, Big Table Farm, Brandborg, Bridgeview, Brooks, Chehalem, David Hill Vineyard, Elk Cove, Foris Vineyards, Hyland Estates, Illahe Vineyards, James Rahn, Jasper Sisco, Lemelson, Love & Squalor, Mad Violets, Memaloose Winery, Methven, Meredith Love, Montinore Estate, Ovum Wines, Ponzi Vineyards, Pastoral Cellars, Ransom, Sweet Cheeks Winery, Teutonic Wines, Tartan Cellars, Trisaetum Winery, Viento Wines, Walnut City Wine Works
Guest Wineries
Dr. Loosen, Maximin Grunhaus, Robert Weil, Pacific Rim, Villa Wolf
If Willamette Valley's cool climate is perfect for Pinot Noir, then it is perfect for delicate whites like Riesling," said Harry Peterson-Nedry, founder of Chehalem Wines in Newberg.
Once 23 percent of state production, Riesling occupies a significant place in Oregon's wine history. But as Pinot Noir raced to the top, the Burgundian-style red has greatly overshadowed Riesling, making the white a lesser-known variety.
Fortunately, a group of passionate producers of Oregon Rieslings joined forces in 2002 and 2003 to ensure Riesling remains part of the state's wine future. Over the course of a decade, 2002–2012, the number of acres planted to Riesling in Oregon increased 30 percent to 718 — compared to Pinot Noir's 15,369 acres planted in 2012.
Today, the Oregon Riesling Alliance (ORA) consists of approximately 40 active members collaborating to spotlight the white. On July 19, ORA hosted the Riesling Invasion in Portland at the Olympic Mills Building. The event offered guests — including those who already had a taste for the white and those curious to learn more about it — a thorough sampling of more than 70 bottles from ORA members.
A style for every palate was represented, from the very dry Antsy Pants Riesling by Love & Squalor, to Bridgeview's semi-sparkling Riesling, to Brooks' Tethys, a dessert Riesling. Flavor impressions included peach, apricot, white flowers, tropical fruits and occasionally ambrosia. Those with at least a year of bottle age showed the expressive petrol aroma common in many of the world's greatest Rieslings.
Again, ORA's goal is bringing awareness to Oregon Riesling.
"First, ORA wants people to know Oregon Riesling exists," Peterson-Nedry said, straight-faced. "Second, consumers should expect vibrant acidity and ripe fruit. These wines are food friendly and tend to be [made in] a dry style." He noted how not all of the state's Rieslings are dry and vintage variation plays a role.
Worldwide uncertainty about Riesling styles has been an issue for consumers. Even Rieslings labeled "dry" vary in perceived sweetness. Oregon producers are working to erase the confusion surrounding this enigmatic wine. More than half have adopted the International Riesling Foundation (IRF) Riesling Taste Profile. The IRF scale considers sugar and acidity together.
Peterson-Nedry explains, "In addition to how dry or sweet the wine is, the scale answers the question: What's inside the bottle? Since that has baffled Riesling drinkers over time."
Each February, members of the ORA meet for the Young Riesling Tasting. A blind tasting of one another's wine, this is a candid peer review to provide the highest possible quality to the consumer. The exercise is purposefully scheduled after fermentation and before bottling, allowing winemakers to make adjustments before release. The result, hopefully, is Oregon Rieslings delivering remarkably consistent high quality and expressing individual character.
The group discovered a need to better understand the influence of soil on the finished wine, experimenting with unfermented Riesling juice from three soil types: 1) glacial soils from Chehalem Winery's Corral Creek Vineyard in the Chehalem Mountains AVA; 2) oceanic soils from Trisaetum Vineyards' Ribbon Ridge Vineyard in the Ribbon Ridge AVA; and 3) basalt soils from Brooks Estate Vineyard in the Eola-Amity AVA.
The three winemakers made Riesling from their own juice and that of their two peers. The only stipulation was to make a dry style. The resulting nine wines were tasted at a trade panel discussion preceding the Riesling Invasion event.
What were the winemakers' discoveries? Chris Williams, winemaker at Brooks, felt the experiment reinforced his thoughts on the winemaker's influence. A self-proclaimed "big acid hound," Williams infused his preference for "character over harmony" and produced the more acid-driven wines from each of the soil types.
Working with juice from less familiar sites, Wynne Peterson-Nedry, winemaker at Chehalem Winery, recognized the impact of knowing the site and being familiar with previous vintages. "We tailor site-specific Rieslings to reflect the soils and achieve the right balance of sweetness and acidity for the vintage," she said.
James Frey, proprietor/winemaker at Trisaetum Vineyards, blends his Rieslings from three AVAs with varying soil types. Already a believer in the influence of site, Frey explains, "Riesling does an amazing job of translating the characteristics of the soil into the glass."
All three winemakers left their thumbprints, for instance, allowing different levels of residual sugar. "Even tasting blind," Frey said, "I could see the hand of the winemaker and the influence of the site." Frey hopes to repeat the experiment and continue to taste the bottles again as they age. "It will be interesting to see how these wines develop over the next decade and if site or winemaker influence comes to the forefront."
Many attendees remarked that the winemaker's influence was more pronounced than the influence of the soil, which is good news for consumers who generally choose wines based on winemakers regardless of vintage conditions.
The panel moderator, Stuart Pigott, author of "Best White Wine on Earth," which covers Riesling-producing regions worldwide, deemed the book title "outrageous but justified" based on these attributes of Riesling: "range from bone dry to honey sweet; ability to age; and terroir, a reflection of hand and land."
All three points were proven true for Oregon's other white grape at this year's Riesling Invasion.
For more information about Oregon Riesling, visit www.oregonriesling.org. For a taste of Oregon Riesling, see the list of wineries at www.rieslinginvasion.com.
Jade Helm is the primary author of Tasting Pour, a blog about wine, cocktails and food. Her expertise is evidenced by credentials from the Society of Wine Educators (Certified Specialist in Wine) and the Wine and Spirits Education Trust (Diploma in Wine and Spirits).