Riddle Me This
Why a winemaker would wait a decade to release his first wine? Answer: BUBBLES
Born of family, tradition and patience, Maison Jussiaume's first vintage of Blanc de Blancs is finally ready to savor. Sourced from a single vineyard, winemaker Jean-Michel Jussiaume's first wine under his own label was crafted in the traditional Champenoise style, one this Frenchman respects deeply.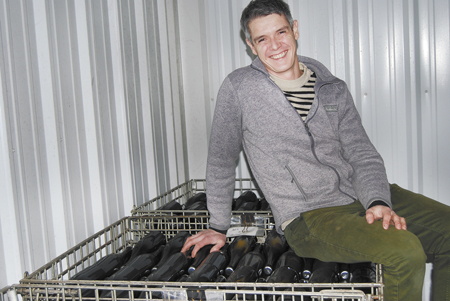 "I am inspired by the quality, precision and craftsmanship of this method," he explained.
For Jussiaume, also the winemaker for Del Rio Vineyards, the wine realizes a 10-year dream, expressing his family's French winemaking traditions transported to the Rogue Valley.
His family's property in the Loire Valley dates to the 16th and 17th centuries. Like all farmers in the region, his grandparents grew produce, raised animals, planted vineyards and made wine to enjoy at home and sell. Then, during his parents' era, winemaking cooperatives emerged and wine sold more by the barrel.
Jussiaume remembers, "A man goes from cellar to cellar to taste your barrels. 'We'll take your wine,' the buyer said, and that is how it was done when I was a child. Then, the world changed."
Although France has used the system of appellation d'origine contrôlée for centuries, the appellation for his family's region of Muscadet was not added until 1937. In the 1960s and 1970s, the Jussiaumes transformed the family farm into all vines; they started their own label and bottled it for sale. "I was 13 or 14, and I remember gluing labels on the bottles with egg whites," he recalled.
"Wine has never been for me the more pretentious Grand Cru or Burgundy or Bordeaux," Jussiaume said. "It's always been a moment to share … Muscadet." The grape thrives in the Loire Valley, so for him, this was the wine of celebration, family and community. "It's the wine of the guinguettes, restaurants close to the Seine where people go to dance and drink wine. Same for Beaujolais."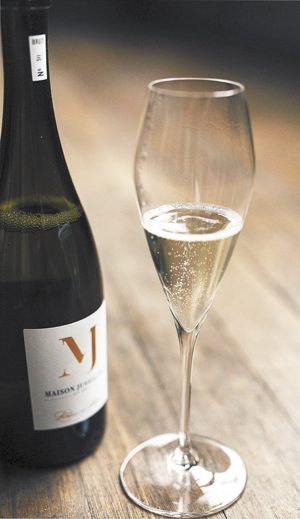 Facing facts, Jussiaume knew Muscadet would not be his new wine in Oregon. "I would have to get it from up north, I didn't want that; it's too far away from the vineyard; for Beaujolais, Gamay, the same."
Yet the idea of celebration and sharing persisted, growing stronger over time. He recognized sparkling was the answer. "When I started to think of it, what I should do, the vineyard was telling me what to do." A block of Chardonnay at Del Rio Vineyards beckoned to become the perfect base for bubbles.
At Del Rio, Jussiaume and his international team process about 1,700 tons of grapes annually. It's hard, breakneck work keeping presses running while being fed by mechanical harvesters picking more than 300,000 vines. The state-of-the-art equipment and production facilities are capable of producing about 1 million bottles of wine a year.
In contrast, making Blanc de Blancs is unhurried, and Jussiaume works alone. The grapes stay in the press under pressure for up to two hours. Each bottle is hand-filled, sealed and fermented for at least 17 months. The journey continues with the bottles resting almost horizontally, necks inserted into special wooden racks brought over from France. Twice a day, Jussiaume carefully rotates each bottle a partial turn, otherwise known as riddling. Slowly, the angle of each bottle is increased; and after 21 days, they rest practically vertical in their racks. This slow process gathers the sediment in the neck where it is then disgorged. Traditionally, a dosage is then added and the bottle recorked.
"This whole project is a way to do something slow, slow no matter what," he said. "It's so slow that there's something very excellent about it. It's going back; it's more human."
Maison Jussiaume was established in 2005, and its first, the 2015 release of Blanc de Blancs, is limited to 860 bottles, each handled with care by Jussiaume. Recently rated 91 points by Wine Enthusiast, the wine — crisp and elegant with notes of apple, melon and citrus — can be found in select wine shops and restaurants in the Medford and Portland areas.
For more information, visit maisonjussiaume.com.