Rhubarb
Abudant, versatile, delicious
With vibrant greens, gold and crimson blanketing the valley, summer finally arrived, which means my taste buds are performing their customary dance while memories of my grandmother in Minnesota, where I grew up, spark inspiration in the kitchen.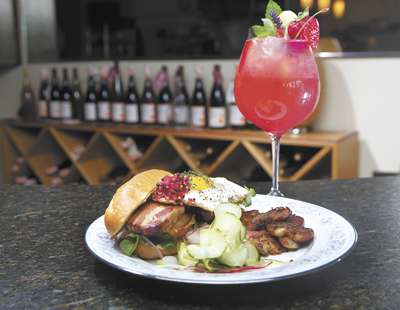 Grandma Opal spent her days baking, cooking, canning and preserving all of Mother Nature's offerings. When she wasn't working at the café in town, she kept busy as the neighborhood baker, churning out pies, cookies, bars and anything else to keep the grandchildren smiling, giggling and playfully wired.
When tulips began to free themselves from their earthly trappings, rhubarb was already spreading like wildfire. Midwesterners would never need to buy it when everyone in town tries to unload a bag full of the stuff. Grandma Opal, on the other hand, would take as much as she could and for very good reason: She was able to take this sour, astringent weed and turn it into some of the most amazing jams, jellies, pies and bars I've ever tasted, including her famous strawberry rhubarb pies and crisps.
Rhubarb is summer's morning; once we begin noticing its red stalks, we know strawberries are right behind and the rest of the season's bounty follows suit. In our kitchen, we enjoy rhubarb in a variety of ways: pickles, mostarda, cocktails, vinaigrettes and, of course, desserts. It is an incredibly versatile plant if you give it a chance.
Rhubarb Mostarda
INGREDIENTS
1 pound rhubarb stems, cleaned
½ pound cane sugar
2 tablespoons yellow mustard seed
1 tablespoon black mustard seed
1 teaspoon powdered mustard
DIRECTIONS
Finely dice rhubarb, toss with sugar and place in container; refrigerate for 24 hours.
Place yellow and black mustard seeds in separate pots with 2 cups water each; simmer for 15 to 20 minutes, or until they've fully puffed and have lost bitterness.
After mustard seeds are cooked, combine and reserve in refrigerator.
After rhubarb spends 24 hours in refrigerator, pour liquid into small pan, reduce by half, pour remainder back over rhubarb and repeat this step 24 hours later.
On last day, add mustard powder to liquid, reducing by half and then folding in mustard seeds with rhubarb.
Mostarda will keep under refrigeration for several weeks; it is a lovely addition to pork chops, summer salad or on a sandwich.
Rhubarb Sangria
Serves 6 to 8
INGREDIENTS
3 bottles dry Oregon white wine
1 bottle Oregon sparkling wine
2 cups rhubarb simple syrup
3 pints fresh berries
2 oranges, sliced
1 pint cherries, pitted
¼ cup St. Germain (elderflower liqueur)
¼ cup Grand Marnier
1 bunch of basil
1 bunch of mint
DIRECTIONS
Pour bottles of still white wine in large serving bowl. Add simple syrup and all fruit, plus a few mint and basil leaves.
Finish with sparkling wine and float the Grand Marnier and St. Germain. Garnish with mint and basil leaves.
Rhubarb Simple Syrup
3 pounds rhubarb
2½ pounds cane sugar
DIRECTIONS
Clean and cut rhubarb into 1-inch chunks. Place sugar and rhubarb in large pot; add 2 cups water. Bring to a boil and let simmer for 35 to 40 minutes.
Pour through fine mesh strainer and reserve liquid. Save pulp and use as a rhubarb spread for toast, ice cream or even cheese.
Pork Belly Sandwich
Serves 6 to 8
Note: This recipe requires weeks, but it is worth the time.
INGREDIENTS
1 4-pound pork belly, skin on
¼ pound kosher salt
¼ pound cane sugar
2 bay leaves
1 teaspoon coriander
1 teaspoon allspice
1 teaspoon chili flakes
1 teaspoon juniper berries
1 bottle Riesling
2 tablespoons rhubarb mostarda
1 head bibb lettuce
8 hamburger rolls
8 duck eggs
3 tablespoons Dijon mustard
DIRECTIONS
Place all spices in bowl and gently crack; add salt and sugar.
On large piece of plastic wrap, sprinkle half of spice mixture; place pork belly on top; then cover with remaining mixture. Wrap tightly in plastic and place on tray with another tray on top to weigh it down — time to use those cans of peas that nobody wants. Place in refrigerator two weeks, three if you can wait.
After weeks in refrigerator, give pork a quick rinse under cool water; place in smoker for 4 to 6 hours at about 140°F.
Once belly is cool, place in large baking pan and cover with Riesling. Bake at 325°F for 1½ to 2 hours, until you can gently stick a pick through it. Remove from liquid. Place belly on a pan with a pan on top, weigh down in refrigerator overnight.
To make the sandwiches: Slice belly to desired thickness. In a large sauté pan, cook on medium heat. Toast buns in belly fat. Fry duck eggs over medium heat until whites have cooked. Spoon Dijon mustard on toasted buns, add a few leaves of lettuce; add cooked pork belly; top with duck egg and spoon of mostarda.