Reviving Clone 95
Dick Erath resurrects old suitcase selection
Oregon wine pioneer Dick Erath celebrated 50 years in the Willamette Valley in February. One of "The Boys Up North" portrayed in the 1997 book by the late Paul Pintarich, Erath was encouraged to move to Oregon by Richard Sommer, a UC Davis graduate who founded HillCrest Winery in the Umpqua Valley.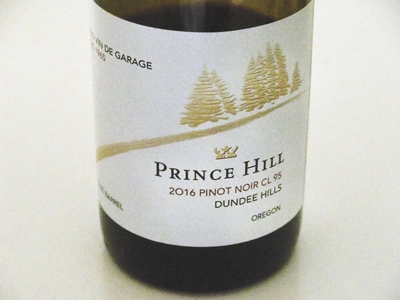 Erath, who had tinkered with growing winegrapes in Walnut Creek, California, finished a two-week course at UC Davis in 1967, which proved life-changing, having met noted vintners Andre Tchelistcheff and Louis Martini during the program.
In February 1968, Erath and his first wife, Kina, left the San Francisco Bay area for the Willamette Valley, acquiring a 49-acre site in the Chehalem Mountains above Newberg. He named the property Chehalem Mountain Vineyards and planted the first four acres to Pinot Noir, Riesling and Gewürztraminer in 1969, using cuttings from Sommer, the Wente family and Barney Fetzer.
He also experimented with a number of other cuttings, working with another pioneering vintner, Charles Coury, who eventually became his partner in a nursery business, the Erath-Coury Nursery.
Erath quickly ingratiated himself with other early Oregon players, including Dick Ponzi, David Lett, Bill Fuller and David Adelsheim. In 1970, Erath, Lett and Coury lobbied the Oregon State Legislature to stop the importation of wine grape vines infected with viruses.
Looking back, this stance is ironic, for Erath's Pinot Noir clone 95 is one of the rare instances of a suitcase selection planted successfully in Oregon — the other successes were the Coury clone and Archery Summit's 828. To Erath's credit, he did not smuggle clone 95 into Oregon. But more about that to follow.
Pommard clone UCD 4 was introduced to Oregon by Erath and Coury as part of their joint nursery venture. It turned out to complement perfectly the Wädenswil clone Lett had brought to Oregon in 1965, currently the most widely planted Pinot Noir in the state.
In 1975, Erath formed a partnership with C. Calvert "Cal" Knudsen, establishing the Knudsen-Erath Winery, the first commercial winery in the Dundee Hills. Together they released many acclaimed wines. In 1983, Erath planted Prince Hill Vineyard, across from Knudsen's original plantings dating to 1972. When Erath bought out Knudsen in the late '80s, Erath retained the winery along with Prince Hill, which would hold the first plantings of Erath clone 95 in 2002.
But this clone's story actually began in 1975, when Erath's friend visited Clos de Vougeot in Burgundy. He grabbed cuttings from the ground and brought them to the U.S. Erath promptly sent them for cleaning to Dr. Austin Goheen at the UC Davis Foundation Plant Services (FPS). The original material was designated FPS S1 and underwent heat treatment. But after Goheen retired, Erath heard nothing more for many years about the fate of FPS S1.
Erath later discovered the original material had tested positive for virus in 1986 and underwent micro-shoot tip tissue culture disease elimination treatment in 1997, whereby a new selection — plus some backup vines from the same material — was created: FPS 117.
In 1998, Erath was surprised to receive a letter from FPS explaining the vines he submitted had been designated FPS 95 and "were ready." In 2002, FPS sent Erath 16 mist-propagated vines. Using budwood from these vines, Erath planted 4 acres on 3309 rootstock at Prince Hill. Later, another 7.5 acres — now going into fourth leaf — were planted.
FPS 95 was later removed from the FPS listing because it tested positive for leaf roll virus in 2005; although Erath had not seen any evidence at Prince Hill. The backup vines from the same source material were advanced to FPS Pinot Noir 117 — they also completed testing to qualify for the Russell Ranch Foundation Vineyard in 2013, and were designated FPS Pinot Noir 117.1.
Erath believes FPS 117 is similar to Pommard in appearance and wine character profile. However, FPS 117 has greater extract, higher skin tannin levels and appears resistant to botrytis. In 2013, in the Willamette Valley, although eight inches of rain fell during harvest, no botrytis developed in Erath's FPS 117 plantings. He calls this the most distinctive feature of this selection, since currently planted Pinot Noir clones are botrytis-prone.
The nearly 40-acre Prince Hill Vineyard has slow-moving phylloxera infestation of unknown origin. In response, Erath has planted 500 FPS 117 vines in sandy soil in a nursery on Grand Island near Dayton, where there is no threat of phylloxera. A single barrel of Pinot Noir was produced by Erath from these vines in 2016.
Erath has produced a single barrel of Prince Hill clone 95 Pinot Noir — designated CL 95 — from 2012–2016. These were one-barrel wines not released for commercial sale. The 2014, 2015 and 2016 wines were co-fermented with 10- to 18-percent Coury clone. Erath believes the Coury adds some higher aromatics and that some combination of the two clones works best.
I had the opportunity to taste the 2012, 2014, 2015 and 2016 CL 95 Pinot Noir wines and can confirm that the wines resemble in character those made from Pommard clone.
Laurent Montalieu of Hyland Estates released a 2015 Clone 95 Pinot Noir under the Prince Hill label. Erath assigned the "Prince Hill" mark to him. The wine is exclusively clone 95 grapes planted, grown and tended by Erath. The wine commemorates Montalieu and Erath's collective 80 years' experience winegrowing in Oregon. The wine is available for sale at Hyland Estates' tasting room in Dundee.
Erath sells clone 95 budwood to raise money for his Erath Family Foundation that advances viticultural and enological science in Oregon. Through 2017, the Erath clone 95 — he prefers this term rather than FPS 117 — has been planted at Hyland and Holloran vineyards. In 2018, plantings are planned for Brick House and maybe Beaux Frères. Word is getting out and Erath expects to see a substantial increase in plantings of Erath clone 95 (FPS 117) in the coming years.
The Duncan family, owners of California-based Silver Oak and Twomey wineries, acquired Prince Hill Vineyard from Erath for their Twomey brand in September 2017. The sale included the "Prince Hill Vineyard" brand, with Twomey having use of the vineyard starting with the 2017 vintage. David Duncan reportedly will sell grapes from the vineyard in the ensuing years while the vineyard undergoes some replanting with new clones.