Renaissance Man
Evolution of West Coast industry parallels life of Willamette winegrower, gardener
Like fine wine, the maturation of a viticulturalist takes time.
His friend, Rollin Soles, co-founder of Argyle Winery and owner of Roco Winery with his wife, Corby Stonebraker-Soles, made wine in this Oregon wine pioneer's basement after Soles moved to Oregon in 1984. Soles called him a "renaissance man," for his diverse interests: grapegrowing, piano playing and Japanese gardening — the list was lengthy.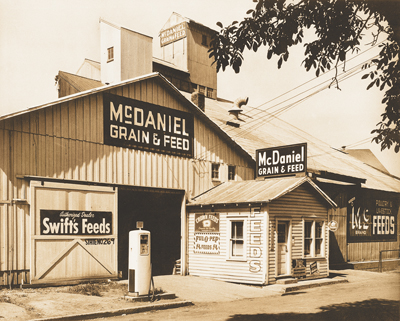 This is his story. The chronology of his life intertwined with the rise the West Coast wine industry and countless Oregon wineries.
As a young boy, he stood in the Red Hills of Dundee for the first time in the early 1930s. He was visiting his great-uncle Will Allen's large 1908 Victorian house — now Dundee Manor Bed & Breakfast — exploring the many upstairs rooms, rambling through the forested acreage and savoring the smell of biscuits from the downstairs open air kitchen.
He grew up and joined the Army in 1946, along with many other local McMinnville boys he had grown up with, including Ernest "Pat" Taylor, son of Taylor Hardware founder Harold Taylor, among others. After three months of training, he was deployed to Japan on a military troop ship, enduring several seasick weeks. At his station near Kyoto, he was called into the headquarters office.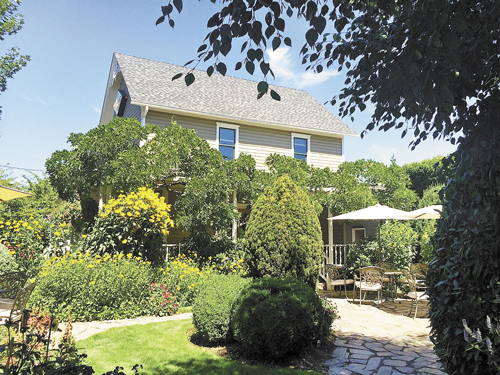 "Mac, you've got a cushy job. You have been chosen out of this division to be a hydroponic gardener and grow lettuce, tomatoes and onions for the Army with an entirely Japanese crew," said the sergeant.
For his gardening skills, he would recall, "Other soldiers have insignia from famous battles, I was awarded a medal that consisted of two crossed carrots and a tomato!"
Since the boy's father owned granaries at home and his uncles owned Carlton Nursery, he had plenty of experience with plants and farming. He'd grown up working on the family farm across from Wortman Park, known now as McDaniel Lane, where five remaining oak trees still stand.
This man is my father, James Brooks McDaniel, a fifth-generation Oregonian dating to the wagon train of 1844, Argyle's loyal gardener of 19 years, founder of McDaniel Vineyards — now Torii Mor Winery — and the man known by his friends and colleagues simply as "Jim."
Having become good friends with the Japanese gardening crewmates, he's drawn lifelong inspiration from the Asian culture, reflected in his vineyards, houses and gardens.
After World War II, he attended the University of Oregon in 1948 on the GI Bill, where he drank beer — Portland brewery Blitz-Weinhard's short-necked, brown glass "stubbies" — at the campus icon Taylors. He also discovered a world of wine at Big Y Market grocery store. The wine section featured three shelves featuring a few bottles from California, although most were primarily imports from Chile, Italy and France.
On a dare, Jim and his fraternity brothers called jazz legend Dave Brubeck, who was at the beginning of his career. They invited him to play on campus at the newly constructed Erb Memorial Union and were shocked when he agreed. Brubeck brought then-aspiring musician Cal Tjader, a vibraphonist, and played an after-concert in Jim's PIKE fraternity basement until 2 in the morning. The night still vibrates in his soul.
While he listened to jazz on the record player, he drank Italian Zinfandel, his newest discovery, and studied Far Eastern literature from the legendary professor Dr. Paul Dull — during World War II, Dull was hired along with 12 Navajo Indians to develop the now-legendary Code Talkers language, which was never broken by the Japanese.
Jim was transfixed by Dull's lectures. The professor's wry accounts of his experiences on the scene of the Pearl Harbor attack made the campus-wide famous lectures simultaneously mesmerizing and inspiring.
After graduating from the U.O. in 1952, the young man joined the Air Force. His first station was Livermore Valley, east of San Francisco, where two notable wineries, Concannon and Wente, were producing Pinot Noir and Cabernet Sauvignon. He was also inspired by Italian wines he tasted in downtown San Francisco's Little Italy neighborhood.
In the mid-1960s, Jim explored the burgeoning wine scene in California, visiting legendary wineries Ridge, Mondavi and Charles Krug, touring in his snappy Volvo sports car with his new wife, my mom, Donna Jean. From this experience, he bought the "Joy of Cooking" along with James Beard's classic cookbooks; he learned how to bake bread and enjoy local bounty. He also considered growing grapes himself.
Here's where the vines start to become intertwined:
Jim returned to work at his family granary, McDaniel Grain & Feed in McMinnville, now the site of the current Granary District. In 1969, he met a man named David Lett, who changed the course of his life forever.

Lett knocked on the door of his granary office and asked if he had a building to buy for a winery. Forty-seven years later, the now-famed Eyrie Winery is still in the same building, located in McMinnville's "Wine Ghetto."
"It was fortuitous timing, synchronicity, the right place at the right time to be part of the great grapegrowing adventure," Jim reminisced.
Inspired by Lett and California's success, Jim returned to the Red Hills in 1971, bought three tracts of land, planted as many vineyards and built, of course, an Asian-inspired house for his family.
He joined an industrious Worden Hill Road neighborhood of growers: Bill and Julia Wayne, growers for Cameron Winery; Jim and Lois Maresh, whose three-generation wine dynasty includes the Red Barn Tasting Room, Powell Hill and Arterberry-Maresh; Arthur and Vivian Weber, of Weber Vineyards, Tom and Sharon Saucy of Saucy Vineyards; Don and Wendy Lange of Lange Estate; Gary Fuqua, whose vineyards have been operated by Archery Summit and currently Holstein Vineyards; and the famed Dick Erath, who made wine for many of the commercial growers and sold his original winery to Chateau St. Michelle.
Jim often took his family to dinner parties at Charlie (Charles) and Shirley Coury's house at Laurel Ridge Winery with a whole group of early Washington County winegrowers, including the Vulstekes of Oak Knoll, Dick and Nancy Ponzi, and Bill and Virginia Fuller of Tualatin Vineyards —Bill is currently winemaking consultant for Willamette Valley Vineyards.
Many of the early growers bought cuttings from both Coury and his famed "Coury Clone," so these parties often descended into loud debates about grapegrowing techniques, with Coury's voice being the loudest. The children of the growers, Cal Erath, now owner of Dog Zin Heat, Paige Fuqua, me and others often had raucous parties upstairs in the farmhouse to compete with the volume downstairs.
In 1978, Jim endured three granary fires, set by an arsonist, destroying nearly his entire grain and fertilizer complex. He remembers burning the clothes he wore at the scene of the first horrendous fire in a garden barbecue pit; tears rolled down his face as the acrid smell of burned grain wafted in the smoke and scorched the red dirt. He climbed on his tractor, driving up and down the rows searching for solace in the peace of the grapevines.
It was a day he will never forget.
He also found peace and fellowship in the vineyard community. He mentored and made friends with many early growers, vineyard workers and winemakers, including Ken Wright, Allen Holstein and countless others.
He sold Dick Ponzi his first wine press and loaned a wine press to the Campbells at Elk Cove. He sold grapes to Erath, Lett and Coury, as well as Doyle Hinman, David Adelsheim and Myron Redford of Amity Vineyards — currently owned by Union Wine Company.
He "collaborated," a catch term frequently used to describe the tractor swapping, vine grafting and grapegrowing advice that bonded the entire fledgling industry for its survival and now great success.
Without fanfare, Jim, known to many as a horticultural and viticultural mentor — having designed five estate gardens and planted three vineyards — quietly retired at age 56 with the sale of McDaniel Grain in order to design and manage a showpiece garden at Argyle winery for his friend, Rollin Soles. He was happiest working in the garden and talking to patrons, who knew nothing about his background or would never suspect he had planted one of the first commercial vineyards in the state. He was devastated when the garden was destroyed during Argyles' expansion but healed with the help of community support.
Postscript
Jackson Family Winery continues to acquire property in Yamhill County with the recent purchase of the Taylor-Dale Hardware Building from third-generation family member Jeff Dale. What began in the early nineteenth century as a family hardware business is now a new home to the first California winery on Third Street in McMinnville.
This sale represents an evolution in the use of downtown buildings being converted to winery use. My grandfather, Harry McDaniel, founded McDaniel Grain and Feed in 1927 in the majority of the granary district, where many of the company's original grain and fertilizer buildings currently house wineries. Harold Taylor, a friend of my grandfather's, founded Taylor-Dale in 1933. Both families successfully ran their respective grain and hardware businesses for over six decades.
Having grown up in the Dundee Hills and in the early Oregon wine industry, Kerry McDaniel Boenisch is passionate about the history of the area. She is the author of "Dirt+Vine=Wine" and is the newly appointed director at the Oregon Wine Education Center, located in the Chehalem Valley Chamber of Commerce in Newberg.