Remembering Liz
Celebrating the life of Elizabeth Chambers
Beloved winery owner Elizabeth "Liz" Chambers died of natural causes Feb. 1, at the age of 56. She was on a personal trip in the Bahamas at the time.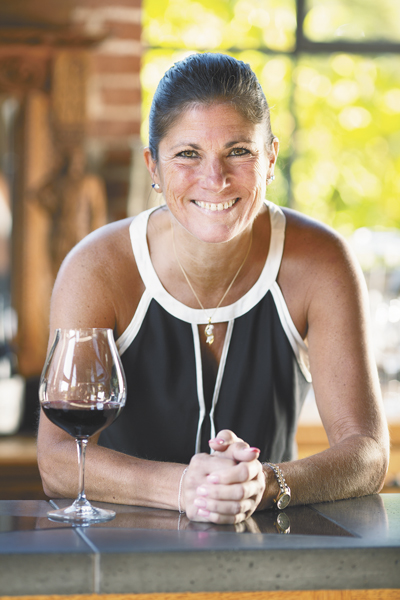 After graduating from the University of Oregon with a degree in finance, Liz worked for Chubb Insurance Company. Her mother, Carolyn Chambers, was a prominent business person and pioneer in television — she established Chambers Communications Corporation, Oregon's first ABC television affiliate in 1959. Liz's adoptive father, Dick Chambers, owned a construction company.
In 1991, Hinman Vineyards founder Doyle Hinman approached Carolyn with a proposal to invest in his Eugene brand started in 1979. After much discussion, she purchased 80-percent of the 25-acre winery. In the meantime, Carolyn hired a consulting firm that advised her to purchase the winery outright.
In a 2016 interview conducted by the Linfield College Archives, Liz explains more about the transition. "[They said] you need to buy Doyle out the rest of the way, and you need a family member to run the winery and be the face of the winery."
In 1993, Carolyn asked her daughter to fill that position; Liz, in her early 30s at the time, accepted the challenge.
"For about a few months it was really fun, because I didn't know what I didn't know," Liz continued in her Linfield interview. "And then I realized I didn't know anything, and it was a very steep learning curve."
At first, Liz struggled but soon flourished at Silvan Ridge, the winery's new moniker upon acquisition; Carolyn's maiden name, Silva, translates to "forest" in Latin — fitting for the tree-lined estate.
In 2005, the Chambers family was approached to buy another winery, Panther Creek Cellars, founded in 1986 by Ken Wright in McMinnville. They bought the brand from then-owners Ron and Linda Kaplan, and eventually the building, too.
Two years after her mother's death in 2011, Liz and her siblings sold Panther Creek to Bacchus Capital Management, but Liz retained the historic building — Oregon Wine Press published a story about its renovation in last month's edition. With a stunning space and the help of Panther Creek's former winemaker, Michael Stevenson, she created Elizabeth Chambers Cellar. Silvan Ridge winemaker JP Valot assumed winemaking at the namesake winery, starting with the 2017 vintage.
With an exceptional production staff in place, Liz worked markets, selling both brands.
"You're in a city you don't know, riding in the car with representatives from the distributors and [other] accounts," Liz explained during her Linfield Archives interview. "But when you pour the wine and people say, 'Wow, that's good.' It's so rewarding. And I think people like my story. It sort of resonates with people. It's like, 'Nope. I'm not going to give up. I'm going to keep doing this. I'm going to make it work.'"
For those who worked with her, Liz left an indelible impression.
"Liz impacted me professionally and personally in so many different ways," said winemaker JP Valot. "She hired me as an assistant winemaker for Silvan Ridge Winery back in 2005, right when I was starting my career in Oregon. All these years, she supported my development and growth. Liz believed in my potential and promoted me to head winemaker in 2012. I always felt she trusted my work, and, with her full support, I became the director of winemaking for Silvan Ridge and Elizabeth Chambers Cellar [starting with the 2017 vintage].
"At a personal level, Liz will always be an example to follow," Valot continued. "Liz cared for the ones close to her and was always supportive of our dreams. She was the first one to support my family label. For her, family was a priority, and she treated her employees like family.
"In every decision Liz made, the well-being of everyone involved was considered. I can't talk about my career without talking about Liz because through all these years, she trusted me, helped and let me grow."
In addition to her duties at both wineries, Liz managed to maintain a busy community service calendar as an advocate for abused and neglected children, a board member for Volunteers in Medicine, a board member of Stewards for the Relief Nursery, and an active volunteer and adviser to the Children's Miracle Network. She also continued her family legacy as an active supporter of the University of Oregon and Ducks' athletics.
Liz is survived by daughters, Julia Stiltner and Olivia Cowles; son-in-law, Andrew Stiltner; granddaughter, Charlotte; four brothers, Bruce, Bill, Scott, and Clark; and three sisters, Deborah, Marcia and Silva; as well as many nieces and nephews.