Religious Experience
Veneta bistro heaven-sent for small community
Our Daily Bread
Details:
Address:
88170 Territorial Rd., Veneta
Fall Hours:
Mon.–Tues., 7 a.m. to 3 p.m.; Wed.–Thurs., 7 a.m. to 7 p.m.; Fri.; 7 a.m. to 8 p.m.; Sat., 8 a.m. to 8 p.m.; Sun., 8 a.m. to 7 p.m.
Phone:
541-935-4921
Website:
www.ourdailybreadrestaurant.com
The Grateful Dead played Veneta in 1972. Country Fair takes place that way as well. Just northeast of the tiny town of a little more than 5,000, on Fern Ridge reservoir, sailors race their boats with the yacht club. And then there's a cozy country church converted into a quaint wine country café: Our Daily Bread.
For the past 11 years, the neighborhood diner has served unassuming, high quality food alongside a robust complement of area wines, turning it into a must-stop for wine country tourists, says Jeselyn Perkins, the restaurant's food and beverage manager, and a winner of a 2017 Oregon Wine A-List Award from the Oregon Wine Press and Oregon Wine Board.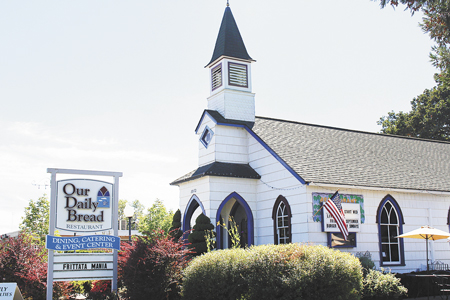 In fact, just inside the front door, surrounded by the look and feel of the former Pentecostal church, is a rack of Oregon wines. Bottles from nearby Sweet Cheeks, Noble Estate, LaVelle, Silvan Ridge and King Estate, to name a few, fill the prominently placed shelves and line the wine list.
As for food, customers cannot go wrong with Our Daily Reuben, made with corned beef braised in hoppy Oregon stout. The Marionberry Tri-Tip, topped with a berry-mushroom demi-glace, is also recommended as well as the Chicken McKenzie, a grilled breast served on spinach and finished with roasted hazelnuts, dried cranberries, vin blanc sauce and feta. The much-touted signature soup, Chicken Borscht, which unusually contains no beets, is a fan favorite, as well as juicy burgers made to order on freshly baked buns.
As regulars come and go, treating the place with the familiarity of any small town gathering place, the friendly waitstaff eagerly welcome visitors, too, who delightedly discover not only the food and wine but also the bakery case.
Perkins' parents own the restaurant; her dad, Tim, is the chef. He'd worked in fine dining more than 30 years before discovering the church and opening it as a restaurant with her mom, Catharine, the official baker of Our Daily Bread's elevated goodies, such as apple Danish with lavender and gingerbread pumpkin muffins.
The couple brought their family of five from California, and that first year they opened was a wild success. Jeselyn was not surprised.
"He's really an artist with his food," she said. "I'm continually amazed at what he does."
If Tim brings art to the dishes, the whole family adds its own dash of creativity. As Jeselyn talks of the restaurant, it becomes clear from the different colored paint on her arm, she's been busy otherwise. When asked, she reveals she's a portrait artist, working on a piece based on a black and white photo, applying her own set of color values to the work. Catharine also plays the guitar, having taught children in Peru — fitting for a resident of Veneta where The Dead had once played and fitting for a business located inside a former church.
Creativity is important to the Perkins, who host a piano player every Friday evening and recently embarked on their first Wine and Paint Night on Sept. 3, packing in 27 guests inside the back room, known as The Parsonage.
"They love coming out and getting their hands dirty and having some wine and creating something they can take home," she said.
In recent years they've witnessed a dramatic increase in tourists looking for tasting room suggestions, an easy task for the Perkins, who know many winemakers and owners by name. In fact, Jeselyn takes her staff to the wineries for training, giving them the knowledge they need to talk to customers about wine.
"We try not to influence them too heavily," she said of the customers. "But for the most part, people do want to have the experience."
Our Daily Bread is one of those places defining Oregon Wine Country; a homespun, approachable experience with a connection to the community and the wines defining the region.
Only 15 to 20 percent of the customers are locals, yet the area is increasing, and Veneta is projected to be one of Oregon's fastest growing cities. As the industry expands and wine country continues to transform, we can only hope these small town culinary treasures retain their charm and connection to the original flavor. It seems Our Daily Bread certainly will.
Neil Zawicki is a writer who, in his spare time, loves to study history, paint and play his guitar. He lives in Independence with his equally creative wife and four children.
About Finest Dining in the Smallest Towns: Wine country seems almost like a rural ocean to some, with tasting rooms as moorings for wayfarers voyaging in search of enological jewels. As a result, many will miss other draws of this landscape. Beyond the vines, other outposts of culinary magic await. Here, chefs tend their hearths, prepared to lavish travelers with all manner of wonderful food. But many of these gastronomic atolls can prove tricky to discover. For intrepid explorers, true rewards await when seated in a well-appointed dining room in an otherwise obscure location, discovering a menu created with local wines in mind. In turn, these diners yearn to take home tales of unexpected adventure and authenticity. This is the quest for the finest dining in the smallest towns.