Recipe: Act III
Newberg restaurant finally raises curtains on post-fire rebuild
Recipe: A Neighborhood Kitchen
Details:
Address:
115 N Washington Street
Newberg, OR 97132
Phone:
971-832-8319
Website:
recipenewberg.com
After more than two years of reconstruction, Recipe has reopened. The Newberg restaurant suffered fire damage in the summer or 2016, closing for repair shortly thereafter. But now, it's come roaring back to life, much to the joy of the town and nearby vineyards.
While contractors and subcontractors plugged away at the original location, chef/owner Paul Bachand ran a pop-up satellite location a few blocks away. Aptly dubbed Recipe Part Deux, it played as the more economical, small-plate sister restaurant of Recipe. Bachand says it will stay open, focusing on beloved French bread pizzas and a generally approachable menu.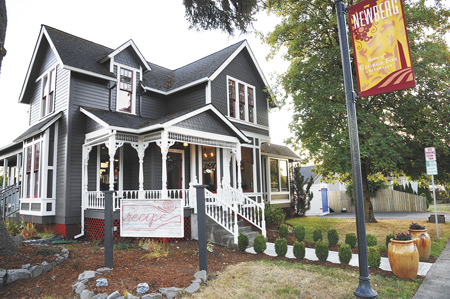 The age of the house, built in 1894, stood as a major reason for Recipe's sluggish return. The Victorian's architectural details are noteworthy and remained mostly kept intact since the burn. From the huge windows to the vintage tile work and banister nuances, the restaurant, to its credit, still feels like a home, and an incredibly old and lived-in one at that.
With the repairs came certain renovations. The upstairs area, formerly an office, is now open to diners. A revamped 500-square-foot kitchen layout was put together by Bachand and sous chef Jonnah Koziol to increase efficiency. The bar shifted spots, now occupying a neat corner between the two entry doors with a bright window staring north toward Parrett Mountain.
Bachand dubs the overall feel a "modern yet classic design." It's on par atmospherically with Alchemy in Ashland or Raven & Rose in Portland, an expansive late 19th century home-turned-eatery. Dining at Recipe feels like a homecoming, likely because of the long-awaited resurrection but perhaps too because it was engineered that way.
"We're happy to bring back our classics like Escargot Le Val Joli and our oyster stew," Bachand says. "Fall is a great time for chefs, it allows us to slow down the cooking and create deeper, richer flavors."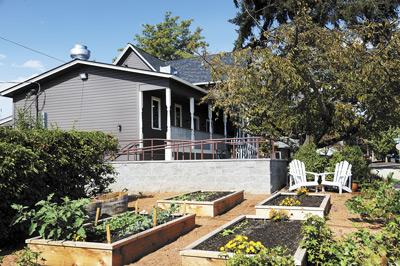 On a brisk mid-October weekend night, the place was jumping. Harvest had seemingly climbed the hump, with reasonable enough work days that a handful of winemakers were on hand. The staff was noticeably excited by the many ingredients that early fall was providing, and Recipe's welcoming stature — set in that grand old Victorian home — felt like a warm, wine country living room.
The Willapa Bay Oyster Stew was rich and satisfying, set in a curry cream broth with turnips and trout roe. Sweet, spicy, briny and crisp, its flavors resemble the dynamics of a traditionally up-and-down fall day in the Willamette Valley: mild one moment, cool the next. The roe was both eye-catching and packed with flavor, injecting freshwater flavors.
Just about every staff member mentioned the chicken. The roasted half-bird came with shoestring fries, braised kale and black trumpet mushroom cream sauce. It was earthy and begged for an Oregon Chardonnay.
Other eye-catching menu items included the Octopus and Tripe Ragout with mint, dried olives and Parmigiano-Reggiano, and Duck Fat Fried Marrow Beans with garlic confit and rosemary. Dessert options featured Spice Poached Pear, a classic Affogato and an assortment of French cheeses and digestifs.
There's an obvious Italian streak throughout much of the menu and the staff suggests Bachand and company will likely create their own house-made pasta down the road. For the time being, there's bucatini as well as Parmesan gnocchi — prepared in a Parisian style with white truffle sauce, kale pistou and pecorino.
The wine list walks the line between local favorites and Old World classics, both in terms of glass pours and bottles. For a shade over $20, patrons can enjoy a glass each of the wonderfully dry and mineral-driven Loire Chenin Blanc from Pascal Janvier and the Hyland Estate Riesling grown and produced just a few miles down the highway. Alternatively, guests can go much bigger if they wish, shelling out several hundred for Thierry Allemand or a 2005 Torii Mor Shea Vineyard Pinot Noir.
In the restaurant, a steady stream of people saunters in. It's a mix of locals with congratulatory remarks for the staff on the reopening, tourists and a few winemaking crews. Newberg has its share of good restaurants with the likes of The Painted Lady, Jory and Ruddick/Wood. But something felt amiss while one of the town's greatest buildings sat vacant, charred and in need of a reboot.
Recipe's reopening feels comforting. The staff appears mobilized by its long-awaited return and the food is solid. When asked, "What's the best part of running a restaurant in the heart of Oregon wine country?" Bachand reverts to "the people."
"The support of so many other restauranteurs, winemakers our neighbors and family," he says. "It truly encompasses the definition of community."