Q&A-List
Timberline Lodge | Jason Stoller Smith
Timberline Lodge may be most popularly known for its starring role in Stanley Kubrick's "The Shining," but Oregonians and those who frequent high-class ski resorts recognize Timberline for its outstanding quality. A National Historic Landmark — constructed from 1936 to 1938 by the Works Progress Administration, it was built and furnished by local artisans during the Great Depression — the lodge sits at an elevation of 5,960 feet and offers guests a variety of wining and dining choices. Timberline's seven restaurants, led by Executive Chef Jason Stoller Smith, feature an impressive cellar managed by David Villali. The wine program's focus on Oregon and the Northwest, as well as Timberline's longtime involvement in the wine industry, has earned the restaurant an Oregon Wine A-List Award.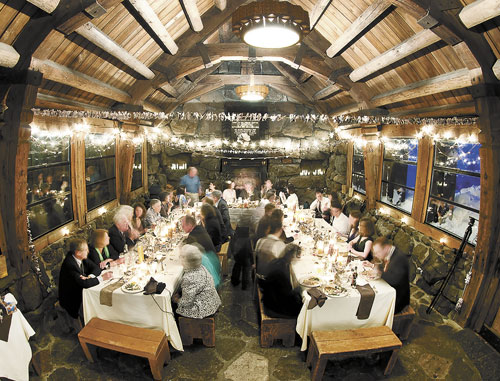 What would you like people to know about Timberline's wine program?
Timberline has been in business since 1937, and our longevity allows us to purchase wines with the intention of laying them down for aging. The Timberline wine list is 99 percent Northwest wines and hundreds of bottles long. We also like to play "wine vault roulette," which is a whole different story…
How is Timberline involved in the Oregon wine industry?
Timberline has supported Oregon wineries with its Northwest- focused wine list for close to three decades. We do wine vault tours for our customers and winemaker's dinners on a regular basis. What's really important is our employee wine tasting program. Once a week, we sit down with our service and kitchen staff and taste through whatever samples are sent our way — sometimes we open gems from the vault as well. Over the years, we've educated and motivated a whole slew of employees to pursue careers in the wine industry.
Why is it important to support Oregon wine?
[It is important to support Oregon wine] because it's an Oregon industry and is as equally important on the table as the food. Wine and food go hand in hand at creating a memorable experience beyond just sustenance.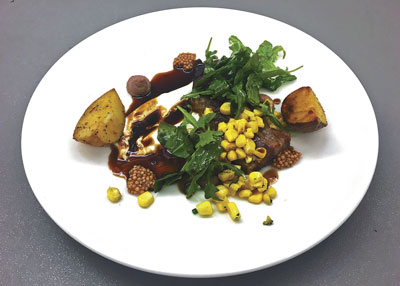 What's a favorite pairing you've discovered at Timberline?
Willamette Valley Vineyards Pinot Blanc and our proprietary beef steak tartare: an unexpected pairing that blew my mind.
Tell us about Timberline's new proprietary beef program?
Our new proprietary beef program is unique in the industry. We've purchased an initial herd of 52. In partnership with Deschutes River Beef, we are raising them 45 minutes east of Timberline outside Maupin. They graze on a specific blend of grasses and vegetables that we have termed the "caviar" of cattle feed. Once they reach market weight, they're finished off on barley that is grown on the same property. After dry aging for 21 days, we carefully butcher and distribute the cuts to our seven restaurants.
Obviously this makes sustainable sense. It's a locally procured product done on a grand scale, and I'm proud of that, but the economic impact is what is truly special. We are offering steaks in our Cascade Dining Room that are of amazing quality as well as bones for broths, stocks and sauces. Roasts go to our lunch buffets on a carving station and are of exceptional quality. We cook braised cuts for the Ram's Head Bar and Phlox Point Cabin. What is really special is that all of the "grind" is going to the burgers we offer in our day lodge, Wy'East Café. I'm pretty confident we are the only ski resort in North America offering naturally raised, 21-day dry-aged, house-butchered burgers. All of this without having to raise our prices.
Oregon Wine Press and Oregon Wine Board present the Oregon Wine A-List Awards, recognizing restaurants across the world that show enthusiasm for Oregon wine and a deep appreciation of the diverse regions, varietals and producers of Oregon.