Oregon Wine A-List Awards Q&A
Rebekah Mahru, City Winery Chicago
Windy City native Rebekah Mahru has been tied to food and wine since her initial restaurant post at age 14. In the years since, she's traveled extensively through Europe, abandoned a medical career trajectory for wine and worked her way from humble intern to City Winery Chicago's esteemed beverage director. Mahru also happens to be a Regional Spotlight Honoree for this year's Oregon Wine A-List Awards. Here, the rising sommelier chats steakhouse winos, Prince and spreadsheets.
How did you first get into wine?
RM: Honestly, I'm unsure if I ever had that quintessential "ah-ha" moment in wine. It was more of a combination of moments. Like many other sommeliers, I did not start out in wine. I actually received a double degree in Spanish and biology — I originally wanted be a doctor. I moved to Spain my last year of college, found a chef to work for in a small Michelin-starred restaurant and stayed way past my visa. I fell in love with food and wine and the culture surrounding it. I was enthralled with the lifestyle and happiness that many Spaniards had, where a meal could be transcendent, not just for sustenance. I saw people who lived life more toward passion rather than practicality. I couldn't just go back to a standard life. I had one last class credit left after my return from Spain if I wanted to graduate with all my other classmates, and they happened to offer a summer school wine class. I remember in class not knowing anything but very confident that I wanted to dedicate my life to wine. The rest is history, as they say.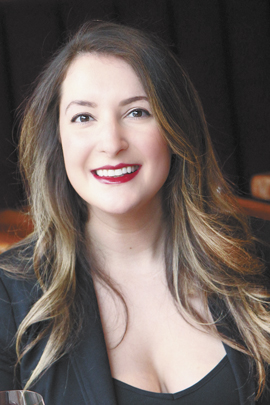 What have your travels taught you about the marriage of food and wine?
RM: Food and wine pairing to me is very similar to the history of wine in general. In Europe, where wine and food culture has been embedded in certain regions for hundreds of years, the pairings make sense. Yes, of course, I want a Sangiovese with my red sauce or a Riesling with a pork roast. It's that old saying, "What grows together, goes together." And for pairing, it really does work. What I find fun about certain wine regions of the New World is that the food and wine pairing isn't as culturally intrinsic, at least not yet. It definitely lends more room to experiment and have fun with pairings.
What was your first experience with Oregon wine?
RM: I've always carried Oregon wine on every restaurant list I've ever worked at, but one of the most memorable experiences that I had was when our now national wine director, Rachel Driver Speckan, poured a blind flight for staff, and the Antica Terra Botanica was in the flight. I was seriously blown away. I knew there was something special happening over there, and I've been addicted to Oregon wine ever since.
Do you have a favorite Oregon vintage?
RM: Not sure I have a 'favorite' vintage, but I do enjoy the 2011s. As cold as it was, the wines are really showing some depth and longevity.
Pinot Noir can be a tough sell to somebody weaned on big, bold reds. What's the trick to getting people to broaden their wine comfort zones?
RM: Coming from Chicago, basically the steakhouse capital, this can be especially difficult. We still have guests ordering Cabernets on our patio in 90-degree weather. What comes first is trust. If you have regulars or returning guests who trust your recommendations, you can take them on many different journeys. The easy part is the wine is delicious. Once you get the customer to taste the wine, they're usually quick converts.
What are you looking for when engineering a wine list?
RM: Tough question. I have quite a bit of freedom when it comes to our list, which is now topping over 600 selections. To begin, we select many of the classics from around the world, classic producers and regions. Places people recognize and the subsequent producers. Next, is the nerdy stuff. Because we've built a good base wine list for the last four years, I've been able to now pepper in unique wines from unknown regions, up-and-coming winemakers, etc. As we are a winery as well, we make a lot of classic wines from the West Coast (mostly California and Oregon). Our bottle list has been developed to complement rather than compete with our City Winery wines.
What's also fun about working at City Winery is that much of our clientele is based on the concert playing that evening. You could have Wynonna Judd playing one night and Brian McKnight playing the next. Obviously, the crowds are different and so are the wine tastes. It keeps everything super exciting and forces me to keep a diverse and updated wine list.
Finally, almost more important than the list itself, is the staff. We are very focused on wine education and getting the staff excited about wine and the beverage world. You could have the most incredible list in the world, but without a solid, excited staff member to help sell it, it's still just a list.
City Winery seems to be promoting the accessibility of wine (working production facilities, hands-on instruction, etc.) as well the entertainment value (live shows). How would you describe the place and its objective?
RM: City Winery's mission statement is "to provide a gathering place that is the best combination of culinary and cultural arts in a beautiful and comfortable setting that celebrates life and provides pleasure to all who enter." Basically, at the core of it, we are big nerds who love wine and music. I get to watch a concert every evening and talk about Grand Cru Burgundy, a natural Chilean Cinsault or Oregon Pinot — all in a night. It's not a bad life.
Is there a favorite concert you've attended at City Winery?
RM: While most will say their most memorable concert experience was Prince, I sadly was not working at City Winery yet. We were actually the last venue he played at in Chicago.
We have over 300 concerts a year, and after working at City Winery close to three and a half years, I have seen quite a few. One of my favorites, however, was Larry Graham, the original bassist for Sly & The Family Stone, and the inventor of the slapping bass technique. The whole show was a big psychedelic soul and funk party.
Is music and wine a partnership you often think about?
RM: I'm constantly thinking about music and wine pairing. We've hosted many events where we pair music and wine. Our owner is actually in the process of writing a book that pairs musicians with various wines.
What advice would you offer somebody just getting into wine?
RM: I would say it's not at all as glamorous as the position may portray. While I have gotten the opportunity to travel to some incredible places, it's long hours, cold cellars, hundreds of spreadsheets and even more textbooks. You work holidays and weekends, and if you're going through the path of testing, you will have very little social life. The payoff, however, is fantastic.
Mark Stock is a freelance writer living in Portland. Read more of his work at www.markastock.com.