Progressing Primitive
Old fashioned farming creates fresh take on Pinot Noir
Big timber's unmistakable footprints dot the landscape here with only occasional blips in an otherwise pristine and seemingly endless tree line. The freshest clearcuts offer jagged windows into the profile of the foothills, where evergreens make room for snaking strands of white oak and the reaching clay-red arms of Pacific Madrones.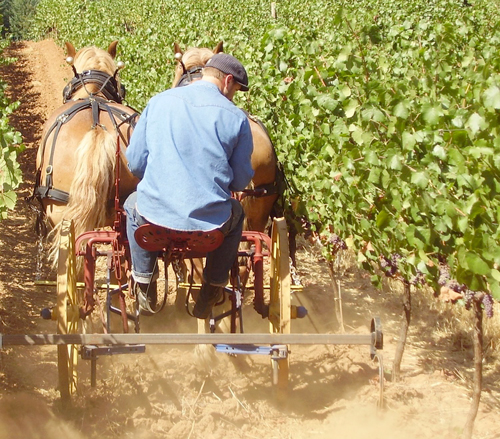 The outskirts of Junction City in the Southern Willamette Valley, about 20 miles outside Eugene, is home to Stephen Hagen's Antiquum Farm, which includes a pair of vineyards, a lovely home he built himself and a vineyard crew composed of sheep, horses, geese and chickens.
In these parts, the neat symmetry of vineyard after vineyard we've come to associate with much of the Valley is overshadowed by rugged stretches of pristine Oregon. "There is vast potential here," Hagen said of the area.
He should know, as the landscape designer-turned-winegrower grew up in Junction City and used to trespass along the pond he now views from his living room. He attended an acting conservatory in Chicago before moving to Los Angeles to design gardens.
A few years after returning to Oregon, Hagen established two vineyards in 1999 for a total of 21 planted acres. If all goes according to plan, he'll have his own estate production facility in the not-too-distant future and an additional 12 acres of vines.
As the "new" guard aims to shake up Oregon Pinot, Hagen is no exception. In fact, his site could be the poster child: a high-elevation spot prone to big diurnal shifts and relatively shallow Bellpine soil. The berries are often small and concentrated and the resulting wines reflect that, inky in hue and dense with dark fruit flavors. Yet, the balance and vibrancy in these wines conjures up the Roosevelt-ism, to speak softly with a heavy stick.
Hagen frequently uses the word "exotic" as we tour the property. He's referencing the unique ability of his upper vineyard to carry acid through the relatively high levels of heat it endures. In fact, the site produces fruit carrying a level of acidity more commonly seen in Pinot picked in the 21 to 22 brix range. The dichotomy between these two extremes remains the defining characteristic of Antiquum Farm Pinot.
He's also describing the flavors of his wines, which tend to offer a zesty freshness — blood orange was never a flavor I typically associated with Pinot Noir until Antiquum. And Hagen's whites, both the Daisy Pinot Gris and Aurosa Rosé of Pinot Gris, show a certain subtle brininess pulled from the deeper soils of his cooler, lower-elevation site.
With consulting winemaker Drew Voit, Hagen processes about half his own yield for Antiquum, formerly Old School Wines. This year, Hagen will move production to Björnson just outside Salem. While vinification is essential, most vintners agree that good wine originates in the vineyard — Hagen takes a bold pen to that statement and circles it. A properly tended vineyard, he would argue, will be all the more vocal in the glass.
Little about Hagen's viticultural philosophy is easy, which is really the point. Going above and beyond the demands of increasingly popular programs like LIVE and Biodynamics, Antiquum — Latin for "old ways" — relies on traditional, non-mechanized farming methods and closed-loop sustainability at the hands — and hooves — of his livestock, with minimal, if any, wasted space or resources.
"It is grazing-based viticulture," Hagen explained. "I take a lot of pride in the way we raise our animals and the supplemental products we get as a result. Making all that work out and flow is very challenging."
Hagen uses aversion training to keep his crew focused on cover crop management instead of grapevines. The scratching activity of the hens focuses on emerging weeds by judicious placement of scratch grain, eliminating the need for machine mowing and consequently reducing tillage under the vines. The vineyard became totally self-sustaining after only three years of grazing-based viticulture.
"It was at this three-year mark that everything about these wines changed," Hagen said. "We started seeing all kinds of weird mutations in the vines and this signature counterpunching between extremities of fruit maturity and acidity."
And this is to say nothing of the carbon impact.
"We try to farm in a way that reflects our principles, who we are and why we are doing this, Hagen said. "It's an incredibly personal and intimate way to farm wine. A real sense of presence, personality and energy gets clearly articulated in the glass."
He appreciates Biodynamics but prefers to tweak the focus slightly.
"I wanted to find a way to have the vineyard itself be the farm instead of a farm supporting a vineyard. Here, the site is truly isolated. Everything enabling this isolation is better for it. The vines, sheep, chickens, dogs and geese are all healthier and less stressed in this perfect little circle."
Hagen's approach works, and lauded producers want in on the fruits of his labor. Hagen's shortlist of buyers includes Antica Terra, Beckham Estate, REX HILL and boutique Washington label Holocene. Voit also incorporates Antiquum fruit into his own Harper Voit label for a vineyard-designate Pinot Noir.
Returning to Hagen's home, we take a seat at his living room table overlooking Turnbow Creek. We taste through his 2015 Pinot Noirs — the Juel, Luxuria and Passiflora — and toss around adjectives and names of striking fruits to classify what we're experiencing. The 2015 growing season was a warm one but nuance is having no trouble navigating the ripe fruit and higher alcohol contents of these wines.
Ultimately, we arrive at "site," which is precisely what we're tasting because not much obstructs the vineyards at Antiquum Farm. Hagen is putting a microphone to his very vocal estate and giving it the floor.
Mark Stock is a freelance writer based in Portland. Discover more of his work at www.markastock.com.
Exploring the Southern Willamette Valley
The Southern Willamette Valley, a frontier of sorts, contains fewer wineries dispersed over a larger, scenic spread. To help navigate your way is an excellent place to stay: The Inn at 5th in downtown Eugene. Centrally located and part of 5th Street Market, a larger complex of restaurants, boutiques and tasting rooms, the modern hotel offers wine packages that include a driver and tastings at an ever-expanding list of area producers.
Limited on time, I visited only a few of the tasting rooms located in the area. For more many wineries, visit www.southwillamettewineries.com, www.eugenecascadescoast.org or www.heartofwillamette.com.
Iris
South of Eugene, in the Lorane Valley, Iris Vineyards is hard at work on some of the better takes on Pinot Gris in the area. The 2015 Oregon Pinot Gris in particular displays a depth of character often unseen in the varietal and is a sturdy reminder that while Chardonnay enjoys its heyday again, good Gris has staying power.
The estate at Iris began in 1996 with an inaugural vintage in 2001. The homey tasting room is the former kitchen of owners Pamela Frye and Richard Boyles, fit with a stove and expansive island that functions perfectly as a bar.
Brigadoon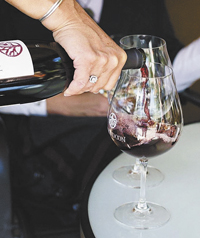 Just down the road from Antiquum Farm is Brigadoon Wine Co. Proprietor Chris Shown grew up on vineyards in Napa before heading north to jumpstart his own operation. Keeping things very much in the family, Chris's son, Matt, who studied horticulture at Oregon State and worked harvests in state as well as New Zealand, is the winemaker.
The tight-knit operation includes a modest tasting room above and an efficient production space below, where about 2,000 cases will be crafted this year between Brigadoon and a custom-crush client. The hillside spot overlooks estate vines and a wide patch of vigorous young plantings that doubles as a nursery providing rootstock for area winegrowers.
Standouts in Brigadoon's lineup include the 2014 Lylee Pinot Noir, an Alsatian-style, mineral- and acid-driven Pinot Blanc from 2015 and 2014 Taproot Pinot Noir, encompassing big fruit without abandoning balance.
Broadley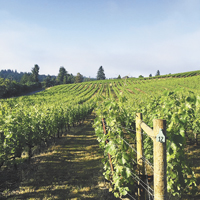 Set in a former car dealership in the small town of Monroe, Broadley Vineyards has been making wine for more than 30 years. The Broadleys were among the first to plant in the Southern Willamette Valley. Inspired by the epicurean culture of Northern California, the family relocated to Monroe in 1980. Validation came when Wine Spectator awarded the 1994 Claudia Choice Pinot Noir a score of 97.
Broadley focuses primarily on Pinot Noir, creating about 5,000 cases annually — they also make Chardonnay. They pull from their own site for a handful of bottlings, an estate which offers a certain banana belt quality not unlike Antiquum. Currently, they're pouring an approachable, entry-level Pinot Noir, a handful of estate offerings and vineyard designates such as Shea, Open Claim, Zenith and Rocky Hill. The 2015 Estate is a bargain at $30, while the 2015 Claudia's Choice exhibits finesse in the form of stewed cherries, lavender and a strong backing of earthy tea leaf.