Program on Par
Bandon Dunes Scores regional A-List Award
When Erin Gilchrist took over as food and beverage manager at The Gallery at Bandon Dunes five years ago, she decided to introduce more Oregon wines into the cellar. Her work is now being honored with a regional star designation from the Oregon Wine A-List Awards, a program recognizing restaurants that emphasize wines from Oregon and work to celebrate the diverse varietals and regions behind them.
Gilchrist explains the drive to enlarge the collection of Oregon wines was hers, but also says the company philosophy has always been about local support. Her genuine love of Pinot — particularly Oregon Pinot — compelled her to localize the wine list.
"I tend to buy emotionally," she said. "And the very first Pinot I fell in love with was from Oregon."
Gilchrist uses stories behind local wines to interest the guests.
"Beyond the wine label, it's the stories that you can tell and the emotional connection you can create that sells the bottles," she said. "We can all recite the varietals and notes and all the special stuff about the wines, but just like with anything else, it's about the hook."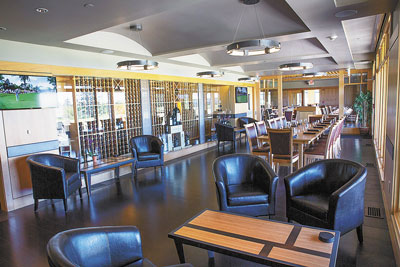 One such hook, for Gilchrist, is with Brooks Winery, where the iconic Jimi Brooks built a name but tragically died just at harvest time in 2004. His death gave rise to an outpouring of support from the winemaking community, with a cadre of local vintners stepping up to complete the harvest. Today, Janie Brooks Heuck and Jimi's son, Pascal, run the thriving winery.
That's the kind of story that infuses a human resonance to local wines, especially at Bandon Dunes, a remote location attracting a fair amount of international travelers. Described as a destination resort, Gilchrist explains that people come out to the dunes to golf. And that's a very modest way to describe it. Bandon Dunes, which opened in 1999, is understood in some circles as the absolute finest golf experience in the country. The four courses at the resort are considered proper links, which means they contain rising and dropping land along a coastal region. For this reason, Bandon Dunes is considered genuine links in the tradition of the oldest style of golf course, first developed in Britain.
That's a special element for an exclusive golf destination and a wonderful reason to bring such an extensive wine list and, in fact, proper recognition to the resort.
The list, featuring more than a dozen Oregon wines, appears dizzying in its enormity. Guests can pay $8 for a glass or as much as almost $2,000 for a magnum — or maybe a couple hundred for a pleasant cuvée from somewhere in France. The Oregon labels command what many of us might call more manageable prices, such as $60 for a King Estate Domaine, or $30 for Elk Cove Pinot Gris. And that is another part of the value for Gilchrist to feature local wines. It's not just about offering a massive catalogue of high-profile bottles.
"To make a wine list successful you have to play to all the price points," Gilchrist said.
When we consider the ebb in prices during the off season, stocking more approachable prices is a good idea. Still, there's a sort of "end of the rainbow" quality to Bandon Dunes that surely plays well with the guests. And, of course, if you're going to travel all that way, it only makes sense to have some quality wine once you're there.
"It's hard to get here," she said. "And there's this mystery surrounding the place that says, 'How does a place like this even happen in the middle of nowhere?' It's pretty amazing and it's sort of a mystical experience."
Getting local wines on the tables of her guests, says Gilchrist, is a matter of actively promoting them, especially with a clientele from all over the world.
"You definitely have to hand-sell the Oregon wines," she said. "Sometimes, there's some surprise that we're steering them toward Pinot Noir rather than Cabernet."
Still, she says the Willamette Valley's status as the 2016 "Wine Region of the Year" from Wine Enthusiast does a bit to compel her guests.
"And anyone who's paying any attention to anything about wine right now knows that Oregon wines are getting a lot of attention, and that California vineyards are investing in land here," she said.
In addition, Bandon Dunes is a high-end resort destination, with many guests who fly their private jets to enjoy a week golfing against the backdrop of the Pacific Ocean while enjoying fine dining and great wines. It's in the summer when the resort does best, with prices nearly three times higher than in the off season. But being a golf resort, she said more than 80 percent of her guests are male, which means the thought process when ordering wines is with the Cabs and other big, full wines.
"When I got here, it kind of read like a 1980s steakhouse," she said of the wine list. "But I felt like we could extend that to include some more diverse wines."
Another aspect of pushing wines in such a remote and expensive location, said Gilchrist, is the large volume of magnums they sell.
"We have a much wealthier clientele in the summer," she said, "and we'll get a lot of groups. We have a big Midwest contingent, because we're owned by Kemper Sports Management in Chicago, so we'll get groups of four who come out to golf and they'll buy magnums much more than a lot of us have seen. Comparatively, we sell a larger percentage of large format wines than many places."
Selling the stories behind Oregon wines, according to Gilchrist, has much to do with having traveled to the vineyards and meeting the people there. When we spoke, she had just returned from a trip to the valley, where she spent time at Archery Summit, St. Innocent and Elk Cove wineries. She explained how those trips help her to bring the narrative behind the bottles to her guests. Telling a table of high-rolling executives just off the links how Archery Summit is the only winery in the state to use natural caves as its cellar, for example, is a fine way not only to hand sell the wine but also illustrate the gravitas of the industry here.
Or maybe she'll tell guests the story of Pat and Joe Campbell, who, in 1974, became Oregon winemaking pioneers when they planted their first vines at Elk Cove in Gaston. Their story is worthy of any Learjet jetsetter to Bandon Dunes — Joe Campbell, a Hood River kid, graduated from Harvard, then Stanford Medical School, and applied his Ivy League capabilities to teach himself the art of winemaking.
That's the kind of narrative that puts a special sheen on a bottle suggestion. The examples of Brooks, Archery Summit and Elk Cove are rich with stories. When you consider the 115 Oregon labels on The Gallery's wine list, the potential for local lore to sell bottles is expansive.
Along with state selections, wines from France, Spain, Australia, Argentina and even New Mexico round out the list. There's also a few from California and Washington, but for Gilchrist, the locals carry the emotion she mentioned as a key ingredient to buying. But it's also about knowing where the wine comes from and how it all happens.
"We've all been to Pinot Camp a couple times," she said of the management staff at The Gallery.
While the stories — and some anecdotes from Pinot Camp — might help move the Oregon selections, there's a solid element for sales in The Gallery's showcase dining-room cellar. It's a bright open space with a wall of bottles opposite large windows and what the restaurant calls "conversational seating design." Essentially, guests dine in a showroom of wine, where the stories Gilchrist relates can be the star, along with the New York strip steaks and other opulent pairing options.
In a small seaside town like Bandon — with a population of just over 3,000 — on the southern end of the Oregon Coast, where the Coast Guard runs search-and-rescue training from the port and the community bills itself as "The Cranberry Capital of Oregon," a place like Bandon Dunes and a restaurant like The Gallery become an almost mythic Xanadu for the rich. For that reason, there's something uniquely Oregon about slinging local wines to the guests.
Neil Zawicki is a freelance writer who, in his spare time, loves to study history, paint and play his guitar. He lives in Albany with his equally creative wife and four children.