Guts, Grapes and Glory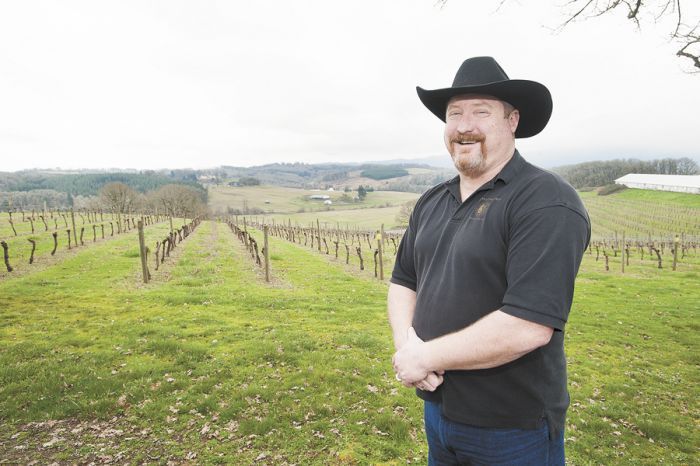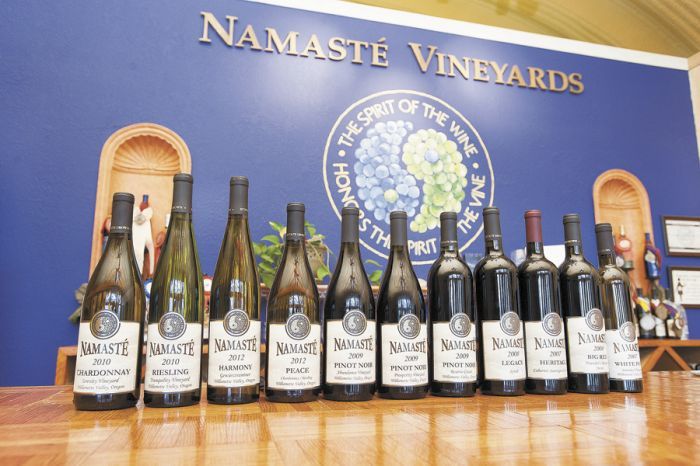 By Hilary Berg
It takes guts to get a taste of the glory. But, for Dave Masciorini, it's not about glory; it's simply about following your gut.
When Masciorini bought Namasté Vineyards — previously named Van Well Vineyard — in 2002, he'd been living his whole life in the Bay Area and Sonoma Valley; but he knew nothing about wine, neither making nor consuming it.
"Not a moment. Not a day," he says. "Wine was more of a rich person's way of life. To get involved in the industry down there, I'd have to win the lottery."
It wasn't until he moved north that wine became a part of his own story. Looking for a new career after many years in high-end residential construction in the Bay Area, he discovered an opportunity in Dallas, Ore.
"I saw the vineyard for sale and decided to go for it."
Masciorini then moved approximately 600 miles to start a business he knew nothing about, in a state he had never lived — gutsy, I'd say. For Masciorini, the purchase of Namasté was a matter of can-do attitude within a burning entrepreneurial spirit.
From the start, he knew he had to surround himself with experienced workers to make it happen, so he first hired a vineyard consultant, Jim Huggins of Eola Hills, to teach him about viticulture and caring for the 34 acres of vines. Planted from 1980 to 1983, the plants were mature but needed some serious TLC. Huggins helped, and Masciorini took notes.
On the production side, Masciorini hired a winemaker the first year to crush and vinify his estate grapes off site. Not completely satisfied with the wine, he decided to find a new winemaker for the 2003 harvest. After an extensive interview process, he hired Andreas Wetzel of Chateau Bianca Winery, a nearby neighbor who was a perfect fit.
"He knew the climate and was able to answer a bunch of questions at the beginning about what I should be doing at certain times in the vineyard," Masciorini says. "And he knew exactly what kind of fruit to expect. It worked out beautifully."
Already familiar with Namasté's terroir, Wetzel was aware of the fruit quality and characteristics of the vineyard's Pinot Noir, Chardonnay, Riesling and Gewürztraminer. As far as winemaking, Wetzel and Masciorini work together to achieve a satisfactory style.
"I want my Pinots to be as big and as bold as possible," Masciorini noted. "Our Rieslings are mostly dry. And the Gewürztraminer is a tad sweet to balance out the spice."
By far, the most popular wine Namasté offers is a white blend named Peace ($25), consisting of 80 percent estate-grown Chardonnay and 20 percent Gewürz fermented to a semi-sweet style. A big hit, the wine contributes 500 cases of the winery's total production of 1,500 to 2,000 cases.
The latest addition to Namasté's production includes a trio of reds sourced outside the estate from Walla Walla Valley. The 2008 BIG RED Founder's Reserve ($65) — named for Masciorini — is 100 percent Merlot; the 2008 Heritage ($59) is 50/50 Cabernet Sauvignon and Merlot; and the 2008 Syrah ($55) has been a huge favorite, especially for Masciorini's wife, Casi. All were barrel-aged three years, released at Thanksgiving and have been big sellers so far.
The couple sells their wine online, www.namastevineyards.com, and in the tasting room. When Masciorini arrived in 2002, he renovated the property's Quonset hut-style building into one of the largest tasting rooms in his neighborhood at the time. It sits on the stunning estate — where weddings can be hosted for a fee — and is a huge draw for an ever-increasing wine club membership, which, according to Masciorini, gained serious ground only in the last few years.
"Since we made fundamental marketing changes in the fall of 2009, Namasté has had its three most successful years to date," he says.
Masciorini redesigned his label, expanded tasting room hours to daily and, most recently, introduced a small food menu featuring local snacks such as cheese from Full Circle Creamery in Independence, chocolates from Melting Pot Candy in Dallas and Doug's Nuts in Eugene. The new website also has added fresh energy to the brand.
Future plans include a Pacific Northwest-style tasting room complete with an aging cave and a winery down the line, too. Much sooner, he hopes to add another component to his increasing wine sales: an AVA designation.
Currently, area vineyard and winery owners are close to completing the application for a new sub-AVA (American Viticultural Area) of the Willamette Valley. Masciorini and others on the committee — Wetzel, Dave Coelho of Coelho Vineyard, Jerry Murray of Van Duzer, and Dag Sunby and Dan Rinke of Johan Vineyards, to name a few — have been working on drawing up boundaries and making their case for an official appellation, and for good reason.
"The Willamette Valley AVA is massive, from above Portland to below Eugene," Masciorini says. "Every time you narrow it down, those specific areas get more notice. It is easier to promote, easier to define and easier to make your area a destination. An AVA designation gives you one more level of marketing."
So what makes this area unique aside from the soils and topography? It's all about the famed winds whistling through the Van Duzer Corridor. It's the only break in Oregon's Coastal Range bordering the western side of the Willamette Valley, allowing ocean air to flow eastward into the Willamette Valley, moderating summer heat.
"We get beat the hell by the winds, and it shows in our wines," Masciorini says. "The winds cause the vines to become hardier and push the roots even deeper into the ground, reflecting in hardier, deeper wines."
One would think naming this AVA would be easy; perhaps, Van Duzer Corridor AVA? But with a winery already using the name, the legal ramifications for Van Duzer were too great to make it worthwhile. Plus, says, Masciorini, "some of us who are [only in the greater] Willamette Valley AVA have gotten tired of answering questions about Willamette Valley Vineyards; so we wanted to start fresh with a new name."
The group has chosen "Perrydale Hills," a historical name for the area. This decision was not easy and Masciorini says choosing a name is what has taken the longest; unlike when Masciorini settled on his vineyard's name while in the car on the way to his new home.
"I had never heard it before and thought is was a cool word," he says. "So I went with Namasté Vineyards and turned its meaning, 'the spirit in me honors the spirit in you' into 'the spirit of the wine honors the spirit of the vine.'"
Full of spirit and spunk, Masciorini continues his wine journey, following his gut, never looking back … except for a peek through family history.
It wasn't until he moved from California to Oregon that he was told his great-great-grandfather, who had settled in the Bay Area in 1876, had purchased 200 acres in Sonoma Valley, the identical number of acres that Masciorini now calls home.
Guts — and glory — must be an inherited trait.