Pour Oregon
As Oregon wines continue to secure awards and accolades, the spotlight shifts from rising stars to boutique producers, to larger wineries. For consumers, it is often hard to focus with so many brands — and really great wines — now available.
Cellar 503 is here to help.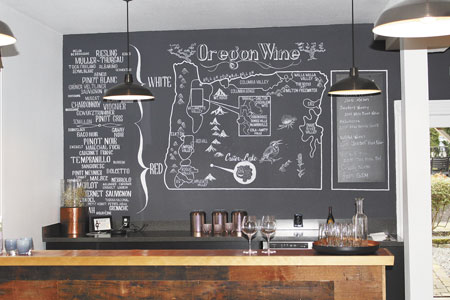 Owner Carrie Wynkoop personally hand-selected a number of wineries — producing 10,000 cases or less — to participate in her new event, Pour Oregon. An unofficial kickoff to Oregon Wine Month, the celebration will host 40 producers from 2 to 7 p.m., Sunday, April 30, at Castaway Portland, 1900 N.W. 18th Ave.
"This event will provide wine drinkers — both novice and expert — a fun, approachable and interactive exploration of Oregon's wine regions," Wynkoop said. "There's so much great wine in the state, from Southern Oregon's Rogue, Applegate and Umpqua valleys, to the little places like Elkton and Milton-Freewater, to the hills and valleys of the great Willamette Valley."
On a quest to fill her own cellar with a comprehensive selection from Oregon while over-saturated with too many wine club memberships, Wynkoop decided to launch her own business focusing on labels representing the whole state with an eye on affordability and producers challenging the boundaries — style, varietals, etc.
"I'm a Northwest girl at heart," she said. "I love the community style and collaborating relationships the Oregon wine scene has. The innovative culture has fueled urban wineries and helped smaller growers to expand their businesses."
During the event, each winery will be selling additional tasting tickets in packs of five — the proceeds from these sales will go to the Make-A-Wish Foundation. Guests can also enjoy delicious menus from Tamale Boy and Ember & Vine food carts.
For more information and tickets, please visit www.pouroregon.com.