Portland Chef Wins 2018 James Beard Book Award
Ava Gene's Joshua McFadden earns industry's highest accolade
Joshua McFadden was recently honored with a 2018 James Beard Foundation Book Award for "Six Seasons: A New Way with Vegetables" (Artisan, May 2017). The executive chef/owner of Ava Gene's in Portland won in the category for "Best Book in Vegetable-Focused Cooking."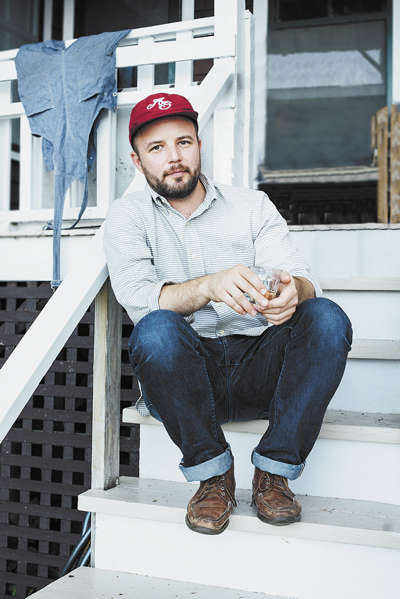 The national bestseller divides the year into not four, but six distinct seasons, with more than 200 recipes celebrating how to prepare vegetables at their peak. Martha Holmberg contributed to the cookbook, now in its sixth printing and named one of the "100 Best Cookbooks of All Time" by Southern Living, among many other accolades.
Having grown up in the Midwest, McFadden came to the Pacific Northwest to attend Cordon Bleu in Portland. Since then, he's cooked in some of the top kitchens in San Francisco (Lark Creek Inn, Roxanne's), Chicago (North Pond) and New York (Franny's, Momofuku, Blue Hill, Lupa). He also spent time in Rome working at the American Academy, an Alice Waters project. He was awarded two stars by The New York Times while serving as the chef de cuisine at Franny's in Brooklyn.
Wanting to get closer to his artistic medium, McFadden spent two years farming and cooking in coastal Maine, running Four Season Farm. It allowed him to think about food in a whole new way, sparking a deeper passion for — and knowledge of — vegetables.
His belief that food should be simple, honest and driven by local ingredients has found its natural home in the Pacific Northwest at Ava Gene's. In the summer of 2016, he and Luke Dirks formed Submarine Hospitality, which acquired ownership of Ava Gene's just before opening Tusk. McFadden is also the consulting chef at The Suttle Lodge & Boathouse.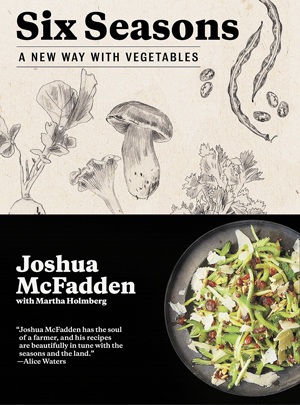 Cauliflower Steak with Provolone and Pickled Peppers
This is a novel, and flavor-packed, way to use cauliflower. It's also a great dinner party dish because it can be prepared ahead: Cook the cauliflower "steaks," pat on the topping, arrange them on a baking sheet, and refrigerate until just few minutes before serving. Then slide them into the oven, keeping in mind that the final cooking will take a little longer if they are cold.
Serves 2 to 4 ... or maybe 6, depending on the cauliflower shape and whether you serve a whole steak or a half per person
1 large head cauliflower
(1½ to 1¾ pounds)
Extra-virgin olive oil
Kosher salt and freshly ground black pepper
1½ cups dried breadcrumbs
1 cup grated (on large holes of a grater) aged provolone (3 ounces), plus ¼ cup finely grated aged provolone for dusting
½ cup chopped pickled sweet hot peppers (Mama Lil's is a great brand)
1/3 cup chopped mixed
pitted olives
¼ cup capers
¾ cup lightly packed roughly chopped flat-leaf parsley
1 teaspoon finely grated lemon zest
Heat the oven to 450°F.
Trim the bottom of the cauliflower so that it sits steadily on the cutting board. Trim off about ½ inch from two opposite sides (to flatten them), then cut the cauliflower into 3 or 4 thick slabs—the number will be determined by the shape of your cauliflower. Brush both sides of each slab with olive oil and season generously with salt and black pepper. Chop and crumble the trimmings and set aside.
Figure out whether you need one or two baking sheets to fit the cauliflower steaks without crowding them, then heat the sheets in the oven for 10 minutes (this preheating will make the underside of the slabs nicely golden brown). Carefully lay the slabs on the sheet(s) and return to the oven quickly. Roast the cauliflower until it's tender all the way through, but not falling apart, 18 to 20 minutes.
While the cauliflower is roasting, make the topping by mixing together the breadcrumbs, large-grated provolone, pickled peppers, olives, capers, parsley, lemon zest, and crumbled cauliflower trimmings. Moisten with a small glug of olive oil, just to help the filling hold together. Taste and season generously with salt and black pepper until it's so delicious, you want to eat it all.
Take out the baking sheet(s) again and distribute the topping among all the slabs. Press and pat to make a thick layer. Return the cauliflower to the oven and roast until the topping is lightly browned and starting to crisp, and the cheese is starting to melt, 10 to 15 minutes.
With as wide a spatula as you have, transfer the slabs (they're delicate) to plates and top with a dusting of the finely grated provolone.
Wine Pairing: Minimus 2016 Vermentino —Sommelier Caryn Benke, Ava Gene's