Piquant Pastries
Pump up your palate with these pleasures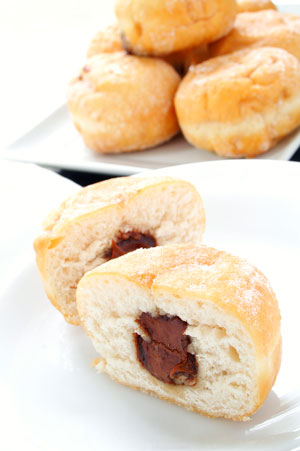 Dungeness Crab Beignet with Chipotle Dust
Yields about 2 dozen
Wine Pairing: Riesling
INGREDIENTS
12 ounces Dungeness crabmeat, well
cleaned to remove shells
½ cup water (or crab juice)
¼ cup butter, unsalted
½ teaspoon salt
½ cup flour, all-purpose
2 eggs, whole
1 tablespoon onion, grated
2 teaspoons horseradish
* dash Tabasco sauce
METHOD
Bring water, butter and salt to a boil in saucepan, making sure butter is completely melted.
Remove pan from heat; add flour all at once.
Stir vigorously with wooden spoon until it forms smooth ball that pulls away from sides of pan.
Transfer mixture to mixing bowl; on medium speed, beat in one egg at a time; beat thoroughly until mixed.
Remove bowl from mixer and stir in onion, horseradish and Tabasco. Gently fold in remaining ingredients to keep lumps of crab in mixture.
Scoop one tablespoon batter and gently release into hot oil (350°F).  Fry 2 minutes; turn and fry 2 minutes on other side. Remove from oil and drain on several layers of paper towels.
Lightly sprinkle hot beignets with Chipotle Dust; serve immediately.
Chipotle Dust
Yields about ¼ cup
INGREDIENTS
¼ cup sugar, powdered
1 pinch chipotle powder
1 teaspoon table salt, non-iodized
METHOD
Mix all ingredients together.
Place mixture in mesh strainer or shaker for dusting.
Pear and Ginger Fritters
Yields 3 dozen
Wine Pairing: Blanc de Blanc Sparkling
INGREDIENTS
2 pears, Anjou or Bartlett
1 tablespoon fresh ginger, grated fine
1 teaspoon lemon zest, minced
1¼ cups granulated sugar, divided
3 egg whites, large
1 cup milk
1 teaspoon vanilla extract
1½ cups all-purpose flour
2 teaspoons cinnamon
2 cups vegetable shortening
METHOD
Peel, core and shred pears into bowl. Add lemon, ginger and ¼ cup sugar; stir until well combined. Set aside.
Using stand mixer fitted with whisk attachment, whip egg whites to soft peaks; then add ½ cup sugar to egg whites while mixing on high speed. Egg whites should become shiny. Set aside.
Meanwhile, whisk milk and vanilla extract together; whisk in flour just until combined (mixture will still be lumpy.)
Next, fold 1/3 of whipped egg whites into flour mixture; then fold in 1/3 of pear mixture, alternating mixtures until all are combined. Do not overmix or egg whites will deflate and fritters will not be fluffy.
Heat 2 cups vegetable shortening to 375°F; set up a sheet tray with a wire rack on top to drain fritters after frying.  Finally, in separate bowl, mix remaining ½ cup sugar and 2 teaspoons cinnamon.
When oil is hot, scoop teaspoon of batter mixture gently into hot oil.
Fry on one side until golden brown; then turn fritter over and finish frying. Be sure to fry long enough to cook dough all the way to the center.
After frying, place fritter into sugar and cinnamon mixture in bowl; roll around until well coated. Remove and place fritter on tray to cool slightly before eating.
Bomboloni alla Nutella
Yields about 12 doughnuts
Wine Pairing: Pinot Noir
INGREDIENTS
2½ teaspoons active dry yeast
2/3 cup milk, heated to 110°F
3½ cups all-purpose flour
11/3 cups sugar
2 teaspoons salt
3 eggs
7 tablespoons butter, room temperature, cut into 7 pieces
32 ounces oil for frying
1 jar Nutella for filling
METHOD
Combine yeast and milk in small bowl; allow yeast to dissolve for 5 minutes.
Using a stand mixer fitted with the dough hook, combine flour, 1/3 cup sugar and salt.
With mixer running on medium, add yeast mixture to flour mixture; then add eggs, one at a time. Once dough begins to form, reduce speed to low and mix for additional 5 minutes.
Add butter, one piece at a time, allowing dough to mix with butter before adding next butter piece. Continue mixing for 5 to 6 minutes after all butter is added.
Remove dough from bowl; tightly cover in plastic wrap. Refrigerate 2 hours.  Line baking sheet with parchment paper and lightly dust with flour.
Dust counter with flour and roll out the dough to ½-inch thick. Using 4-inch round biscuit cutter, cut out doughnuts. Arrange on prepared baking sheet; cover with damp towel.  Allow doughnuts to rise in warm area for about 2 hours, or until doubled in size.
When ready to fry, heat 3 inches of oil in heavy pot to 350°F.
Line tray with metal rack and place remaining sugar in medium bowl.
Add doughnuts to hot oil and fry on each side until golden brown, about 2 to 3 minutes per side. Do not overcrowd pan or oil will lose temperature.
Remove doughnuts from oil with slotted spoon; roll in sugar; then place on tray with metal rack. Cool completely, about 30 minutes.
Fill pastry bag (fitted with small round pastry tip) with Nutella. Poke hole in side of donut with pastry tip and fill with Nutella. Serve immediately.
"Donuts. Is there anything they can't do?"
Matt Groening