Picture-Perfect Picking
Colorful growing season ends in excellent harvest
Given the fluidity of weather variables this year, plus the hazy wild card of smoke, the growing season and resulting harvest for 2017 could be called a "roller-coaster."
At least, that's how Anthony King describes it.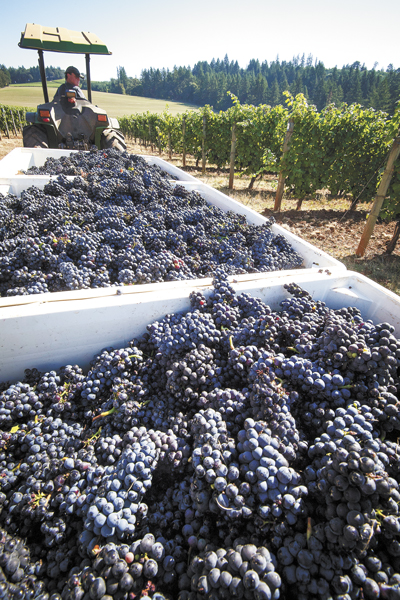 King is the general manager at Carlton Winemakers Studio, home to more than a dozen wineries in the Willamette Valley. At the cooperative, harvest started Sept. 4, with four tons of Pinot Noir — small berries, tight clusters — from Hess Creek Vineyard in the Dundee Hills.
The second week of October, he sat down to extract some coherent thoughts from his "harvest head," and ticked off the variables of vintage 2017:
An incredibly wet winter. Vines flowering at a more "normal" time for Oregon — although, as one winemaker from the Columbia Gorge notes, "What's normal anymore?" As temperatures rose, King anticipated picking in late September, and then, on Labor Day weekend, the temperatures really rose. Add smoke. Stir in a couple inches of rain.
The bottom line?
"The cool days of the last two weeks are exactly what we needed," he said Oct. 10. "With a summer as warm as the one we had this year, we expected to be making extremely ripe wines. Instead, it seems we will be making the balanced, age-worthy wines that we are all here to pursue."
With the sheer number of vineyards, AVAs, microclimates and, for that matter, varietals, it's reassuring to hear similar sentiments around the state, from the Columbia Gorge to Southern Oregon. In so many words, many agreed that the swing from a wet winter to a hot summer's end enabled winemakers to "catch up" to a more "normal harvest," which is how Michael Davies, executive winemaker of A to Z Wineworks in Newberg, pictures this year's crush.
"There was a question early in the season of whether this would be a 'throw-back' vintage, a reversion to the long-term norm of picking window and whether quality would suffer as a result," said Davies, whose winemaking team processes grapes from 40 vineyards around Oregon. "I think the wines from this vintage will be very well-received, as they speak slightly louder to Oregon being a cool climate than the last few."
Given the proliferation of fires around Oregon this summer, and particularly the Columbia Gorge blaze that belched smoke across the vineyard-laden Willamette Valley, "smoke-taint" crossed everyone's mind heading into harvest.
Yet, once grapes and lab tests started coming in … not so much.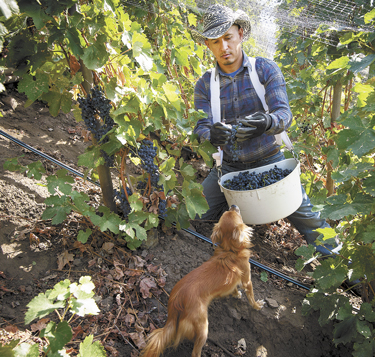 "That's one of the first questions everyone asks," said Trevor Hertrich, director of sales and marketing at Idiot's Grace and Memaloose in the Gorge. "You do have to wait and see a little bit, especially with the reds, which we haven't pressed a lot of yet. But the whites didn't see any (taint). We're aware of the potential, but nothing in the vineyard or the winery so far has alarmed us to the point where we had to take action.
There were scattered reports of a few sunburned grapes, but on the whole, the number of 100-degree days kicking off September didn't do any harm either.
"It's amazing how resilient vines are to our extreme weather this year," said Christine Clair of Willamette Valley Vineyards, based in Turner. "We're thankful for our old vines for being very set in their ways and able to withstand a lot of stress."
In Southern Oregon, which the Roseburg Review noted at one point was surrounded by a "ring of fire," winemakers similarly dismiss smoke taint concerns.
"We had about a week of smoke, but it was followed by a heavy rain that I'm sure washed off any ash residue and gave the berries a welcomed bath," said Stephen Reustle, owner of Reustle-Prayer Rock Vineyards in the Umpqua Valley.
He adds, compared to last year, berry weights were slightly higher for all varietals, increasing the yield. Sugars and acidity, as well as seed color, are "perfect," which "should result in some astounding wines."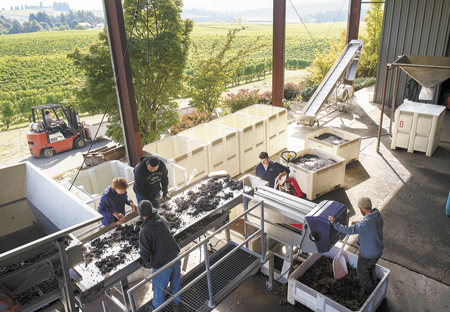 "It's great to be back to 'normal,'" said Eugenia Keegan, the Oregon general manager of Jackson Family Wines. "It has been a more typical Oregon harvest than we have had over the past few years and a refreshing return to our cooler finish to ripening fruit."
Ken Cook, winemaker at Cherry Hill Vineyard in Rickreall, in the central Willamette Valley, was just heading into harvest as this issue went to press in mid-October. He expected about two weeks of work.
"All in all, this vintage takes us back a few years to the typical," Cook said. "What I'd call a normal Oregon vintage regarding harvest dates and temperatures — how we all remember them to be before the more recent hot and early picking of previous years."
This year, the Willamette Valley Wineries Association is sharing 2017 harvest online, with expanded content on its website featuring news items, winemaker stories, event listings and more.
"Harvest has been a place of gathering for a very long time," said Executive Director Morgen McLaughlin. "It attracts all types from all over the place and is the culmination of months of effort in the vineyard. This new website will finally allow us to share these special moments with wine aficionados."
Check it out at www.willamettewines.com/harvest. Social media fans can follow harvest conversations at #wvharvest2017.