2012 OREGON WINE INDUSTRY PERSONS OF THE YEAR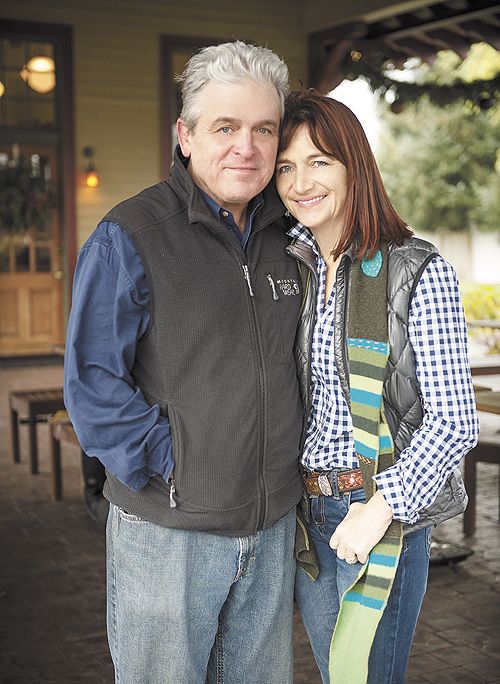 By Karl Klooster
It's noon at Ken Wright Cellars in Carlton, and the fragrant aroma of simmering pasta sauce wafts from the kitchen, up the staircase and into the office area. On the main floor, just inside the winery's massive double-door main entrance, Karen Wright ladles servings of perfectly cooked rigatoni onto individual plates. Upstairs, staff members transform the conference table for lunch with plates, flatware and glasses. This is a daily ritual in which Karen prepares a small feast for office and winery workers. If guests appear, all the better.
Ken Wright is busy in a far corner of the winery thieving young wine from a barrel for an out-of-state distributor with a late morning appointment. After wrapping up his meeting, he joins the group.
The Wrights obviously don't regard their daily employee lunches as anything special, but it's a thoughtful touch that typifies the way this couple view both their own and the larger world. With that in mind, it may come as no surprise to know that after lunch, rather than descending into the winery to tweak some fermented grape juice that made Ken Wright wines famous, the winemaker cum community leader is off to City Hall.
On the agenda is an afternoon-long strategy session with Carlton's city manager, Chad Olsen. "We're going over plans for development of the Yamhelas Westsider Trail," Ken says with no small degree of enthusiasm. The trail, or rather the future potential behind its creation, has been a pet project of Wright's ever since he discovered more than a decade ago that the Union Pacific Railroad was proposing to sell an old right-of-way.
The 17-mile stretch, over which a rail line once ran between Gaston and St. Joseph, would be an ideal connection for light rail. But its initial purchase price of $9 million was completely out of reach. The Wrights commissioned a new appraisal of the route and used the result as leverage to encourage the Union Pacific Railroad to drop its original asking price to the appraised value of $2.4 million. Once the asking price went down, they applied for a state Transportation Enhancement Grant to cover 90 percent of the purchase and secured agreement from the Yamhill County Commissioners to pay the remaining $246,000.
Now firmly on track, Ken has organized efforts with the creation of Yamhelas Westsider Trail Coalition. He and other key proponents continue to promote the possibilities and pursue support from residents and Yamhill and Washington county officials. They've also applied for federal grants. Their goal is the creation of a multi-use recreational trail along the old rail line connecting McMinnville, Carlton, Yamhill and Gaston to the area around Hagg Lake. Once completed, the trail would be an attractive asset in its own right in addition to retaining public ownership of the right-of-way until a mass transit option becomes feasible.
This is yet another example of how, ever since they started Ken Wright Cellars in 1994, the Wrights have embraced the community of Carlton as if its citizens were extended family.
Their first winery was located in the former Portland Glove Factory on Main Street. Before they were able to move into the building, however, Karen had to negotiate a zoning variance with the city. "Carlton wanted only commercial businesses on Main Street," Karen said. "I told them that we were manufacturers only one month a year and the other 11 we were operating a showroom and warehouse."
"We got the approval just in time, too," Ken added. "It was August and there was barely time to set up so we could process that year's harvest. As you may recall, 1994 was a very good year for Pinot Noir."
By the time he set up shop in Carlton, Ken already had eight vintages in the local wine industry. Previously, he had been working in the California wine market. But his old college roommate from Kentucky, Allen Holstein, by then vineyard manager of Argyle Winery, enticed him north. (If you ever run into Ken at the winery, or anywhere else for that matter, ask him what he and Allen did during the 1973 Kentucky Derby.)
As the founder/winemaker of Panther Creek Cellars in McMinnville, he established a solid reputation for exceptional Pinot Noir. So much so that he had begun selling wine on futures. "A customer was tasting new Pinot with me in 1987 and asked if he could buy a case," Wright said. "I told him, sure, I'd put his name on the list. But he said he wanted to pay for it now and make sure it was his."
A first in Oregon, pre-ordering wine meant people purchased wine they would not receive for another year. The price was lower than it would be at release, giving Ken needed operating capital. He continues to offer futures to this day and that method of advance sales still represents a majority of their retail wines.
In 1999, the Wrights purchased a nearby piece of property and built their own winery from the ground up. Karen, who had operated her own design firm in McMinnville, can be credited with its creation. "There was nothing but a half collapsed barn there," she said. "I purposely gave the structure a rustic wood, board and batten exterior, so it would look like it had always been there."
From that time forward, Ken Wright Cellars became the venue for many a local event. A Taste of Carlton, now Flavors of Carlton, the primary fundraiser for Carlton Together Cares, has been held there every year since its inception in 2003. The event has given a big boost to the local nonprofit organization. Founded in 1998, CTC has created youth programs ranging from after-school care to sports, recreation and community projects.
The winery also hosted Uncorked, the McMinnville Rotary's annual wine and art auction, for three years, from 2007 through 2009. It is the Yamhill Valley's most successful local fundraising event.
The Wrights helped start Carlton's Walk in the Park, the town's now-signature summer event, and Ken has served as its board president ever since. The 10th anniversary edition of this annual community benefit was held in August 2012.
Stunning original art and design pieces are a part of Flavors and Walk in the Park. Both events feature gorgeous, handmade jewelry created by Karen Wright, whose talents are obviously multifaceted.
On the wine industry side, Ken was in on the beginning of the International Pinot Noir Celebration, where he served as a board member during its developmental years. IPNC has since grown to become the Oregon wine industry's premier annual event, recognized as one of the world's most exceptional wine experiences at any level.
Adding to his wine industry résumé, Ken was a founder of !Salud¡, the health program for vineyard workers, which is lauded throughout the wine world for its assistance to this under-appreciated group.
He also spearheaded the drive to establish American Viticultural Areas in the Yamhill Valley and continues to serve on the Yamhill-Carlton AVA committee.
"At first, the industry didn't appreciate the idea of appellations," Ken said. "But those of us who advocated for them realized it was going to be vital to the future of Pinot Noir, which is more site-specific than any other grape. Now, everybody is on board."
Further augmenting public recognition of his home turf, the Yamhill-Carlton AVA's distinctively engraved boulder signage was another Wright idea.
He is also known as a man who "has slide show will travel." Whenever possible, Ken will work it into his schedule to give a well-prepared presentation about how, over the centuries, Mother Nature made northwestern Oregon an ideal place to grow great winegrapes.
Karen has plenty to be proud of in her own right. Once an avid soccer player, she has taken a youth sports leadership role as founder of the Yamhill-Carlton Soccer Club. In the three years since it was started, the club has grown to 12 teams representing K-6 boys and girls. "We had 52 kids enrolled in the program last year," she said, "and we expect even more this spring."
The larger anticipated turnout is due primarily to a major attraction in the person of Portland Timbers Youth Academy Director Mike Smith, who Karen has arranged to work with the club next year. "He told me he'll be drilling the kids in important basic skills," she said. "But more than that, he plans to bring Timbers' playbooks so they can see how the pros do it. That will be a big thrill for them."
Karen has also sponsored Santa at The Depot for years. The annual canned food drive is held in the vintage train station the couple bought in 2003, which now serves at the Ken Wright Cellars tasting room.
The beautifully restored building originally served as home to Tyrus Evan wines, the Wrights second label named for Ken's sons. Featured varietals are Cabernet Sauvignon and Syrah. The Depot was part of a package deal when the couple acquired several properties from Bob and Sharon Nistler, former owners of the old Madsen Grain Co. complex. "It was our first major restoration in Carlton," Ken said. "The Nistlers came to us saying they were retiring and wanted to sell us their buildings because they knew we would preserve them. And we took that promise seriously."
They have subsequently partnered with Kris and Susan Stubberfield to purchase additional properties in Carlton to be upgraded over time. When the Wrights agreed to sell a couple of the properties in the heart of the old grain complex to investor Cameron Healy, the same conditions applied. "Cameron is a great guy who shares our vision," Karen said. "He is one of those behind the scenes people who is wonderful asset here. Not very many people know he was the founder of Kettle Chips." A handsome brick building on Highway 47 at the approach to downtown, now home to Scott Paul Wines is the showcase example of that commitment.
"The wine industry and restaurants predominate on Main Street," Ken said. "And we'd like to diversify that. But downtown is full and thriving, which isn't bad."
Among their other local involvements are Ken's service on the Carlton Fire Board and the trees lining Main Street, which the Wrights bought and maintain. They also purchased a small piece of corner property on Main Street, turned it into a pocket park and had a mural painted on an adjacent wall. Ken pulls out a copy of "Recollections of Carlton," a book about the town's history. He points to the seemingly aerial view of the town a century ago that wraps around its cover from front to back.
"This photo was taken from the top of the grain elevator," he said. "We used it as the model for the mural. It sort of goes with the logo mural we had done on the grain elevator wall after we bought it.
"It's amazing how much difference one or two people can make in a small town," Ken observed. In fact, he continued. "That was one of the big pluses for us in deciding to move to Carlton. For example, I got to write the city's signage and design review ordinances. You'll never see any franchise neons here."
The couple's latest project has them bubbling with excitement. The Wrights, along with the Yamhill-Carlton AVA Winegrowers, recently implemented Oregon's first college-credit viticulture course in the state at Yamhill-Carlton High School. Students can enroll in classes and earn college credits through a partnership with Salem's Chemeketa Community College and the high school's already-dynamic FFA (formerly called Future Farmers of America) program. A one-acre "land lab" vineyard on school property will be planted in spring, a first for any high school in the nation. When asked what grapes they would plant, Ken responded, "Pinot Noir, of course."
The Wrights have adopted two young Vietnamese girls. Josie, 11, and Evy, 6, are now sisters and just two regular American kids. As a result of their positive adoption experience, Ken and Karen have become strong supporters of HOLT International, a Eugene adoption agency, which finds "forever families" for children from a dozen countries.
Their daughters have much to look up to and a bright future, as does the community of Carlton, because of the Wrights and other like-minded residents. Their leadership, innovation and enthusiastic commitment to their neighbors is astounding.
Oregon Wine Press is honored to name Ken and Karen Wright the 2012 Wine Persons of the Year.