Perkolating Pursuits
Merchants brew up extras, boosting bottle sales
Wine shops typically operate on a three-tiered system: (1) Producers seek (2) wholesale distributors that woo (3) retailers into buying and ultimately promoting the wines to the end consumer.
That final tier, the wine merchant, has become a competitive market, especially with large supermarkets in the mix. To understand the world of the smaller retailer, there are numerous details to consider, especially profit margins.
According to wine marketing consultant Tincknell & Tincknell, "off-premise sellers" offer pricing based on the establishment. Big box and national chain retail stores often operate on extremely narrow margins, using volume to maximize profitability; while "a small wine shop with high fixed costs and expert sales representatives may need up to a 33 percent or more gross margin over the wholesale price to maintain profitability."
Add to the boutique bottle shop's challenging economics the fickleness of customers and markets alike in a virtual galaxy of labels, and you soon realize the neighborhood wine shop exists because of passion for the product, not profit.
Knowing the challenges, many owners create additional incentives and opportunities for consumers, hoping the extra effort pays off. In the end, it is often the owner's savvy and pluck that keeps customers returning, but well-planned perks are always welcome.
The Cellar on 10th
Astoria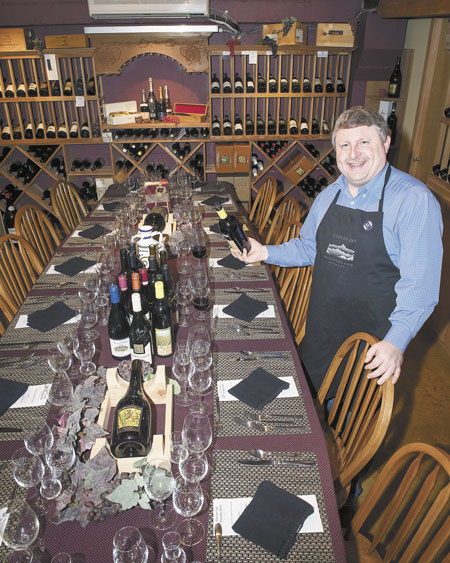 When it comes to real extras, it's not a figurative thing to say owner Mike Wallis' ship has come in at The Cellar on 10th in Astoria.
In this coastal town, cruise ship excursions add a large spike to his business. During the season, he'll host at least three tours each day, with about 20 people in each tour. Passengers buy the package aboard ship and visit when they're ashore.
"We have a unique setting and shop with 75 percent Northwest-focused wines," he said. "The rest are from around the world.
He'll spend an hour to an hour and a half giving a presentation on various wine regions, as well as wines of the Willamette Valley.
"And they'll get to taste two red and two whites," said Wallis, adding how he's been a bit evangelical about Oregon Chardonnays these days.
"People will say they're tired of Chardonnay because they're thinking of the tired California wine," he said. "But then I'll tell them 'I'm going to make a Chardonnay lover out of you with this one glass.' People here are starting to do really special things with Chardonnay."
The cruise ship business, of course, is unique to Astoria, but it's not the only draw for Wallis' shop. The cellar, which is in fact a genuine cellar, carries 3,000 bottles and 800 different labels at any time.
The cellar also hosts dining events Wallis calls the biggest draws.
"Our dinners are so popular, we sell out nine to 10 months in advance," he said.
Each dinner hosts 16 people, with the owner and executive chef from the Silver Salmon Grille preparing the meal. The menu is always tailored to the region, so food matches place.
Like the other shop owners, Wallis said he's just "always wanted to get into the wine business." He opened the cellar in 2003, but he's kept his day job, which no doubt helps his wine game: He's a CPA and his office is located above the cellar.
Being located on the coast, he said the weather can affect his business.
"We really do rely on the tourist business, and we're kind of at Mother Nature's whim," he said.
Yet he receives a lot of traffic from people with summer homes, as well as visitors from Long Beach on the Washington side.
When it gets down to the business of selling bottles, Wallis dons his accountant hat.
"You clearly have to watch the market, but you also have to seasonally adjust what you sell each year," he said.
He then adds another angle, applying the old marketing dictum in selling the sizzle, not the steak.
"Astoria is such a favorite stop for the cruise ships," he explained. "It's like going back to old-time small-town America."
The Wine Cellar
Portland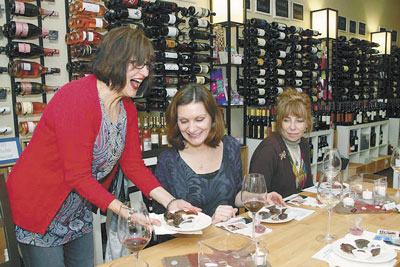 Erin Palmer, owner of The Wine Cellar in Southwest Portland, says, for the past 15 years, she's admittedly winged it. She's never had a business plan, although she grew up in the industry. Her dad was a collector; her mom, a chef.
After college, Palmer worked in the dot-com world.
"And, like everyone else, I stopped working in the dot-com world," she joked.
Next, she decided to open a wine shop, which she said people warned her was "a fool's errand."
While Palmer's managed to stay successful, having moved into her 2,500-square-foot space on the east side of town five years ago, she said in her first decade in business, 11 other bottle shops opened and failed in her suburban area. Still, she remains almost incredulous that her gamble is working.
"Sometimes, teachers want to come and have me talk about opening a business, and I tell them, 'I am not your girl.'"
On the day we spoke, Palmer was busy cooking for her regular Nike lunch group. She's preparing French pies and a tarragon shrimp salad. The culinary aspect is part of her hook. She even teaches cooking classes at her shop.
This can-do spirit is part of her business mentality.
"When you're self-employed, 'yes' is always the answer," she said.
She learned the "yes" model while traveling several years ago in Belize, where street merchants would refuse no request for a paying transaction. Being amenable to whatever comes her way has proven essential as a business owner, especially when the unexpected happens, such as the recent winter storm, which carved a $25,000 chunk from her revenue.
"It was not awesome," she said.
During our conversation, it's clear we're not talking much about specifically selling bottles of wine.
"Yeah, we do that too," Palmer said with a laugh.
She offers 1,100 bottle choices, mostly family-owned, boutique-style wines. And because she also has a restaurant license, she's able to buy a wider range.
With a crew of only six people, she says she enjoys the small town feel of her shop.
"Our customers are all about our staff," she said. "I always refer to our shop as 'Mayberry.'"
Palmer, who majored in women's studies in college, doesn't allow people to talk politics in the shop. She just wants to keep it about the wine.
Keeping opinions quiet doesn't include the supermarket issue. She said she "gets it" when it comes to people grabbing a bottle at the grocery store.
"But I wish they wouldn't," she said.
Palmer wants to take the snootiness out of wine, as part of a strategy to demystify her product. She also teaches wine classes at Portland Community College, and designed a course called "How to look like a wine snob in under three hours."
"The most important thing about it is that it's just grape juice," she said.
Bo's Wine Depot
Eugene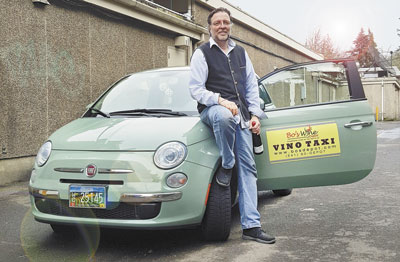 Offering "Wine for the Rest of Us," as the owner, Boris Weidenfeld-Needham, likes to say, Bo's Wine Depot is only one year old but has already garnered a reputation in the neighborhood as THE place to learn about wine and, by design, buy it on a more approachable level.
"I always wanted to change the buying experience," said Weidenfeld-Needham, who started in the business as a stocker at the old Sundance Wine Cellars; within six months, he was the general manager. But before wine, he taught music classes at the University of Minnesota and helped design digital recording platforms for the music industry.
When asked why he opened a bottle shop, he gives a familiar answer, "Wine has always been my hobby. So, we thought we'd give it a shot."
That part about wine "for the rest of us," truly is how Weidenfeld-Needham does business. He keeps both his inventory and his prices low.
"I realized how many wines are out there for under $20," he said. "And rather than 3,000 wines, I have 200, so the wines are over-seeable."
Weidenfeld-Needham says he gets such great prices because he used to be a buyer, so he knows how and when to buy. He waits for the labels to pass their season; then, he snatches them up. He also makes sure to keep his customers informed.
"Some neighbors literally know all the wines in the store," he added.
As somewhat of an innovation, the shop contains moveable racks on caster wheels, so he can clear the room quickly for events. He holds pairing and wine basics classes every three weeks, featuring different wine regions. Each week, he also hosts two tastings, "generally a showcase for what came in last week," he explained.
While tastings are a popular pull, his most novel hook is his delivery service. Weidenfeld-Needham's customers can have bottles dropped off at their door when they call the "Vino Taxi," a tiny Fiat 500 employed specifically for home deliveries — and in service only since early January.
Besides his petrol-ed perk, rolling racks and Everyman pricing, Weidenfeld-Needham is serious about business and has a definite opinion regarding big grocery wine aisles. His chief concern is that the labels there are not represented by people who necessarily know what they're selling. Also, he suggests, most of it is production wine.
"At supermarkets, you have people who don't know anything about anything," he said. "It's all schlock."
Weidenfeld-Needham also mentions the other end, shops for collectors, where most bottles fall in the upper-premium to luxury range. He's happy to have found a niche exactly in between.
The Oregon Wine Village
McMinnville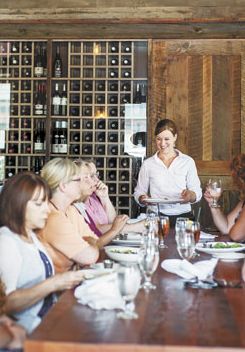 For more than a few bottle shops, food represents a common thread and, of course, a natural companion to wines. Dustin Wyant knows the relationship well as the managing partner of KAOS, which includes The Barberry, 1882 Grille and The Oregon Wine Village, all inside the unusually named building in downtown McMinnville.
Wyant started in sales and marketing at Willamette Valley Vineyards in the early '90s. He also helped start Farm to Fork restaurant in Portland as well as Recipe in Dundee.
Drawing on his wine sales and restaurant experience, Wyant has shifted the model inside KAOS from bottle shop to something more special. The original idea was to have wineries lease the space and showcase their wines, but the model has morphed into a guest winemaker series. Each Saturday, 4 to 7 p.m., a winery hosts a pairing session.
When it comes to labels, Wyant keeps it local.
"We carry the hyper-micro brands," he said. "In most cases, we're talking about producers that make 1,000 cases per year."
Attached to The Oregon Wine Village, The Barberry offers flights of wine, five or six, paired with meal courses in the dining room. The kitchen offers Northwest fare with seafood, pastas and aged steaks.
"It's really a discovery opportunity for them," said Wyant, adding that McMinnville is a "great epicenter and can be used as the base camp to explore the Valley."
"Our model is to offer an exploration into Oregon wine in conjunction with the restaurant," he said.
He also strives to make the industry more approachable.
"We want people to come to Oregon to enjoy the wine, but also the process," Wyant said. "If you make the process too cumbersome, people won't keep coming back."
While running a bottle shop known as a "Wine Village" hitched to an upscale restaurant sounds like an enviable life, Wyant remains practical.
"It sounds very romantic, but it's hard work and it's a lot of hours," he said. "It takes a lot. People sometimes don't understand the investment in time and energy."
In the current highly saturated market, standing out is crucial. For these shop owners, it's clearly more than just bottles. The next time you wander into one of these shops, you'll certainly be looking beyond the racks, trying to spot the angle.
Neil Zawicki is a freelance writer who, in his spare time, loves to study history, paint and play his guitar. He lives in Albany with his wife and four children.
---
Perky Pours
The most prevalent perk from Oregon wine retailers? Wine tastings! These shops and others have created serious followings by offering regular tastings.
503 Uncorked
22578 S.W. Washington St., Sherwood
Wednesdays, 6 to 8 p.m.
www.503uncorked.com
Bend Wine Cellar
1444 College Way, Suite 8, Bend
Saturdays, 2 to 5 p.m.
www.bendwinecellar.com
Bo's Wine Depot
364 E. 40th Avenue, Eugene
Fridays/Saturdays, 5 to 7 p.m.
www.bosdepot.com
Cellar 503
4407 S.W. Corbett Avenue, Portland
Sundays (3rd), 2 to 5 p.m.
www.cellar503.com
Harvest Fresh Grocery & Deli
251 N.E. Third Street, McMinnville
Saturdays (3rd), 4 to 8 p.m.
www.harvestfresh.com
John's Marketplace
3535 S.W. Multnomah Blvd., Portland
Fridays, 5 to 7 p.m.
www.johnsmarketplace.com
Liner & Elsen Wine Merchants
2222 N.W. Quimby, Portland
Saturdays, noon to 4 p.m.
Fridays (1st/3rd), 5:30 to 7:30 p.m.
www.linerandelsen.com
Pairings Portland
455 N.E. 24th Avenue, Portland
Fridays (1st), 5 to 8 p.m.
www.pairingsportland.com
Viola Wine Cellars
2901 N.E. Alberta Street, Portland
Fridays, 2 to 7 p.m.
www.violawines.com
The Wine Cellar
525 N.W. Saltzman Road, Portland
Fridays, 5 to 8 p.m.
Saturdays, noon to 5 p.m.
www.portlandwinecellar.com
The Wine Shack
124 N. Hemlock Street, Cannon Beach
Saturdays, 1 to 5 p.m.
www.thewineshack.wine
Wizer's Fine Wines
269 A Avenue, Lake Oswego
Saturdays, 11 a.m. to 5 p.m.
www.wizers.com
Tasting fees vary at each location.