Perfect Chemistry
Love of lab work foundation of new brand
Tetrahedron Wines
Details:
VISIT:
421 State Street (SR 14), Lyle, WA
CALL:
509-774-8323
LOG ON:
www.tetrahedronwines.com
Add one more to the cluster of quality winemakers bunched around the tiny Columbia River town of Lyle, Washington.
Kelly Johnson, born east of The Dalles, she grew up in Lyle, but like many a young person, she had to see and taste the world to appreciate what lay behind.
Now, after 13 years working in and running the lab for Trinchero Family Estates in St. Helena, California, she has returned to make her own mark.
Johnson released her first three wines under the Tetrahedron label in the summer of 2015, and opened her tasting room on Highway 14 in downtown Lyle the last weekend of February. Visitors may sample a 2015 Chardonnay, 2015 Charbono (also known as Bonarda or Douce Noire) and dessert-style Petite Sirah.
In addition to crafting her own wine brand, she is running a small lab, Big River Laboratories, which she opened shortly after moving north in 2014.
Lab work was always the career trajectory.
"I ended up in wine by mistake," Johnson said.
Graduating from Washington State University with a degree in biology — "Go, Cougs!" she said, "we might get beat, but we still party!" — she thought she'd end up in biotech.
To that end, she headed to California. A staffing agency linked her to the gig at Trinchero, a big "umbrella" company with 22 million cases — think Sutter Home — with major quality control and plenty of opportunity to learn from the whirl of winemaking around her beakers and flasks.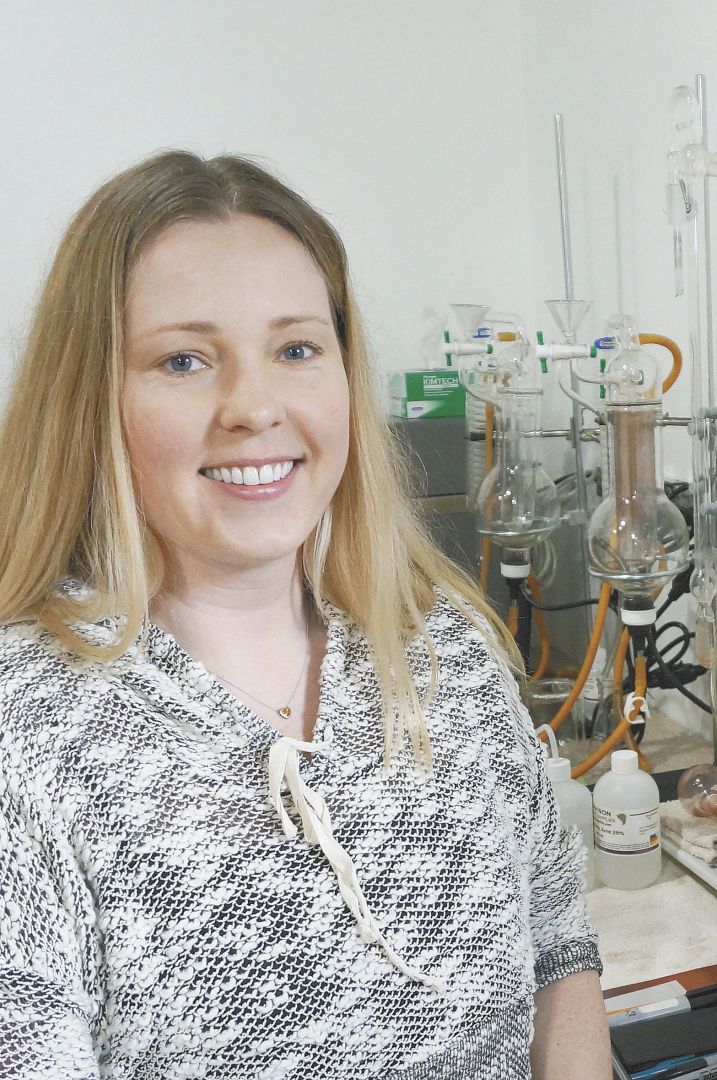 "I learned a lot about winemaking and processing from the winemakers at Trinchero," she said. "I was offered an assistant winemaker job there, but I stayed in the lab because I thought there was more opportunity there to learn about the whole operation."
Six years into her time at Trinchero, she started making her own wine on the side. How much? One barrel a year.
"It was second-picked grapes," she added. "I would go out after work and go through the vineyards that had already been harvested."
She says she still has six bottles from her first winemaking effort, a Napa Valley Cabernet.
"It was drinkable," she quipped. "But my wine got better over time."
Just like the Gorge wine scene. She recalls coming home from Napa in the early 2000s to visit her parents, and going around to the embryonic wineries popping up then.
"I remember when Luke [Bradford of COR Cellars] was pouring wine on a barrel," she said.
"Gorge wine is getting better all the time. It's hugely better."
She's excited to dive into a smaller wine world, one that's dynamic and exploring, trying to find its own identity.
"The Gorge isn't an established wine territory," she says. "Here is like the wild, wild West. You're on your own. It's a different place, and it's cool to see."
She thinks her lab skills will afford the Gorge wine scene a path to detailed metrics that can help winemakers better understand what's going on in their juice. Whether it's alcohol analysis, simple to more complex juice panels, or a look into individual component chemistry — like malic acid, pH or titratable acidity — Johnson says analysis "really can help make your wine better.
"Once you learn how to use it, it doesn't have to be expensive. You learn how to isolate when you need analysis on specific things."
She's got company on her journey. Darren Michaels, her fiancé, worked three years with her at Trinchero, then at two other labs in Southern California before taking on the Northwest sales territory for Laffort, the global winemaking supplier.
Tetrahedron is getting sales support from "brand ambassadors" José Rodriguez, a business analyst in Portland representing the brand there and in Seattle, and New Yorker Demetrius Murray, a model and track coach promoting the label in the Northeast.
Johnson has no immediate plans to grow her own grapes. "We're just buying from other people now," she says.
She processed five tons last year.
"The fall of this year is when we really hope to scale up," she says.
A veteran Northwest newspaper and magazine reporter and editor, Stu Watson owns Watsonx2 Communications in Hood River.