PDX-Factor
Portland's urban wine scene takes center stage
Here is not where you might expect to find wine. The route is a concrete and metal mashup of auto body shops, paper processing plants and abandoned warehouses. Used parts are stacked on most street corners, soon to be moved by forklift into dusty spaces where sounds of heavy machinery are muffled by half-open garages. Trains yawn from the nearby rail yard and Portland's skyline peeks between trees framing the Willamette River. But if you follow the sandwich board signs, you'll end up at Hip Chicks Do Wine, the city's oldest still-operational urban winery.
Portland Wineries
5Q Wines, Boedecker Cellars, Bow & Arrow, Buddha Kat Winery, - Chateau Bogrumpus, Clay Pigeon Winery, Coopers Hall, Corsa Vino, Division Winemaking Co., Dovydenas, Eastburn Vineyards, Enso Winery, Fausse Piste, Forty Five, Fossil & Fawn, Fullerton Wine, Guild Winemakers, Helioterra Wines, Hip Chicks Do Wine, Jackalope Wine Cellars, James Rahn Wine Co., Jan-Marc Wine Cellars, Jasper Sisco, Ore Winery, Rose and Fern Wines, Seven Bridges Winery, Southeast Wine Collective, Vie De Boheme, Vincent Wine Company, Viola Wine Cellars. (Information gathered from OLCC)
The building itself teems with local folklore. The inner-southeast structure housed manufacturers of life-size puppets in the 1940s. Later, it hosted illegal raves and provided a home for working artists. In 2001, about the time wine tourism started booming in the Willamette Valley, Laurie Lewis and Renee Neely turned the building into a winery and tasting room. It was one of the first of its kind to operate within city limits, before Portland became synonymous with craft anything.
Thirteen years later, the immediate scene is much the same. Sure, the Rose City has become a model establishment for the artisanal, an exaggeration even. But at Hip Chicks, across the street from Monster Controls (specializing in "medium voltage contractors, switchgear and associated parts"), it's just another specialized outfit operating within a sea of industry. Lewis and Neely want your business as much as the adjacent building; it's just that what they're offering has only recently grabbed the city by the nape: Urban enology.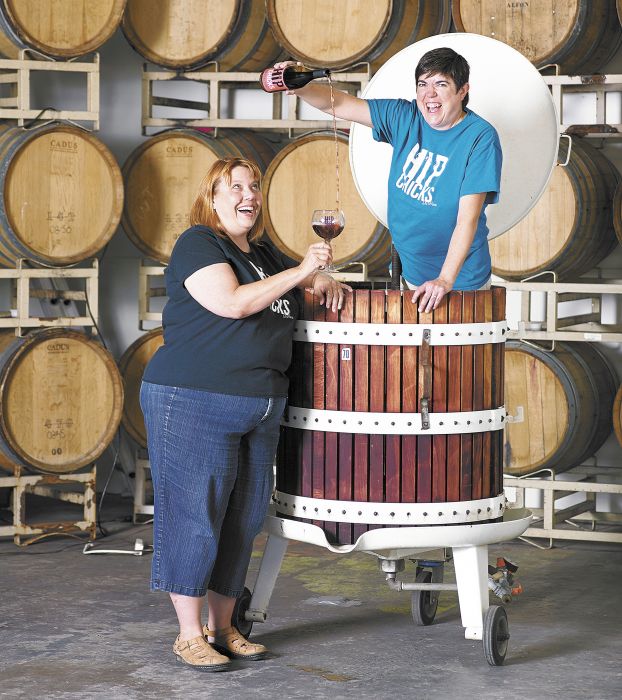 Today, about a dozen wineries make up the Portland Urban Wineries Association. Winemakers have capitalized on both the city's proximity to world-class vineyards and a thirsty, captive audience. Old architecture, particularly in this part of town, is wine-friendly, with gaping doors ideal for forklift traffic and raised ceilings perfectly staged for fermenters and barrel stacks. Moreover, it's but a walk, bike ride or light rail stop away from countless city dwellers.
Southeast Wine Collective, Clay Pigeon, Seven Bridges, Boedecker and Bow & Arrow are among the nascent pack of street producers, reminding Oregon's largest city, up close and personal, of one of its most celebrated exports.
All fires require a spark. For Lewis and Neely, it was tasting in wine country years ago. Lewis recalls standouts like Müller-Thurgau from Kramer Vineyards, Secret House Winery's sparkling Pinot Noir and Westrey's Pinot Gris. These were very different animals from the Boone's Farm rubbish she grew accustomed to in her native Texas. Lewis was hooked, enrolling at Chemeketa and sharpening her wine wherewithal through memorable instructors like Suzy Gagné of Airlie Winery and Bryce Bagnall of Witness Tree Vineyards.
In 2009, Hip Chicks worked its first harvest as a label, sharing equipment at the relatively giant-sized Duck Pond Cellars in Dundee. There wasn't much of an urban wine scene at the time, but Lewis hoped to set a precedent, or at least a trend other producers would notice. After all, Hip Chicks was bringing wine to the fickle Portland masses, many of whom boast a decent enough palate yet think twice about an hour-plus car ride to access wine country. The stage seemed to be set for an urban wine explosion, but it didn't quite amount to that.
While there is undoubtedly an urban wine scene in Portland now, it is somewhat modest and did not happen overnight. Southeast Wine Collective, one of the city's most revered winemakers' studios and tasting rooms, has only two vintages to its name. The majority of the others came about around the same time. The main obstacle, it could be argued, was not the city's short attention span or indifference toward homegrown wine. Instead, it was a nose-diving economy that made local Pinot Noir even more expensive and unattainable.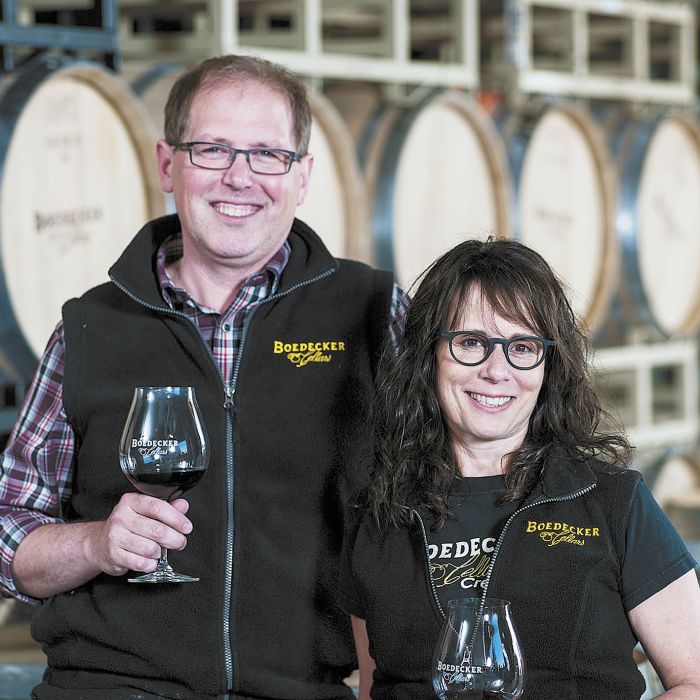 Stewart Boedecker and Athena Pappas of Boedecker Cellars arrived on the nascent Portland wine scene in 2008, when the nation's economy was still struggling, to say the least.
But the couple did not begin their venture in the city. In 2003 — after living in Ireland and Japan, respectively — the couple launched their label at Carlton Winemakers Studio, one of the northern Willamette
Valley's foremost incubators for aspiring vintners. The label grew from a nano 400 cases the first vintage to 2,500 cases in 2007.
A year later, Pappas and Boedecker discovered a warehouse just minutes off the freeway, Forest Park, and her house. Pyramid Brewery sat just across the street, a tall testament to the craft movement they wanted to join.
"I love the fact that I can walk to the bank and the hose fitting supplier, drive around the corner to get my nitrogen and am down the street from Whole Foods," continued Pappas. "Everything I need or want is right here."
The Boedecker brand stresses sustainable vineyards and a micro-staff of friends and family. Wines are fermented naturally and created in limited quantities, both to ensure quality and to exhibit a sense of place.
"We love the winemaking. From walking the vineyards, to chewing the grapes and chomping on the seeds, trying to determine that elusive perfect flavor, sugar, acid balance ... to the wine changing in barrel over the course of 18 months, starting off young and brash and going into bottle as mature young adults," Pappas said.
Across the river, beneath the towering St. John's Bridge, is Seven Bridges Winery. Kevin Ross and Bob Switzer started the label in 2008 with approximately 350 cases, most of which was tested on friends and acquaintances. The superb growing season that year probably helped, but the word spread nonetheless. Seven Bridges currently turns out about 2,000 cases per vintage.
"In short, we make what we like to drink," said Switzer. A former engineer based in Silicon Valley, he was always a stone's throw from good wine. His grandparents lived in Sonoma, and he would visit them often, at least in between wine tastings. He learned to appreciate and differentiate fine wine and made it his goal to produce the equivalent. After some courses at PCC and UC Davis, Switzer earned his winemaking certificate.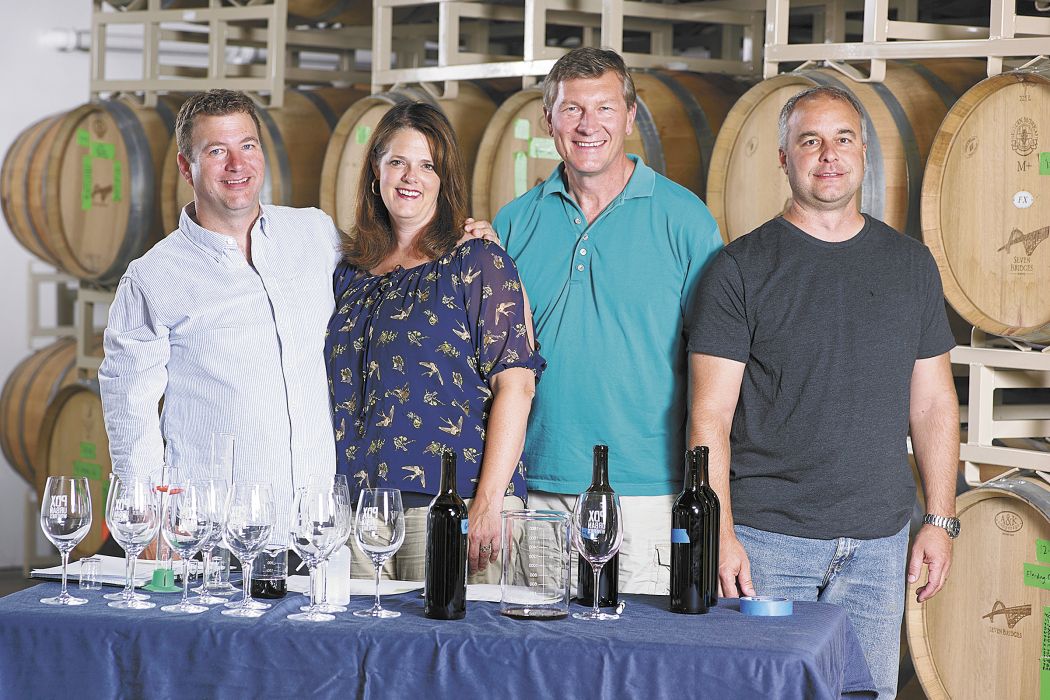 In Pinot-saturated Oregon, Seven Bridges is a bit of an outlier. Ross and Switzer deal in Cab, Merlot, Malbec and Sangiovese. "I love Pinot Noir and enjoy it on a regular basis, but our passion is bolder reds," Switzer said. "The approach we take with our wines is to make them in a style that we like and hopefully others will feel the same."
And they do. Friends and loyal customers have created a serious demand, and friend Jim Straus liked the wine so much he became a business partner in 2013.
When Switzer mentions the unfortunate fact that people struggle to associate good wines with an urban environment, things begin to click.
It's a sentiment I've heard from most of the urban producers. "How can you possibly make good wine without a vineyard in view?" the public asks. Hip Chicks, Seven Bridges and many others address the question daily. Fact is, most producers are sourcing fruit from elsewhere. Moreover, many of the vines you see on site, especially in town, are only decorative in nature. They provide that serene, salt-of-the-earth feel only agriculture can provide, but chances are, that fruit is for the birds.
"People are always so dumbfounded when they hear we are making wine in the city," said Lewis of Hip Chicks. "They forget it's just like the other alcoholic beverages made in Portland — brewers don't grow their own hops outside their brewery and distillers aren't getting barley, corn, etc., from the lots next to their distillery." There may be a pile of scrap bumpers just across the street or a train loading cars a few blocks away, but the wine is high quality and the handlers know what they are doing.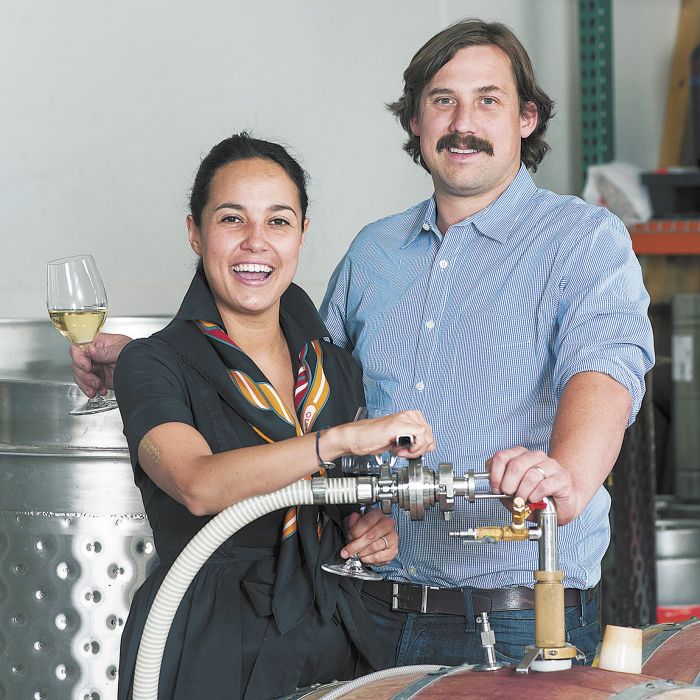 Following Carlton Winemakers Studio in the Willamette Valley, Southeast Wine Collective has become the urban springboard for small-batch winemaking talent. Currently, the Collective houses 11 wineries, from founders Tom and Kate Monroe's Division Wine Company to wee startups Ore Winery and Jackalope Cellars. Formerly One Dow Columbia's home office, an industrial cleanup company, the Collective is also home to Anne Hubatch's Helioterra and Whoa Nelly brands, Pam Walden's Willful Wines, as well as Fullerton Wines, Vincent Wine Co., Almuni, 5Q and James Rahn.
Ideally situated, the Collective is paces away from some of the best restaurants in all of Portland. It may well represent what urban wineries are pushing for, an eclectic batch of wines turned out right in the heart of town, wedged in thriving neighborhoods with curious passersby and good restaurants. In many ways, the best of the Willamette Valley is brought directly to your doorstep. That might mean sacrificing vineyard views and quaint hilltop bed and breakfasts, but that seems to be something urban wineries are willing to sacrifice, especially for the greater good. The point, it seems, is to introduce as many people as possible to well-crafted local wine.
For Viola Wines, it's about a local take on age-old varietals. The wines are made in a barn in the wooded and hilly Cedar Mills neighborhood of southwest Portland. Vintner Darryl Joannides studied in Perugia, Italy, in 1986 and owned Assagio, an Italian restaurant in Sellwood, from 1995 to 2005. "Italy is where I first started my wine journey," said Joannides. "So it's coming full circle trying to produce something in Italian spirit here in Oregon with Viola Wines."
Tradition and old customs rule at Viola. "I tend to prefer letting nature do its thing," Joannides added, referring to his fermentation scheme.
His wines are often shown at Cork, a wine bar in the Alberta Arts District of North Portland. "The proximity to vibrant businesses and restaurants to enjoy in the evening and then the chance to pop out of bed in the morning and check out the fermenters or assemble the bottling line without having to drive an hour to the Gorge or the Valley," is what Joannides appreciates most about operating within city limits.
But it's not all doves and rainbows. Joannides recognizes both the potential and confines of urban enology. He describes the noise, tight spaces and lengthy commute to vineyards. As much as he wants to work on his wines through the night, he has sensitive neighbors to worry about. But that hasn't dampened his optimism. "Winemaking is just the latest small business that seems to have found a home here in Portland, and the more places that open up, especially in garages, makes for an interesting counterpoint to the visits locals and travelers make to the Willamette Valley and Columbia Gorge," he added.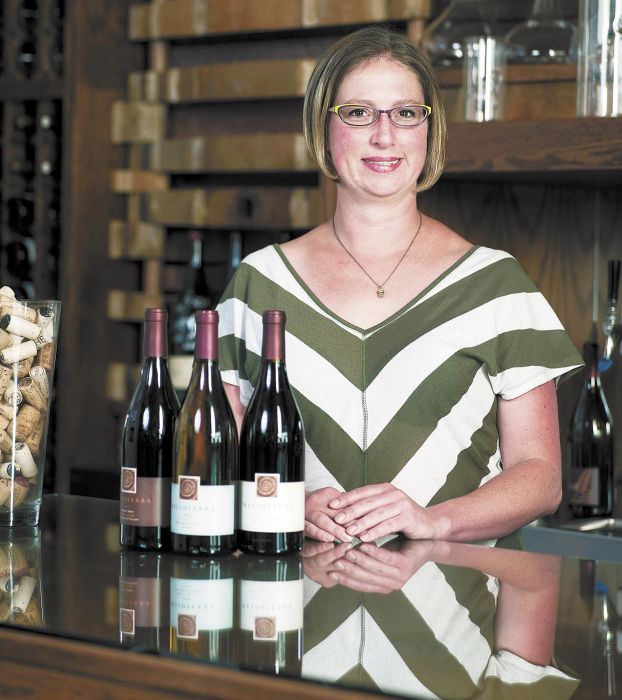 Over at Enso, the scene is downright rustic. Between pouring flights, the server retreats to the back room for punch-downs — it is the middle of harvest. He returns, slightly out of breath, to field questions about orange wine or the wine equivalent of an imperial pale ale. It is perhaps Portland's most welcoming wine bar, a casual mix of homespun wines, a solid wine list and a jovial, anything-but-pretentious atmosphere.
The spirit of creativity and transparency governs winemaker Ryan Sharp's cellar ethic. The industry is still viewed as highbrow to some and Enso is trying to debunk that myth with Old-World wines in a laid-back bar you might mistake for a watering hole. Good wine should be accessible to all, and so, too, should the winemaking process.
Sharp started at Arcane Cellars before working stints at Grochau Cellars. The one-time UC Davis student transferred to Chemeketa to complete his wine education and always fantasized about an urban winery. A few years later, 2014, Enso would be named Willamette Week's Bar of the Year. The centrally located winery and tasting room is on S.E. Stark Street, adjacent to a tap house and Thai restaurant.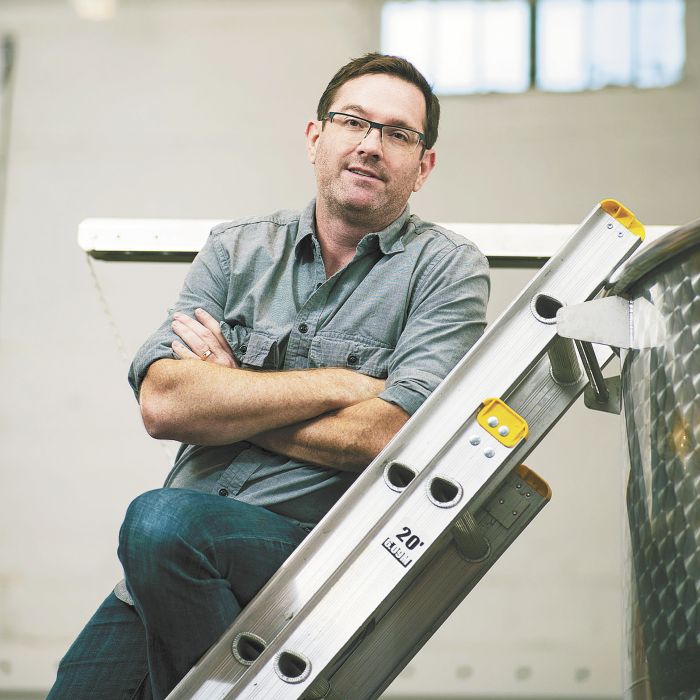 Just up the way is Bow & Arrow Wines, formerly operating out of the S.E. Wine Collective and now based in the newly remodeled Bindery Building. Scott Frank, who learned the trade as an assistant winemaker at Cameron Winery, and his wife, Dana Frank, a certified sommelier, estimate they'll produce about 2,300 cases in 2014. It's a small number on the surface, but Bow & Arrow is technically the second largest producer of Gamay Noir in the nation. The Loire Valley varietal has yet to catch on in the states, but the couple loves the stuff.
"When we started the winery [in 2010], we made a conscious decision to use a region other than Burgundy as our template," said Scott. "The Loire seemed like an obvious choice given its latitude and attitude." Bow & Arrow also makes Melon de Bourgogne, a relatively foreign and esoteric white, at least domestically.
The Franks' underground cellar, the only one of its kind in the country, where fruit is processed on site, is shared by one other label, Rose & Fern. Located at 31st and Sandy in N.E. Portland, The Bindery is in the thick of apartments, bars, auto dealerships and shops. Wines people elsewhere would travel days for, sitting right under Portlanders' collective nose.
Laurie Lewis and her partner, Renee Neely, admit they weren't the first to make wine in Portland. Madrona Hill and Adams beat them to it. Yet, Hip Chicks is still in business, having watched the same scene they fell in love with years ago finally germinate in town. The empty buildings nearby, not to mention the brand new light rail line, suggest there's more room for growth.
"I would say bring on the urban winemakers," Lewis said.
Mark Stock, a Gonzaga grad, is a Portland-based freelance writer and photographer with a knack for all things Oregon. He currently works at Vista Hills Winery.