IPNC for the Rest of Us
Passport to Pinot broadens eager audience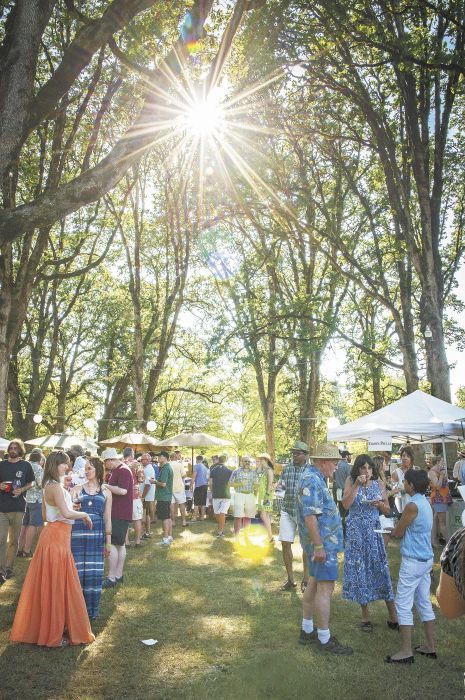 By Neal D. Hulkower
Since 1987, the International Pinot Noir Celebration (IPNC) has regaled lovers of Burgundy's noble red with two and a half days of exquisite food, ethereal drink and a lofty ticket price — now running almost $1,000 per person.
For those who have neither the time nor the money, there is Passport to Pinot. This year's four-hour walk-around was held on the last day of the celebration, Sunday, July 27. The oak grove at McMinnville's Linfield College provided some shelter from the Pinot-hostile 90-plus degree temperatures.
In the summer heat, attendees sampled featured wines from 72 producers from Argentina, Canada, France, Germany, Italy, New Zealand and three U.S. states, accompanied by small plates from 15 local establishments. I was able to taste about a third of what was being poured. With few exceptions, the Pinots presented were from 2011 and 2012 — many samples would support declaring either vintage the year of acidity.
Tasting Notes
From the Northwest, Oregon was represented by 34 producers, Washington state by two and British Columbia one. The still young but promising Brittan Vineyards 2012 "Gestalt Block" exhibited an herbal nose with spice and floral notes that complemented the fruit. Chehalem 2011 Reserve — sourced from famed Ridgecrest Vineyard — showed great balance with earth and fruit playing together nicely. The delicate, elegant yet age-worthy Dominio IV 2012 "Mulberry Street" Vitae Springs was redolent of flowers and baking spices. Syncline of Lyle, Washington, dispensed its 2012 Celilo Vineyard Pinot Noir, which had a bright nose with citrus inflected red candied fruit, high acidity and moderate tannins.
California producers sharing tastes numbered 18. While still tight, the promising Navarro Vineyards 2012 Deep End Blend had a floral yet spiced nose and nice structure with good acidity and tannins. Rhys Vineyards 2012 San Mateo, fermented with 60 percent whole clusters, produced aromas of earth, coffee and dark fruit, and an immature finish with lots of acidity and tannins.
France sent one producer from Alsace and nine from Burgundy. Domaine Saint-Rémy from Wettolsheim featured a perfumed 2012 Élevé en Barriques with muted floral and earth notes, high acidity and a delicate palate. As a class, the Burgundies I tasted, though quite young, were among the most expansive on the palate. Maison Ambrose teased tasters with an immature 2012 Nuits-Saint-Georges "en Rue de Chaux," which tantalized with understated complex aromas of spices, flowers and earth. Domaine Charles Audoin 2011 Fixin "Le Rozier" hinted of earth on the nose and balanced fruit with savory notes on the palate. Though still young, Domaine Dublère 2011 Volnay "Les Pitures" was soft and floral with great acidity. Joseph Drouhin offered a delicate floral fruity 2011 Fixin "Clos de la Perrière" that had excellent balance and a long finish. Maison Marchand-Tawse 2011 Gevrey-Chambertin displayed bright fruit and flowers on the nose and lots of earth and acidity on the palate.
Argentina and New Zealand comprised the delegation from the Southern Hemisphere. The 2012 Barda from Bodega Chacra in Northern Patagonia was something of a revelation with funky aromas competing with floral notes and an elegant palate with lots of acidity and good tannins. Winery proprietor Piero Incisa, who showed interest in my connection to the American Association of Wine Economists, promised to stay in touch and could become my latest friend in the industry. Central Otago's Akarua 2010 revealed bright fruit and flowers, and nice acidity. Ready to enjoy now, the serious Villa Maria Estate 2010 Taylors Pass offered dark fruit and great acidity.
The single producer from Italy, J. Hofstätter of Alto Adige, poured a 2011 Barthenau Vigna S. Urbano with black cherries prominent on the nose and lots of acidity.
The Food
The culinary offerings were particularly pleasing this year. Red Hills Market in Dundee served an inspired and particularly Pinot-friendly wood-fired chanterelle and Briar Rose chèvre crostata.
Portland's Boke Bowl wrapped mushroom and tofu "larb" salad with toasted rice and. Newcomer Ruddick/Wood of Newberg dished up pickled and grilled beets with ricotta and mustard greens. Smoked duck terrine with arugula and pickled radish from Rye in Eugene, and duck pâté en croute with toasted cocoa nibs from Sybaris Bistro in Albany blended classic elegance with Northwest sensibilities. Coquine Supper Club of Portland plated grilled pork ribs with plum mostarda, fresh white beans and fennel.
Two Portland establishments provided sweets: Ken's Artisan Bakery returned with meticulously crafted quintessential cannelés; while Salt & Straw scooped four highly creative flavors of ice cream, including strawberry-honey balsamic with black pepper.
Diversions
At the midpoint of the walkabout, as wineries cycled out at the event's pouring sites on the periphery to make room for the next round, a procession of winemakers passed through the crowd waving their national flags. This was followed by the entry of a half-dozen acrobats who provided an amusing diversion during the brief intermission. As many are members of the Confrérie des Chevaliers du Tastevin, the winemakers concluded half-time with "Ban Bourguignon," a traditional song to honor someone or to simply celebrate a good time.
Having now attended four of the past five events, I can confirm that while not as "grand" an experience as IPNC, Passport to Pinot is an easy habit to get into, and one I would encourage any Pinotphile to consider. It provides a rare venue to sample some of the world's best bottlings with carefully matched foods and to mingle with some of the best producers of our favorite wines.
Next year, Passport to Pinot will be held July 26, after the conclusion of IPNC. Visit www.ipnc.org for details.
Neal Hulkower is a mathematician and an oenophile living in McMinnville. His writing has appeared in a wide range of academic and popular publications. He can occasionally be found pouring Pinot Noir at a Dundee Hills winery.