Oregon's Illinois
State of wine in Rogue Valley's southwestern region
Photography by Kathryn Elsesser
Southern Oregon's Illinois Valley is a funky, friendly, retro kind of place with a dozen reasons why a day or two here will excite the palate and satisfy the soul.
Deer Creek, Foris, Bridgeview and Augustino Estate are nestled deep in the forested regions of the Illinois Valley, a growing area within the Rogue Valley AVA and Southern Oregon AVA. These represent Oregon's most southern and western wineries, and the vineyards hidden here command exquisite views of snowcapped mountains even into June.
At an impressive 1,200- to 1,400-foot elevation, the vineyards, cooled by marine breezes skirting the Coastal Range, follow the path of the Illinois River. Hot days and cool nights combined with a shorter growing season make the Illinois Valley microclimates similar to those of Burgundy.
Deer Creek Vineyards
Deer Creek Vineyards specializes in terroir-driven, estate wines crafted from three varieties: Pinot Noir, Pinot Gris and Chardonnay. Katherine and John Bryan began restoring the 1988 vineyard in 2010, clearing 70 acres of brush and blackberries to expose and nurture the vines.
"We're stewards of the land," said Katherine. "We care what we put in the soil, and we care who will have it in 10, 20, 30 years."
Although the Bryans maintain their wine starts in the soil, they give much credit for the excellence of their wines to the Medford-based Barrel 42 team: Herb Quady, Brian Gruber, Nicole Schulte and Davis Jantzi.
"Every year we learn more about our different clones, and they learn more about the barrel program," Brian Gruber said.
The successful partnership between vineyard and winemaker reflects talent plus experience, as the 2015 Pinot Noir won a double-gold at the 2017 San Francisco Chronicle wine competition; the 2014 Private Reserve Pinot Noir won a gold.
Katherine and John's son, Matthew, recently formed a recreational cannabis corporation to diversify the family's agricultural revenue stream. The 10,000-square-foot grow site, where the greenhouse is under construction in anticipation of Tier II licensing, is at a location separate from the vineyard and winery. Matthew feels confident the rich Illinois Valley soil and solid agricultural practices producing exceptional wine grapes will also yield fine, artisan cannabis.
2680 Deer Creek Road, Selma, OR 97538 • 541-597-4226
Hours: Daily, 11 a.m. to 5 p.m. • www.deercreekvineyards.com
Foris Winery & Vineyards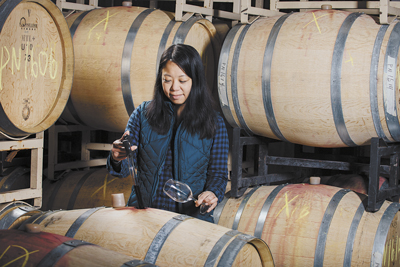 Ted Gerber first planted winegrapes at Foris in 1972, one of the first to grow them in Southern Oregon. Now with his family, Gerber manages more than 135 vineyard acres in three locations, including Maple Ranch, where Pinot Noir reigns as the dominant varietal; the winery produces primarily estate wines.
This year, Stephanie Poe joined the Foris team as winemaker, adding her UC Davis training, new insight and global experience to the cellar. Only the fourth winemaker in Foris' 30-year history, Poe, though not intimidated, respects the legacy of her predecessors, Sarah Powell, Steve Harrington and Brian Wilson. The coming vintage will be Poe's initial Foris harvest; she's eager to manage crush, craft the wine and continue Foris' tradition of fine winemaking.
Rockhounds, take note: The Foris Home vineyard is planted on the tailings of late 19th and early 20th century gold mines dumped from flumes above; the tasting room is constructed with the found rock and miner material. On another curious note, some of the Foris' vineyards lie on the sites of earlier, illegal cannabis operations, though no trace of the herb remains today.
If you're planning to stay overnight, you can rent either the 100-year-old farmhouse overlooking Maple Ranch Vineyard or the modern vacation home at Cedar Ranch Vineyard.
654 Kendall Road, Cave Junction, OR 97523
Hours: Daily, 11 a.m. to 5 p.m.
800-843-6747 • www.foriswine.com
Marble Caves Distillery
A mere four-minute drive northeast of Foris and across from the rustic Holland Oregon store, you'll find Marble Caves Distillery. Rod Warner claims he's retired, but in 2016, he discovered a new calling, making small-batch distilled rum, as well as apple and pear brandies.
The small tasting room is perched on the edge of a tangle of wild blackberries and the fruit trees Warner uses to make his spirits. True to the soil and the Illinois Valley, Warner also crafts an outstanding grappa with neighboring Foris grapes.
7247 Holland Loop Road, Cave Junction, OR 97523
Hours: Fri.– Sun., 1 to 5 p.m. • 541-415-2568
Bridgeview Vineyard & Winery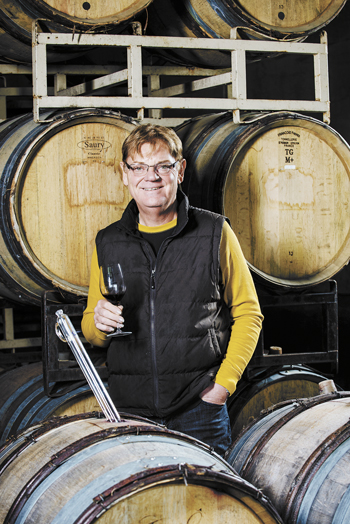 Established in 1986 by Bob and Lelo Kerivan, Bridgeview Vineyard is most widely known for its blue bottle Blue Moon Riesling, widely distributed across the country and beyond, but the winery also boasts a full portfolio of estate-grown and regionally sourced wines with a reserve Pinot Noir under the Black Beauty label.
Bridgeview's 120-acre vineyard follows the banks of Sucker Creek. Planted to Chardonnay, Gewürztraminer, Muscat, Pinot Noir and Pinot Gris, it showcases the family's European grapegrowing and winemaking traditions.
Swans glide in the waterways near the winery and tasting room, and later this year, René Eichmann, Bridgeview winemaker/co-owner and Lelo's son, will release new wines recognizing the winery's commitment to watershed preservation and restoration. René Jr. continues the Bridgeview winemaking traditions today as the family's third generation to craft fine wines in the Illinois Valley.
4210 Holland Loop Road, Cave Junction, OR 97523
Hours: Seasonal (call ahead)
541-592-4688 • www.bridgeviewwine.com
Augustino Estate & Rock'N R Ranch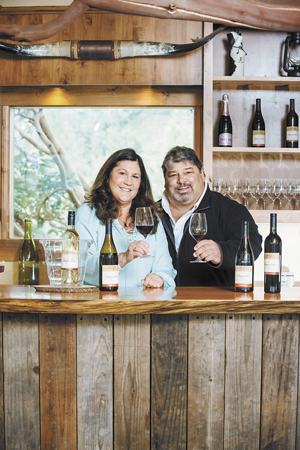 Augustino Estate represents the newest Illinois Valley winetasting experience. Take Brown Road off Redwood Highway in O'Brien, and you'll be delighted at the discovery down the narrow road. The lane opens up into a vineyard nestled against high mountains, a stunning and unexpected sight after rolling through the deep, green forests.
While Reggie Boltz and Debbie Spencer searched everywhere for a ranch, they kept returning to Southern Oregon where Boltz, a construction contractor, could appreciate the potential of the land.
"We were drawn here," says Boltz. "The serenity of the mountains and the trees and the rivers is unbelievable, and I love the small town environment and the people."
Boltz and Spencer began building out the property in 1991. Today, the Rock'N R Ranch backs up to the Siskiyou National Forest and measures about 400 acres with 50 acres planted to vines. Boltz's first harvest was 2003. Thirteen years later, Augustino Estate opened a tasting room in a real treehouse that's altogether elaborate, unusual, sturdy and beautiful complete with saloon doors, saddle seats and the owner's rodeo memorabilia.
400 Brown Road , O'Brien, OR 97534
Hours: Thurs.–Sun., 11 a.m. to 5 p.m. (summer)
541-596-2818 • www.augustinoestate.com
Where to Stay
For an unusual night's lodging, the Out 'n' About Treehouse Resort (www.treehouses.com) offers accommodations at the elevation of your choosing. From a simple, low-to-the-ground loft to the four-bed, full-bath and kitchen-equipped Majestree at 47 feet off the ground, these distinctive treehouses are in a beautiful natural setting. There are lots of amenities, including a lodge with a huge roaring fireplace, complimentary breakfast, swimming pond, zip line and horseback riding. The most popular treehouses are reserved long in advance and none are handicapped accessible.
Where to Eat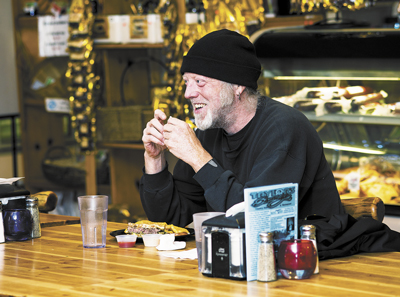 Cave Junction is home to Taylor's Sausage (www.taylorsausage.com), an artisan butcher offering house-made sausages and jerky, and most likely any cut of meat you can imagine showcased in large displays windows. There you'll also find hot fare served up in a casual, rustic setting, Taylor's has daily specials, burgers, barbecue and sandwiches. Select from specialty cheeses, jams and pickles to complement your meal or complete a picnic.
Just down the street, Wild River Brewing (www.wildriverbrewing.com) pours locally crafted beers and makes a variety of pizzas and salads to satisfy hungry tourists.
What to Do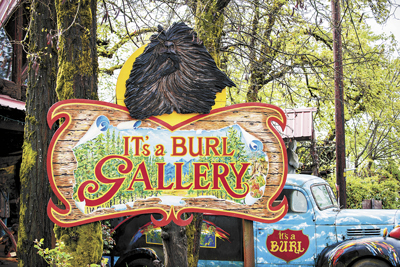 If spelunking is your thing or you love historic lodges, take some time out for the Oregon Caves National Monument and Preserve (www.oregoncaveschateau.com), just 20 miles east of Cave Junction. The Chateaux, built in 1934, offers in-season accommodations, a full-service restaurant and café. Reserve tickets in advance for ranger-guided tours taking you deep underground.
Closer to the town of Cave Junction, there's plenty of history at the Siskiyou Smokejumper Base Museum (www.siskiyousmokejumpermuseum.org), documenting the firefighters who parachuted into Pacific Northwest hotspots from 1943 to 1981.
In the town of Kerby, It's A Burl Gallery features a fantastical showroom of woodwork and artifacts. The artisan collective, started in 1987 by Dan Shinerock, also includes hobbit-like homes, studios and galleries drawing woodworkers from all over.