Oregon's Growing Olives
Relatively new crop has farmers organizing
Marni Redding can't pinpoint the precise moment she decided to become an Oregon olive tree grower.
"I don't actually remember how we decided to grow olives," she says. "Somehow we landed on the idea. It sounded romantic. They are pretty, and they didn't lose their leaves."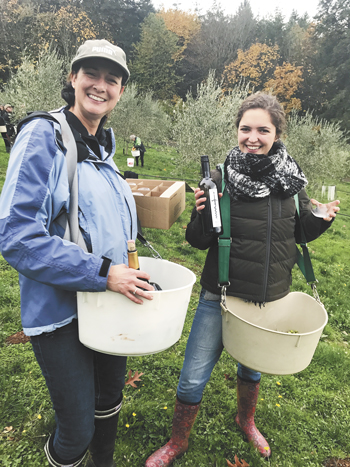 She planted what she calls "her first round" in 2008, smaller trees about two years old. Then a hard winter arrived.
"I knew we lost trees. I could see them from the house. I just didn't want to go down and count," Redding recalls. "We lost almost 100 trees, and I wanted to cry. But they were young, unestablished trees. So, we did some research and went to California, and bought some more."
Redding sought advice from McEvoy Ranch, a California olive grower and supplier. More mature trees might survive Oregon's occasionally harsh winters, they said. She bought trees 4 and 5 years old this time. The survival rate dramatically improved.
"Planting established trees and giving them a year of root structure is important," Redding says. "Then they really do make it. We had a bad winter last year, and I didn't lose a single tree. We had frozen ground; we had snow; we had ice. I couldn't believe it.
"It's a learning process."
Redding, who now grows about 375 trees across three acres in rural West Salem, is not acting alone. A new organization, the Olive Growers of Oregon, is banding together 12 growers from around the state to pool knowledge and experience for their shared benefit.
Bogdan Caceu, the group's executive director and a Polk County grower himself, describes the learning curve as steep but rewarding. "And, in the last four or five years, we've gained more knowledge. Anyone who starts now gains from our experiences. I'm not saying it's easy, but if you follow certain steps, you'll make it."
The growers' association also has a strong ally in the Oregon State University Extension Service. A four-person research team, headed by Javier Fernandez-Salvador of the Marion-Polk County Extension Service, is studying olive trees at locations in Aurora and Alpine.
"At this point, we're starting to collect plant materials. One of the objectives is to look at cold-hardiness," says Extension Service horticulturist Heather Stoven. "We're looking to see if there are some cultivars that can be selected that work better in this region."
Research continues this fall with what Stoven terms a "pot-up study," an in-ground planting examining how the size of olive plants and the timing of each planting affect winter survival. Over time, the team also will look at propagating so growers eventually can take cuttings from their own plants instead of depending on new tree purchases from California.
The fruit of this labor
Oregon olive groves can produce two to three tons of olives per acre, Caceu says. Those olives must be milled to generate about 30 to 40 gallons of oil per ton. Oregon's growers turn to the Oregon Olive Mill, the only commercial olive mill in the Pacific Northwest.
The Oregon Olive Mill, part of the Red Ridge Farms operations near Dayton, planted its first trees in 2003 and provides milling services for growers in Oregon, Washington and British Columbia, according to spokeswoman Julia White-Hoppe.
Working together lends positive reinforcement for the small growers, she says. "Winning begets winning. Anything that helps the overall cause helps all of us."
Portland-based olive oil expert Libby Clow agrees and expresses optimism about the Oregon growers' efforts.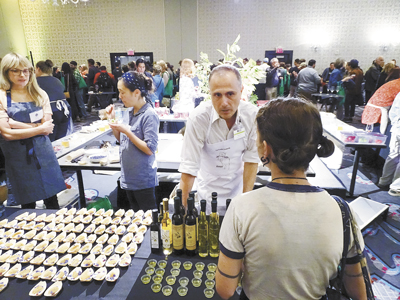 "I'm not a farmer, but I think there's a lot of potential here," Clow says. "I lived (and studied olives) in Italy for about three years. When I consider the climate where they are grown, I don't see it outside the realm of possibility in Oregon. I think we'll see some great potential with the crop."
The quality of olive oil depends on how olives are handled and processed after harvest, Clow says, but potential can be determined in tasting an olive off the tree. "I look for fresh aromas. Does it taste green or grassy or bright? Does it taste clean? When you taste fruitiness or a pleasant bitterness, you should be looking for a peppery quality sensation on your palate.
"It's a curious experience to taste an olive off the tree," she says. "The flavors are all there in Oregon olives. It's an intense experience. It's an indication of what you're going to find when you mill."
Oil in the bottle
For Marni Redding, what matters happens when the olives are milled shortly after fall harvest and the oil is back in her West Salem kitchen ready to be bottled. "That's a proud moment," she confesses.
Redding squeezed about 25 gallons of oil from each of her past two harvests. She bottled 12 cases of olive oil for sale in area winery tasting rooms. She has worked with SLAB, a Salem-based handcrafted soap company to produce a limited-edition olive oil soap. She's also preparing to launch a new Mother Tree brand for her products, a tribute to her favorite olive tree rooted outside her kitchen window.
Redding says her trees are in good shape after this year's mild winter, and she's ready for another season.
"We all keep trying and consulting with each other," Redding says of the olive growers association. "We're a community trying to figure it out together. I think we've made it."