In Vine Form
Oregon Wine Symposium posts another success
As a woman — with a literal skip in her step — exclaims BEFORE coffee, "I cannot wait for the micro-oxygenation seminar with Clark Smith," I realize the complexity and dedication of the industry's most educational of gatherings, the Oregon Wine Symposium.
This year's conference, hosted Feb. 23–24 at the Oregon Convention Center in Portland, attracted all kinds of wine folk — 1,700 in all — from writers like me to Canadian winemakers attending in hopes of learning the latest in production from their neighbors to the south.
The conference's 2016 theme, "Learn, Connect, Grow," represented all aspects of the conference: from seminars to networking to setting a path for future successes.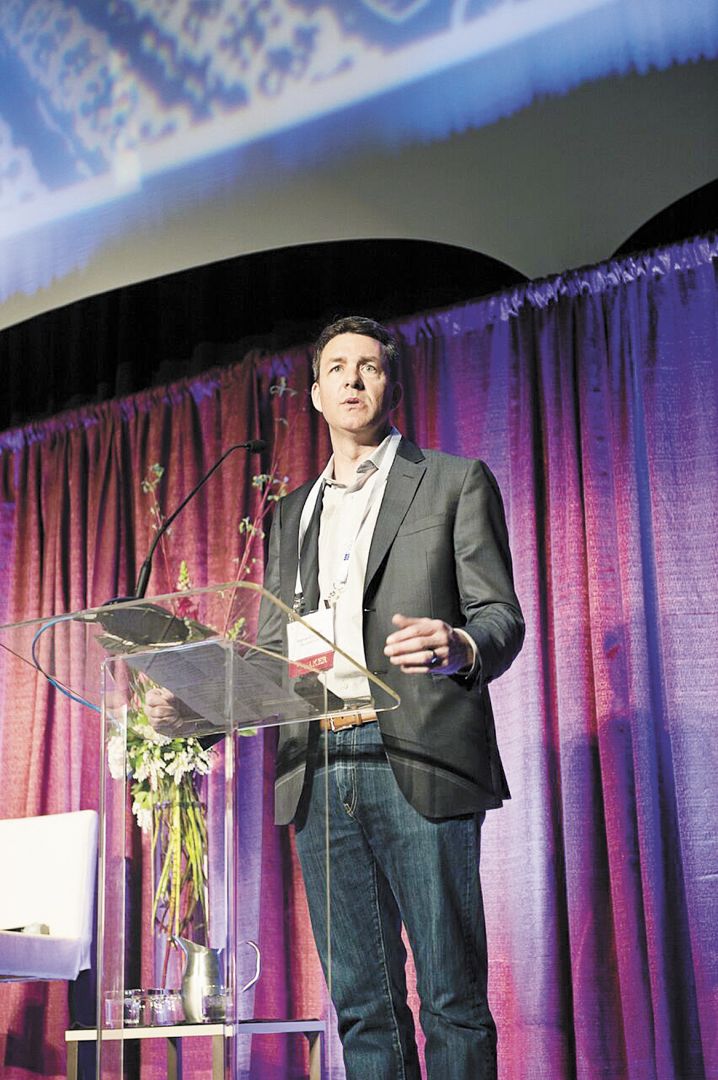 The symposium began a little "rocky" with a presentation from Scott Burns, Professor Emeritus of Geology at Portland State University. Leave it to Burns to get the room excited about pisolites at 8:30 in the morning. He even roused the barely caffeinated group by digging deep into the history of Oregon rocks, beginning long before the land surfaced or became ideal for growing winegrapes.
Andy Gallagher, soil scientist at Red Hills Soils, "drove" the audience on a 20-minute imaginary bus ride around the state, examining the signature soils of each region. Finally, Master Sommelier Larry Stone, of Lingua Franca Wines, ended the seminar by returning attendees back to the wine in the glass, exploring an often-overlooked aspect of terroir: the human influence.
Much of the conference was dedicated to sharpening winemaking and vineyard management skills in technical sessions taught by experts from near and far. International speakers included Benjamin Bois, of the University of Burgundy; Paul Boss, of Australia's Commonwealth Scientific and Industrial Research Organization; and Daniel Durall and Sydney Morgan, of the University of British Columbia. Local experts also joined in presenting technical sessions with a theme of sustainability and a focus on climate.
A new experimental tasting format was introduced this year; the self-directed tasting at 15 stations was a major success. Many of the analyses were related to topics in other seminars. For example, "Differences in 2015 Pinot Noir Grown in Loess, Marine and Volcanic Soil," presented by Adelsheim, Lange Estate and Chehalem Wines, offered a reflection of the earlier session on rocks, soil and wine. Several wineries shared samples made from grapes with varied picking dates — among them were Pinot Noir from Chehalem Wines and King Estate, and Syrah from Quady North. A visit to those tables provided a sound introduction to the afternoon seminar "The Time is Right: Understanding the Continuum of Flavor and Aroma Development" with Boss and Washington State University's Markus Keller. Also new this year were mini technical sessions held near vendors during trade show breaks.
Popular, recurring general sessions centered on the current industry, plans for the future and news from organizations working to make future plans a reality. Doug Tunnell, of Brick House Vineyards, described the work of the Oregon Winegrowers Association as "advocating within the crazy political swirl." He went on to say the organization would be more aptly titled the "Oregon Political Action Committee." Advocating in local, state and national government, this group, among other services, secured tourism funds from the wine country license plates exclusively for wine tourism and keeps the industry current on topics like navigating the minimum wage increase.
The "State of the Industry" was delivered by Mark Freund of Silicon Valley Bank and Christian Miller of Full Glass Research. Freund suggested this year's seminar should be called simply "Change." The U.S. dollar is strong against the euro, which is good news, but will also make European wine more affordable. Baby boomers are maturing and being replaced by a new generation of consumers with different purchasing habits. A temporary drop in per-capita consumption is expected with the rise of millennials, at the same time that Oregon has experienced back-to-back harvests with huge yields. Surveys from Full Glass Research revealed the importance of both regional and brand familiarity in purchasing decisions.
In another seminar, the Oregon Wine Board presented its soon-to-be-released customizable educational website tool that will allow wineries to relate their stories within the context of Oregon's history, soils and AVAs.
Most of the general business sessions shared techniques for branding/storytelling through different avenues. Led by Allan Carter, of Southern Wine & Spirits Las Vegas, the seminar "Striking a Balance with Multichannel Engagement" included panelists Eugenia Keegan, of Gran Moraine Winery; David Millman, of Domaine Drouhin Oregon; and Lindsay Woodard, of Retour Wines. Each gave examples of success, from boutique to big brands, and all agreed that multi-channel engagement is important in equipping a winery to deal with economic changes. In other words, do not put all your grapes in one basket.
Those attending the session with WISE Academy's Lesley Berglund left with a 10-step action plan to improve tasting room practices. Of course, the brand story factors into those steps. In the seminar "Context is King: Using the Oregon Story to Build Your Brand," Master Sommelier/Master of Wine Doug Frost led a panel of wine directors who discussed which aspects of the Oregon story interest their restaurant clientele — vintage variation topped the list. The panel included Stacey Gibson of Woodsman Tavern; Thomas Hebenstreit of Imperial; and Andy Zalman of Higgins Restaurant & Bar.
Keynote speaker Patrick Criteser, president and CEO of Tillamook County Creamery Association, identified parallels in both his and the wine industry, including small producers with an agricultural legacy and a sense of place forming the backbone of both industries. Criteser shared insights into ways Tillamook has maintained its core standards and story during times of growth.
One of the most popular sessions each year is recognition of key industry members. The Wine Industry Awards were presented by the Oregon Wine Board, and recipients were praised with standing applause.
Missing from this year's symposium was the late Cole Danehower; his life ended tragically and prematurely in 2015. His wife, Andrea, accepted the Lifetime Achievement Award on his behalf. Danehower accomplished much in his life and was a cheerleader and friend to the Oregon wine industry. Jason Lett, of Eyrie Vineyards, read a quote from Danehower about his love of wines of the Pacific Northwest and his special connection with Oregon. "Bury my heart in Oregon," Danehower had said. Though no longer here in person, Danehower's work and legacy continue, and he has a place in the hearts of those in Oregon whose lives he touched.
The Oregon Wine A-List Wine Program of the Year Award went to James Rahn of The Heathman Restaurant & Bar. Ellen Brittan, of Linfield College and Brittan Vineyards, announced the award and shared a personal story of how her husband, Robert, helped convince Rahn that Oregon was the place for him. Rahn has focused over the past three years on creating a wine program that spotlights single-vineyard and small-production wines from some of Oregon's premier producers, reflecting the restaurant's farm-to-table approach. Rahn encouraged the room to continue making great wine and he would continue to sell it.
The Drouhin family received the 2016 Founders Award, which honors people whose longtime work in and for the industry have positively affected the direction of Oregon wine, and whose personal efforts have helped foster cooperation among growers and winemakers. The Drouhins became part of the Oregon industry before the world at large held much interest in Oregon wine. In 1987, when the esteemed winemaking family from Burgundy purchased 100 acres in Dundee Hills, it was a landmark event garnering attention for Oregon's young industry. Prior to that purchase, a young Véronique Boss-Drouhin interned at the fledgling Bethel Heights. Ted Casteel of Bethel Heights Vineyard presented the award to Veronique, who accepted on behalf of her family. The admiration between the two was obvious.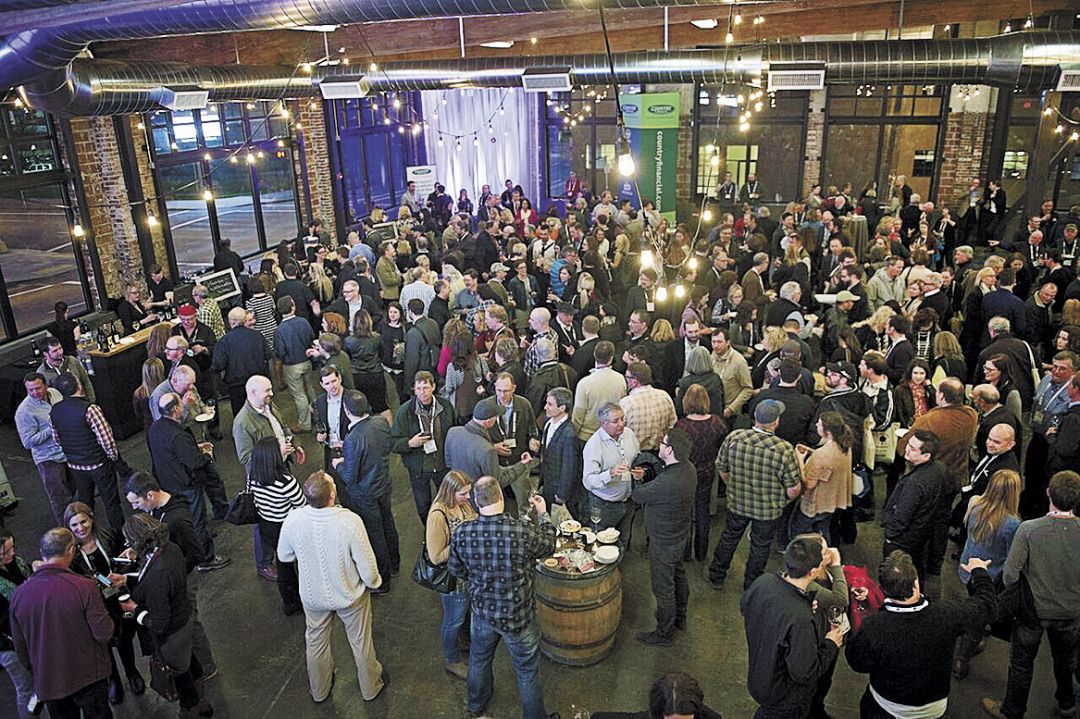 The Vineyard Excellence Award is given to vineyard professionals representing three areas of the state. These employees exemplify remarkable technical knowledge, professionalism and an outstanding work ethic. Honorees included Jesse Lopez, of Celestina Vineyards in Southern Oregon; Efren Loeza, Willamette Valley Vineyards; and Irineo Magana, of Phelps Creek Vineyards in the Columbia Gorge.
The Industry Partner Award is given to a vendor or service provider of the Oregon wine industry who, in the course of doing business, has significantly assisted in the success of the industry and its members. This year's honorees, Matt and Julie Pihl, of Pihl Excavating, were recognized for their personal and corporate commitment to Oregon's grapegrowers and winemakers, helping fulfill winery dreams and advance the interests of Oregon viticulture and enology since the company's inception in 1996.
Jason Tosch, of Anne Amie Vineyards, was honored with the Outstanding Industry Service Award, given to an individual who has shown exemplary commitment, leadership and service to the industry. Tosch is a longtime passionate spokesperson for the virtues and economic benefits of sustainable farming practices. He has been a solid supporter of Oregon wine research initiatives and has served on state research and education boards for more than five years. He continues to donate much of his time and knowledge advocating for growing grapes of exceptional quality that exemplify the complicated relationship between, site, soil and vine.
After the awards were bestowed, the final seminars ended and trade show vendors packed up their booths, many were already registering for next year's event, a true reflection of Oregon wine's booming industry and commitment to excellence.
More information and updates leading to next year's symposium can be found at www.oregonwine.org.
Jade Helm is the primary author of Tasting Pour, a blog about wine, cocktails and food. Her expertise is evidenced by credentials from the Society of Wine Educators (Certified Specialist in Wine) and the Wine and Spirits Education Trust (Diploma in Wine and Spirits) and from the Court of Master Sommeliers (Certified Sommelier).