Symposium 2015
Annual event highlights wine industry success
Anyone who wants to discover out what's what with Oregon wine must attend the annual Oregon Wine Symposium. This event serves as the showcase of an industry on the move. It is, in fact, a convention, conference, lecture and seminar series, trade show and awards dinner all rolled into one.
Presented by the Oregon Wine Board and the Oregon Winegrowers Association, the symposium was held for the fourth year at the Oregon Convention Center on Portland's Central Eastside waterfront.
On Feb. 24 and 25, 181 exhibitors filled the Convention Center's main exhibit hall, affording some 1,700 industry members and other interested parties access to more pertinent services, suppliers and timely information than any other event.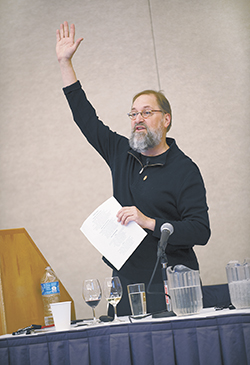 Coincidentally, just a few days prior to the 2015 Symposium, it was announced that as of 2014, winegrapes have become Oregon's most widely grown fruit, surpassing apples, pears and all other berries. For the cross-comestible curious, winegrapes exceeded hazelnuts as well.
With more than 24,000 planted acres among 951 vineyards, and many more undeveloped acres under ownership and awaiting cultivation, the industry has progressed steadily in the almost six decades since vinifera grapes were first planted by pioneer Richard Sommer outside Roseburg in 1961.
Of equal significance is this year's 50th anniversary celebration of David Lett's first Willamette Valley Pinot Noir plantings in 1965. Affectionately known as "Papa Pinot," Lett brought Oregon to the attention of the wine world, enhancing and advancing the development of Pinot Noir as the state's signature grape.
Oregon's 605 wineries can look with pride upon the noteworthy position they have already established in the world of wine. The Symposium, which again broke its all-time attendance record, reflects that interest and appreciation.
Vendor participation ran the gamut from brokers to bankers, lawyers to label printers, barrel builders to bird control, cork cutters to container technologists. There were tractors, harvesters, leaf-thinners, excavators, tanks, refrigeration, hand tools, trellising, packaging, shipping, storage, lab analysis equipment and glassmakers galore. Architects and designers showed their stuff. Insurance brokers emphasized safety and liability. Efficiency consultants pitched ways to do it better. And in the end there was always the bottom line.
Michelle Kaufman of the Oregon Wine Board pointed out that greater planning than ever went into presenting professional sessions that would attract more industry participation.
The schedule was divided into four categories: General Business, Executive Business, Viticulture and Enology. Several of the sessions were also offered in Spanish.
In all, there were 25 separate sessions, including 10 attendee-wide presentations held in an expansive room sponsored by Northwest Farm Credit Services. That room, in which lunches were also served for all show-goers, was fully half the size of the entire trade show floor.
If your interest lies in marketing or management, you could attend sessions on brand building, point of sale, driving profitability or getting into the "head of a sommelier." The growing and fermenting folks could dig into farming for style, dropping crop, dealing with compromised fruit, managing lees and the foibles of fermentation.
But the hot button subject of the two-day show centered on labor issues. "The Situation and Solution in Farm Labor" and "Adapting to the Labor Market through Mechanization" played to packed houses.
If you're a vineyard owner or manager, you'd better become familiar with an H-2A visa, which allows a foreign national into the U.S. for temporary or seasonal agricultural work. It sounds a lot like the old Bracero program that worked well in California into the mid-1960s. But the H-2A requires considerable effort, time and some expense to ensure in advance that there truly is a shortage of domestic workers in order to be allowed to import nonimmigrant foreign workers.
The other solution is to mechanize. Harvesting machines are better than ever, but they do come at a high cost per unit. Economy of size, say 50 acres minimum, would influence the decision to utilize one or more of them.
Joey Myers of Vinetenders said that he'd still rather have well-trained people but international politics appear to be making it impossible to get enough, so the alternative is a machine or hiring someone who has one. He pointed out that machines work all night, during the coolest time when it's best to pick, and, if you have more than one operator, they don't even have to stop for work breaks.
Furthermore, they can be ready on a moment's notice. When you have a block that's prime to pick, your worker is waiting to be fired up and sent into the vineyard.
"The biggest hurdle is whether or not the vineyard has been designed for mechanical harvesting," Myers said. "We are recommending this for all new plantings, but some vineyards are simply too steep or too tightly spaced."
He further noted that the most practical solution would be to pick the less costly varieties and vineyards mechanically and reserve hand labor for the best blocks and most difficult terrain. "That's probably how the future will look," Myers said. "The process will evolve, and with pre-planning, we will adjust over time."
The Symposium wasn't all nuts and bolts or vines and conveyor belts. Wednesday's keynote speaker, Michael Dorf, discussed the relationship of music and wine. As the founder of City Winery, a fully functional New York City winery combined with a restaurant and a music venue, Dorf entertained the crowd with his own thoughts on the wine business.
On Tuesday evening, the Oregon Wine Industry Awards Dinner at the Doubletree Lloyd Center featured a multi-course menu crafted by Portland's culinary maestro Vitaly Paley and paired solely with Southern Oregon wines.
During dinner, two groups of special awards were presented with the help of Doug Frost, a world-renowned wine consultant and writer, and one of only three people in the world to hold both Master Sommelier and Master of Wine titles.
Last year, Oregon Wine Press began partnering with the Oregon Wine Board to enhance and expand the Superior Cellars Awards program created by OWP to recognize restaurants that place special emphasis on Oregon wines.
Renamed the Oregon Wine A-List Awards, the program announced the 2015 winners at the dinner. Restaurant of the Year was awarded to The Joel Palmer House in Dayton. Ever since Jack Czarnecki opened the mushroom mecca in 1997, he began building a collection of Oregon Pinots that is the envy of the industry.
Jack and Heidi Czarnecki's son, Chris, who took over as owner and executive chef of The Joel Palmer House in 2010, accepted the award in recognition of his family's long and distinguished contribution to the Oregon culinary industry.
Wine Director of the Year Award went to the talented Andy Zalman of Higgins Restaurant in Portland, who has been buyer, sommelier and mentor since the doors opened in 1994.
A-List Regional Stars were awarded to The Painted Lady in the Willamette Valley; Larks and Alchemy in Southern Oregon; The Farm Café and Urban Farmer in Portland; Restaurant Beck for the Coast and Central Oregon category; Timberline Lodge in the Gorge; Artist Point in Orlando for the National award; and Norda Bar & Grill in Gothenburg, Sweden for the awards' international selection.
Bestowing its three highest awards at the dinner, the Oregon Wine Board recognized honorees "nominated by their peers for their extraordinary contributions to the Oregon wine industry."
Jim and Loie Maresh of Maresh Red Hills Vineyard in the Dundee Hills received the Founders Award. The Lifetime Achievement was presented to Earl and Hilda Jones, owners of Abacela Vineyard in Roseburg, The Outstanding Industry Service Award went to Chad Vargas, vineyard manager at Adelsheim Vineyard.