Orange Crush
Skin-contact whites color harvest season and cellar
As the leaves turn and pumpkins ripen on the vine, the color orange reigns. Even the Harvest Moon casts a tangerine hue as the autumnal equinox approaches. Unlike the calculated timing of the season, some orange wines are best described as "accidents gone deliciously right." No surprise for owner Matt Berson of Love & Squalor, who says, "Isn't that the prevailing thread in the history of wine?"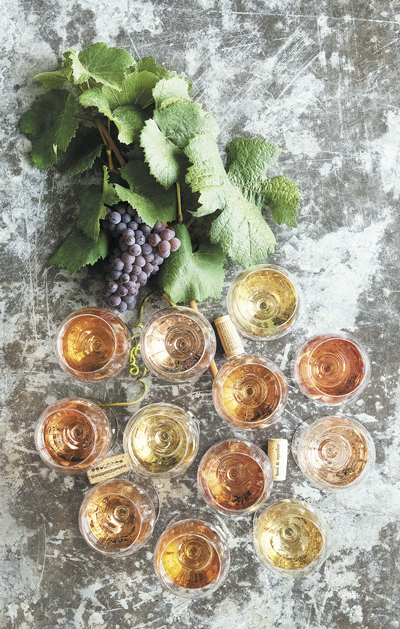 Produced from white wine grapes using the red technique of fermenting fruit along with skin and seeds — the source of a wine's color — orange wine represents a category all its own, with texture, weight and a broad palate of character as its trademarks. Not to be confused with rosé, traditionally crafted from red varietals such Pinot Noir, Grenache and Tempranillo, orange wine is most commonly made from Pinot Gris and Gewürztraminer, whose grapes are actually pink in color.
Back to the scene of the "accident."
"We began experimenting with skin-contact wine somewhat accidentally when we made our first Pinot Gris in 2013," said Jenny Mosbacher of Fossil & Fawn. "We were making wine at two facilities, and time got away from us, as it tends to do. The juice spent 36 hours on the skins and when we pressed it off, it was the color of electric watermelon Jolly Ranchers. We rolled with it, and it turned out to be a hit. The following years we approached it with much more intention."
This purposeful strategy is growing throughout Oregon as winemakers experiment with Pinot Gris production, treating it more like the red grape it is. In fact, Pinot Noir and Gris share similar genes. And yet, the two varietals couldn't be treated more distinctively.
Mosbacher sees a lot of Pinot Gris in Oregon cropped for higher yields, rushed through the production process, released in late winter or early spring and priced to move. Practically speaking, it's treated as a cash-flow wine, while Pinot Noir sells at a far more prestigious price point.
Does Pinot Gris warrant more time in the cellar?
Enter orange wine.
In making rosé, the juice undergoes only brief contact with the grape skins during the fermentation process — often around 24 hours — imparting the recognizable pretty pink hue. The juice is then pressed off and finished like a white. With orange wine, the juice macerates with skins and seeds — and stems, too, when working with whole clusters — for days, weeks or even months, just as a red wine would.
Skin contact imbues orange wine its gorgeous color, ranging from golden to salmon, from coral to amber, even a bright pink — like the striking colors of a fall sunset. The skin also contributes tannic backbone, intense richness and grippy texture, compelling complexities making it irresistible to wine connoisseurs.
Nate Ready of Hiyu Wine Farm explains, "Skin contact amplifies everything about a wine, like increasing the contrast in a photograph. A little bit can be wonderful, but for each wine, there is probably a place where you've taken it too far."
Like the range of color and styles of orange wines, opinions of the style run the gamut, as well. Wine buyers struggle with its position on their lists, while critics and consumers often disagree on its merit. Either they're revered — think cult following — or despised, presumed faddish and trendy, a novelty that won't last.
Considering orange wine is ancient — estimated origins trace it to Georgia in Eastern Europe some 5,000-8,000 years ago — it can hardly be considered novel.
Savvy wine consumers approach wine with fewer preconceptions than professionals; they're true wine adventurers, accepting both new techniques as much as a return to the past.
Rudy Marchesi of Montinore agrees, "I'm very excited consumers are embracing orange wines because I think they provide a nice combination of weight, texture, and fresh fruit that pairs so well with dishes difficult to find the right wine to serve with."
Expanding on the theory of consumer acceptance, Tyler Bradley of Bradley Vineyards says, "Food, wine, beer lovers — and Oregonians in particular — have a more evolved palate than the average bear. I've found that experienced wine drinkers love the L'Orange because it has so much power, aroma and flavor. The less experienced may find it a tad overwhelming, but I'm fine having a more 'expert-level' wine."
Mosbacher discovered clarity in orange wine. "The longer we make Pinot Gris with skin-contact, we coax out flavors that I would never have imagined associated with the grape. I often wonder aloud if this is maybe how it was always meant to be made."
Taste one of the featured Oregon oranges, and see if you agree.
Tamara Belgard is a freelance writer who explores the Oregon wine scene from her home in S.W. Portland.

Anne Amie 2016 Rosé of Pinot Gris
Aromas of watermelon Now & Later candy, juicy peaches, pineapple, baking spice and rose petals practically leap from the glass and into your mouth. Pour, drink and repeat often. $25; 434 cases
Aubichon 2016 Vin Rosé de Pinot Gris
The pale, coppery color invites you in, while the broad palate of character makes you want to stay. Tangerine, grapefruit and pear tart flavors tease your nose, while the fascinating flavors of cotton candy, strawberry, cherry and delicate spice keep you returning for more. $25; 164 cases
Authentique 2016 Leisure Pinot Gris Rosé
Juicy white summer peach, lychee and passion fruit lead to a lush, long and luxurious finish. This fruit-forward, salmon-colored wine offers a rich texture and fresh finish of mouthwatering acidity. You could easily use this wine to acquire more friends. $28; 195 cases
Biggio Hamina 2016 Gewürztraminer
The seductive perfume of floral Muscat and tropical notes dominate the nose and commands your attention, with round tannins and refreshing acidity for added appeal. All fruit, all flowers, all the time. $20; 320 cases
Bradley Vineyards 2016 L'Orange Gewürztraminer
Let's call this a beer lover's wine. Full of strength, scent and smack, it drinks a bit like a floral, citrusy IPA or Belgian wit bier. The ginger notes make it a natural for Asian foods, while the honey-colored hue makes it look a little like the blonde that showed up at the redhead party. $21; 62 cases
Fossil & Fawn 2016 Pinot Gris
A crowd favorite that's equal parts weird and delicious — perfectly fitting as that's their style. The label says Gris, but its drinks like a red. Loaded with notes of red fruit, red licorice and leather, the wine's balanced with hints of viscous orange oil, salinity, rounded tannins and just the right amount of acid. Highly recommended, but only if you're ready to blow all your preconceived wine notions right out of the water. $20; 103 cases
Franchere 2016 For Heaven's Sake, Don't Move Here
While neither a rosé nor a full-blown orange, it is 100-percent deelish. An intriguing and easy-drinking blend of Pinot Gris (85%), Pinot Blanc (1%) and Pinot Noir (14%). Lively and complex, with citrus, apples, fresh herbs, forest floor and orange blossoms. It's sure to become a regular in your wine lineup. $18; 55 cases
Hiyu 2015 Ramato Blend
If you could bottle intrigue, this would be it. An unexpected, beguiling blend of Pinot Gris (80%), Gewürztraminer (15%) and Pinot Noir (5%), the wine is like a great relationship: deep, long, complex and intense. It's also immediately pleasurable with flavors of jackfruit, honeycomb, candied ginger, white flowers and Marcona almonds. $75; 127 cases
Love & Squalor 2016 A Frayed Knot Rosé of Gewürztraminer
Pure aromatics and a lithe palate with plenty of acid keep the whole show poppin'. Lychee candy, orange blossom, honey and fresh peach pie on the nose, with strawberry, peach, pink grapefruit, tangerine and stony minerality on the palate. This one keeps unfolding forever. $20; 150 cases
Montinore Estate 2015 L'Orange
Pure elegance in a glass, this Pinot Gris has a hint of amphorae-aged Gewürztraminer, adding exotic notes of Mandarin orange, orange rind and roses to the aroma and finish. If a wine could deliver happiness, this one would, with its vibrant coral color and enthusiastic notes of persimmon, pomegranate, thyme and white pepper. $30; 191 cases
Spindrift Cellars 2015 Vin Gris
Bright stone fruit like nectarine and apricot and fresh herbs tease your nose, while crisp apple, ripe pear, tropical kiwi and sour cherries dance across the palate for a wine versatile and definitely food-friendly. $15; 115 cases