On the Up and Up and Up
Industry's economic impact soars
Christian Miller has crunched wine industry numbers for years, and the name of his Berkeley-based consulting firm, Full Glass Research, pretty much sums up what's going on in Oregon's wine scene.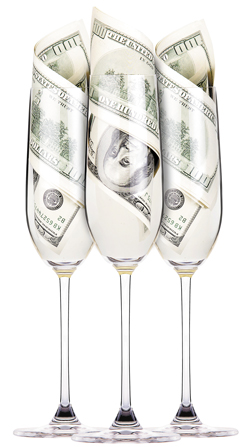 The state's industry is exploding, posting a whopping $5.6 billion — yes, that's billion with a "B" — in economic activity in 2016, which includes wine sales and related sectors such as trucking, professional services and tourism — keep in mind the total includes wholesale and retail of wines from outside Oregon as well. That's a 67-percent jump from three years ago, when Miller's firm recorded $3.3 billion.
Included is a commensurate growth in jobs related to the industry, with wages topping $1 billion for 29,739, up from about 17,100 in 2013.
Not surprisingly, demand for Pinot Noir, Oregon's signature wine grape, drives growth. Appeal for Pinot continues to expand at an average annual rate of 8 percent, compared to an average 2 percent for the wine market as a whole.
Miller's analysis also revealed another growth benchmark: wine's tourism impact more than doubled since 2013. "The growth in tourism has been driven by the intersection of more tourists coming to Oregon, a higher percentage of them visiting wineries and increased spending per tourist," he explained. Oregon's wine regions are a strong attraction for visitors from this country and abroad. The upscale demographics of wine consumption suggest these visitors spend more, boosting restaurant and hotel revenues, too. Total tourism revenue increased 162 percent, from $295 million in 2013 to nearly $787 million in 2016.
The overall rise is documented in a 45-page report released in March by the Oregon Wine Board, the state's semi-independent agency that manages marketing, research and education initiatives for the wine and wine grape industries. The complete study can be found at their website, oregonwine.org.
The "meteoric climb" of the state's wine industry is a tribute to those who are in the midst of it, according to Sally Murdoch, OWB's communications manager.
"[The growth] is emblematic of the hard work our growers are putting in, day in and day out, that we see this growth," she said. "They don't cut corners. Most everything is crafted by hand, especially with our small- to medium-sized producers, which make up the bulk of our state's wineries.
"People who go to tasting rooms often are treated to conversations with the winemakers working the land themselves," she said. That face-to-face interaction is a boon for direct sales, since consumers pay an average of $39 per bottle, according to ShipCompliant data. "Both direct-to-consumer and Nielsen retail pricing data confirms Oregon wines are selling well even though they're priced higher on average than wines from other U.S. regions."
The report notes prices for Burgundy, the flagship region of Pinot Noir, are rising dramatically, prompting high-end consumers to look for "an alternative at the high-quality and prestige end of the market." Accordingly, Oregon vintners, with their longtime vision of premium, hand-crafted wine, are witnessing an eager market. In terms of the bottom line: The market for bottles priced $15 or higher is growing faster than those marked less.
"Oregon winegrowers have maintained their focus on the higher-priced, higher-quality segment of the wine market," writes Miller in the report. "Of the wine-producing states, Oregon growers continue to achieve the highest average price per ton of grapes, while Oregon wineries realize the highest average revenues per case."
While the study examines the entire state, it also analyzes activity by county. From that perspective, Yamhill County easily emerges as the most powerful player in Oregon's wine economy. From wholesale and retail impacts, plus tourism, wages, job numbers and revenue generated by property taxes in each of Oregon's 36 counties, Yamhill County rated higher than its neighbors, including Multnomah County, which placed second in each category. For 2016, Yamhill County's wine-related revenue topped $687 million, just under the sum produced by the five surrounding counties, Washington, Tillamook, Polk, Marion and Clackamas, aggregating about $720 million.
The industry is responding to the rising number of wealthier tourists with developments like the $6 million Atticus Hotel in downtown McMinnville, which opened in April. Jeff Knapp, a tourism professional in the city, calls the hotel "a testament to McMinnville's growth, the maturing of Oregon's wine industry and the international tourism that helps fuel it."
Miller says the industry has enjoyed a boost from "important" firms investing in Oregon. California-based Jackson Family Wines, for example, purchased Gran Moraine, Zena Crown and Maple Grove vineyards, as well as WillaKenzie Estate and Penner-Ash Wine Cellars; the company also built a large winery in McMinnville. These investments, among others by companies here and abroad, are significant, according to Miller, because they have robust distribution in other states.
"Distribution has been a major barrier to expanding sales of Oregon wine," Miller wrote. "These companies should improve visibility, availability and trial for Oregon wines in the U.S. market."