On the Lee
Korean-American Master of Wine stirs up Q&A
What is it about wine that intrigues you most?
I love both the sensory and cultural aspects of wine. It was the flavors that initially intrigued me and caught my attention the first time I had really good wine, a 1982 Château Talbot when I was a university student. But as I discovered and learned more about wine, it was the human stories and cultural aspects of wine that got me hooked. I love that wine is connected to the earth, that it is an agricultural product that follows the rhythm of nature; I appreciate the human toil and social and cultural history that goes into every good bottle of wine; I enjoy the mysterious evolution that occurs in bottle which allows a wine to evolve and mature over time.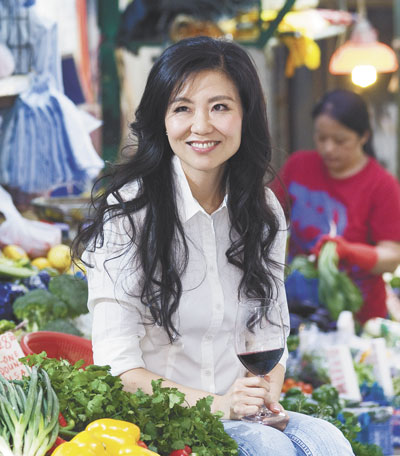 I see many people in Asia going into wine because it is currently trendy or because the lifestyle appears attractive and sophisticated. For me, it was never about that. I continue to be intrigued with wine because I learn something new every day, and I am humbled because even after all the years of tasting and drinking, I still find mystery and enchantment in the glass. I can't imagine doing anything else.
As the Chinese wine market expands, how can Oregon make a greater impression?
There are several ways that Oregon wines can make a greater impression on Chinese wine consumers. First, it helps to be part of a group to market en masse to share the different facets of the Oregon wine industry with Chinese consumers. Because China is large and there is so much "noise" when it comes to wine marketing, it helps to have size and a large organization behind you. Second, there needs to be more Chinese press and media covering the wines of Oregon, so the consumers become curious and learn more about the region and its styles. Third, Oregon winemakers individually have to feel committed toward being present in the Chinese market. At the moment, consumers and the wine industry (trade, somms, importers, F&B) do not have much support when trying to push wine from Oregon. Marketing and selling wines in China is a long-term commitment, but once the decision is taken, it is a market that can reward those who make the effort and investment.
Currently, which (wine regions and/or types) do South Korean wine drinkers desire?
I am based in Hong Kong and have lived here for the past 23 years, traveling about once a month to China and every other month to Korea. While I do have some insight on the South Korean wine market, my focus and work is mostly based in mainland China.
From my regular visits to South Korea, I have seen this market evolve and mature over the past 20 years. American wines have been in the market for several decades and the top wines from Napa have a large following. Wines from Oregon are still a discovery and there is interest but not that much information or marketing support. Compared with the Chinese (HK and China) market, which I am more familiar with, I find South Koreans love the gutsy, hearty red wines styles, such as those from Italy (from Piedmont down to Puglia) and the less-expensive, robust Chilean red wines for everyday drinking. There is a growing interest in more subtle wines like Burgundian wines, but the demand is mainly at the top end.
For 2017, are there any wine trends you believe will drive the global market?
Among top collectors, I am seeing a trend toward Burgundy; this is not a recent trend, but one that started about five years ago. It has moved up another notch now, and I am finding many people actually making time to visit Burgundy. Disappointingly, I don't see many people enthusiastic about white Burgundy, though I am sure this will happen over the coming three to five years. Another trend I see is a shift toward vintage and mature Champagnes in Hong Kong (not yet in China). There is some interest in top Italian and Napa wines, but mainly at the very top end.
What regions are exciting you most at the moment?
I am excited about what is happening in South America, especially in Chile where producers are moving into cool-climate regions and crafting some exciting wines from Pinot Noir, Chardonnay, Sauvignon Blanc and Syrah. Also, old vines are making a comeback, and I have had very good old-vine Carignan and Sémillon from Chile.
Another region I am excited about is Ningxia in China, where, thanks to the commitment by the local government, there is great support to develop a boutique wine industry. I try to visit annually, and every time I go, I am impressed by the fast progress, the improving quality of the wines and the investment being made by both the private and public sectors.
Jeannie Cho Lee
Jeannie Cho Lee is a Hong Kong-based, Korean-American wine critic, author, journalist, consultant, wine educator and Master of Wine, the first ethnic Asian to achieve this accreditation.
Lee was born in Seoul, South Korea, and, shortly thereafter, moved to the U.S. where she later received her undergraduate degree from Smith College and a master's in public policy from Harvard University.
Since 1994, Lee has been based in Hong Kong, where she initially pursued a career in business journalism, writing for publications such as Asia Inc., Far Eastern Economic Review and The Asset, before contributing to international wine publications such as Wine Spectator, The World of Fine Wine, Wine and Dine, Wine Business International and La Revue du vin de France.
In November 2010, she joined Decanter as a contributing editor for Asia. She is also the Co-Chair of Decanter Asia Wine Awards, a sister competition to the Decanter World Wine Awards launched in 2004.
For much more about Lee's many accomplishments, visit www.jeanniecholee.com.