On Flâneur Time
Slow-but-steady tour with Carlton's newcomer
That's right, you're eating pastrami from the Carnegie Deli." So Russell Lichtenthal informed me over lunch in the Flâneur Wines tasting room in Carlton in early August. The pastrami was in a sandwich from The Horse Radish, a deli just around the corner. Lichtenthal was quite excited — as was I — that the meat traveled all the way from the kosher icon in New York City.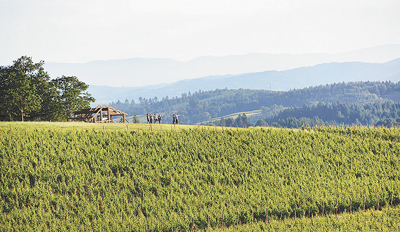 Lichtenthal, Flâneur's hospitality and sales manager, is from New Jersey and lived in the Big Apple for eight years. His distinctive accent exposes his East Coast origins, but this is nothing new in Oregon wine country. The industry has attracted people from all over. For example, Litchenthal's boss, Martin Doerschlag, is originally from Ohio, but lives with his wife, Julie, half the year in Washington, D.C., the other in Oregon.
Doerschlag was at lunch with us, as well, listening to Lichtenthal's deli talk, while Flâneur winemaker/vineyard manager Grant Coulter waxed on the comparisons between surfing the Oregon Coast and his home beaches around Monterey Bay, California.
The trio sort of happened upon each other, having been drawn here by the promise of success in the Oregon wine business. Doerschlag brought the money and business sense; Lichtenthal, the hospitality skills; and Coulter, an enology degree from Fresno State University.
"We're like a band, man," Doerschlag said.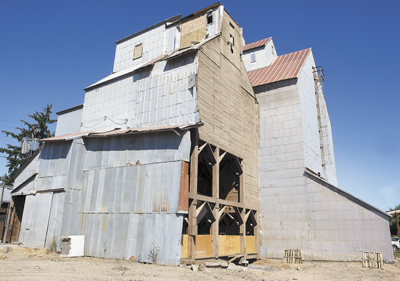 Having decided to leave the family architectural design business and move into wine, Doerschlag tried making Pinot Noir in Virginia. He visited Oregon in 2012 to check out the industry, and maybe learn a thing or two. "They told me not to buy anything," Doerschlag said, explaining the advice from his Virginia winemaking mentors before his trip.
But he did, and he bought a lot.
After immediately falling in love with the Willamette Valley, he leased and later bought a seven-acre vineyard in the Ribbon Ridge AVA. He also purchased 40 acres of an abandoned cherry and prune orchard in the Chehalem Mountains, cultivating it in the 33-acre vineyard called La Belle Promenade. Following an initial run of 400 cases in 2013, Flâneur plans to produce about 4,000 cases this year, with distribution in New York, Northern California, Ohio, Indiana, Kentucky and Washington state. Wines include Pinot Noir, Chardonnay and rosé, as well as sparkling in bottle and to be released in 2020.
Doerschlag also bought a grain elevator from Ken Wright, specifically the Madsen Grain Elevator in Carlton. He's in the process of converting it into a tasting venue and event space — so much for the sage advice from back east.
After lunch, Doerschlag and Lichtenthal gave me a tour of the grain elevator, an M.C. Escher-like labyrinth of wood-cribbed walls and timber beams. Part has already been demolished, and both are excited to reveal every corner of the space.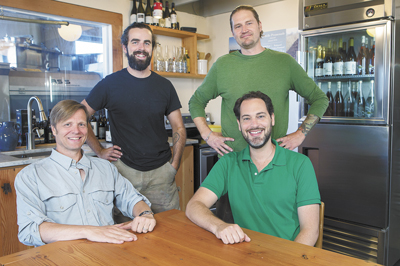 "These are owl droppings because I have an owl living up here, which is great," Doerschlag said, as we made our way through the extreme upper reaches of the building. The entire sizable structure is made of wood; part was constructed in the 1920s; the other in 1950. Portions of the walls are worn through from decades of grain pouring down with fire hose pressure, taking on the appearance of wind-blasted sandstone.
Beyond a fascination with history, Doerschlag and Lichtenthal share a vision. When the remodel is complete in November 2018, a venue made modern — with code updates — but remaining true to the original aesthetic promises a wine country food and wine treasure.
After hours spent eating, touring the grain elevator and tasting wines with Coulter, the spirit of the name seemed to have taken hold. You see, a "flâneur" is a man in the crowd, sauntering through life, absorbing and observing. In the poet Baudelaire's interpretation, the flâneur walks with a turtle on a leash, in order to ensure his slow pace. This imagery reflects in the wine labels — the artwork drawn by Doerschlag's wife.
Eventually, we made our way to the vineyards. In addition to La Belle Promenade, planted in 2014 with 26 acres of Pinot Noir, five acres Chardonnay and two Pinot Meunier, Doerschlag's other site, Flânerie — a nod to the ground where a flâneur walks — is solely dedicated to Pinot Noir; its seven acres of vines were planted in 2003 by previous owners Bonnie and Matt Saikkonen.
"Let's take a walk through the vineyard," Doerschlag suggested. And so, we embarked, as flâneurs, in the hot afternoon sun through La Belle's vines to a hilltop where a 1920s barn sits and a giant ramada, made from wood taken from the grain elevator, is under construction. The panoramic view paints a vision of what the spot will be once the job is complete, and, in fact, they plan to build a tasting room next to it.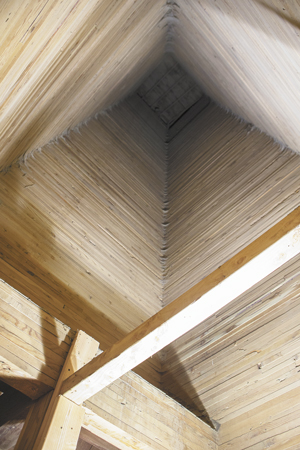 We walked again, this time across a field of Queen Anne's lace, back toward the vines, where James Alexander, an Oregon native fresh from guide work in Alaska, sporting a giant brimmed straw hat, was doing cluster counts and weights with harvest intern Brooke Jefferson, an escaped paralegal who cashed in that life to explore the wine business. Alexander's been working in the industry for six years.
Gazing at the vines, I remembered what Coulter said to me earlier, about how the vertical shoot positioning creates a solar collector for the fruit. He described in great detail about other aspects, too. "The greatest wines I've ever had were from people who got really in-depth about the growing of the grapes," he said. "I want to capture what we have out here in the vineyard."
Coulter's words, and the notes from the wines I tasted, floated through my head as we made our way back to town.
At this point, I'd spent essentially the entire day with the winery crew, as if I were a flaneur myself. Once back in Carlton, I waved goodbye, essentially letting go of the turtle on the leash, returning to a quicker pace and understanding on a special level the spirit of the Flâneur.
Neil Zawicki is a writer who, in his spare time, loves to study history, paint and play his guitar. He lives in Independence with his equally creative wife and four children.