Old Logs, New Digs
Timber from sick trees creates cool setting
Hood Crest Winery
Details:
1908 Orchard Road, Hood River 541-386-4841 www.hoodcrestwinery.com Hours: Wed.–Sun., 11 a.m. to 6 p.m., through Thanksgiving; Fri.–Sun., 11 a.m. to 6 p.m. through Christmas. Closed Christmas to Valentine's weekend.
What started as an experiment in winemaking turned into an experience in winery making, as Tess and Patrik Barr this summer completed construction of a dramatic new tasting room and production facility at their Hood Crest Winery in Hood River.
Arguably the grandest venue for sampling wine — and perhaps a pizza from the wood-fired oven — on the Oregon side of the Columbia Gorge AVA, the facility turned a disaster into a triumph.
All over the Hood River valley, large conifers have been decimated as a result of a beetle infestation. On the 7.5-acre Hood Crest property, a row of 30 trees along the north boundary eventually succumbed to the bugs. Rather than convert the logs to firewood, the Barrs had them hauled to Glenwood Valley Timber in Washington and turned into components for their new building.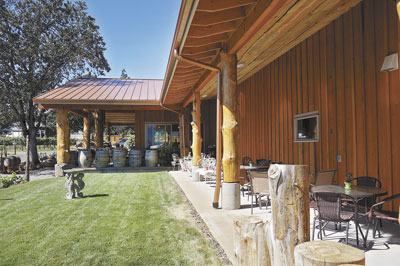 "This has been a five-year experiment to see if we could make a business out of our love of wine," recalls Patrik, who transformed his wood shop into a tasting room. It worked for a while, but success suggested the need for more space, not less.
"We had totally outgrown the old tasting room," Patrik says. "This winery has a mind of its own and we're along for the ride."
The couple recently added an acre of Chardonnay, Pinot Noir and Pinot Meunier to help build their sparkling wine program. In addition to estate grapes, they also source from two outside growers.
A journeyman carpenter by the time he was 18, Patrik examined the dying trees and saw a resource. He arranged for two truckloads to be milled into slab bar tops, siding and support posts. He hauled the rough-cut siding planks into Portland and planed them smooth before installing them.
The boards feature what Patrik calls "blue spalting," a blue-gray stain caused by fungi.
"People are going crazy on the wood," Patrik says. "I call it my river of wood. You can see waves in it."
With a 5,500-square-foot lower level and 2,400 square feet for wine storage on the mezzanine, the new building features seating inside and out, some around the four-sided tasting bar, some on the covered wrap-around porch.
Behind the tasting area, a wood-fired oven anchors a kitchen that keeps production manager Randy Bonaventura and pizza chef Booth Willson busy kicking out thin-crust pies; each features house-made crust and a choice of marinara, pesto or Alfredo sauce, plus toppings. The menu also includes kale Caesar salad, soups and charcuterie plates.
The new tasting room can hold up to 99 people, ideal for modest events such as corporate parties. Visitors can see the barrel room through windows in the wall. Part of the barrel room is dedicated to "the cave," which houses Hood Crest's library wines and puncheon kegs of Sangiovese.
The barrel room is available for exclusive chef dinners or barrel tastings, about $40 a person. General tastings in the tasting room are $15 for five selections, or $25 for a vertical of Hood Crest's 2013, 2014 and 2015 Merlots.
Outside "the cave" stands a 2,837-gallon French oak fermentation barrel, one of four being offered by ReWine Barrels in Salem.
"We got one, and the next person bought the other three," Patrik says. "It's more than 12 feet tall. We needed a special trailer to get it under the overpasses. There was a whole drama to get it in here. The driver said, 'You could make $4,000 on this before we unload it.'"
They passed on that resale opportunity. More fun to have a towering conversation piece. Beyond the tank sit the winery's lab space, bottling line and, outside, a covered crush pad.
Since opening, Tess and Patrik have been entertaining guests from 3 to "5:30'ish," Tess says. For the uninitiated, they share a love of electrified blues and have performed — and recorded — together for years as the married heart and soul of the Tess Barr Blues Band.
Some things never change. Others eventually do.
"He's got his shop space back," Tess says, surveying their new digs. "All that's in there now is a '67 El Torino. That's surreal."
A veteran Northwest reporter and editor, Stu Watson owns Watsonx2 Communications in Hood River.