Occidental Terroirist
"Bates Motel" Actor Makes Time for wine in Hometown
Known by many as Dylan Massett in the A&E drama-thriller series "Bates Motel," 27-year-old Max Thieriot made his acting debut in the 2004 adventure comedy "Catch That Kid." He has since appeared in "The Pacifier" (2005), "Nancy Drew" (2007), "Chloe" (2010), "House at the End of the Street" (2012), among others.
Born in Los Altos Hills, his family roots run deep in Northern California. In 1865, his great-great-grandfather, M. H. de Young, co-founded the San Francisco Chronicle with his brother, Charles de Young; other relatives, Charles and Richard Thieriot, were editors and publishers of the paper.
As well as being an actor, Max Thieriot's owns the wine brand Senses with childhood friends Christopher Strieter and Myles Lawrence-Briggs. The winery, based in Max's hometown of Occidental in the Sonoma Coast AVA, grows its own fruit at B.A. Vineyard, planted between 1989 and 1996 to Pinot Noir and Chardonnay and owned by Max's parents, Cameron and Bridgit Thieriot; and Hillcrest Vineyard, planted in 2005 to only Pinot and owned by Myles' parents, Carl Briggs and Lisa Lawrence. They also source grapes from Charles Heintz, Tanuda Ridge and Terra de Promissio vineyards. Senses is made by celebrated consulting winemaker Thomas Rivers Brown. In the third season of "Bates Motel," the main characters are drinking Senses during a family dinner scene.
Max is married to his teenage sweetheart, Lexi Murphy; together they have a baby boy named Beaux.
OWP: How did you first become interested in wine?
MT: Growing up on a vineyard is what sparked my interest in wines and the winemaking process. As I began to taste more wines from different regions, my appreciation and general excitement for wine grew.
OWP: What is your absolute favorite wine varietal? Why?
MT: Pinot Noir. The thing I really love about Pinot is how universal it is. Depending on the style in which it is made and the region it's from, Pinot can pair with almost any meal and it can also stand alone without food.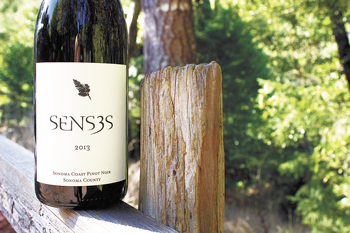 OWP: What is your opinion of Oregon Pinot? Any favorites?
MT: Being a huge Pinot fan, Oregon is definitely a place I am very excited by. Many of the wines coming out of Oregon are amazingly complex and interesting. Simply delicious. Domaine Drouhin, Domaine Serene, Bergström, Beaux Frères are some of my favorites.
OWP: What's your go-to cook-at-home dinner? Which wine pairs best?
MT: Roasted Chilean sea bass with a ginger miso glaze. Senses B.A. Thieriot Chardonnay pairs nicely with this flaky, buttery fish.
OWP: What is your winegrowing and/or winemaking philosophy at Senses?
MT: We are farmers first. It is our belief that making a great wine starts in the vineyard.
OWP: Your wine has appeared on "Bates Motel," on which you play Norman's brother, Dylan. Do you ever talk wine with cast members? Any wine enthusiasts on set?
MT: Yes, in between scenes there have been quite a few occasions where we have talked wine. Lots of people on set are curious about the winemaking and grapegrowing process. Vera, Freddie and Nestor are all wine enthusiasts. Our cast dinners are lots of fun, and we all try to bring different wines from different growing regions to taste through.
OWP: If you had to pick, would you rather live in Hollywood or wine country?
MT: Wine country. For me, that's an easy choice.