"O" Is for Orange
Coloring outside the lines with skin-contact Riesling
Care to start a heated wine debate? Merely mention "orange" wines. Detractors will jump quickly to describe them as faddish, flawed or, as one prominent sommelier suggested, inferior to a can of Tecaté. Yet, orange wines have existed for centuries in Italy, Slovenia and Georgia. Now there's a new orange wine right here in the Willamette Valley that, in my opinion, is capable of quieting even the harshest critics.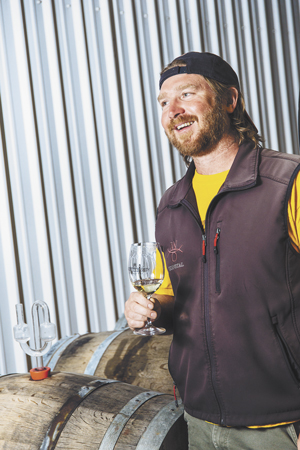 Simply named "O," the unusual wine is made by Bill Hooper of Paetra Wines, and it might just represent the first full-skin-contact-fermented Riesling in the Western Hemisphere.
Orange wines are often referred to as "whites made like reds," meaning white grapes are left in contact with their skins for days, weeks or months. This process typically results in wines with a darker color — not always orange — and increased levels of tannin. They can be made with any white grape, from Sauvignon Blanc and Pinot Gris to the more exotic Ribolla Gialla and Rkatsiteli.
Many orange-loving winemakers claim Riesling too delicate, fearing increased skin contact will sacrifice the grape's expressive qualities. Wine writer Simon Woolf would agree: "Riesling has such a distinctive character I find it hard to love if muted even by malolactic fermentation, let alone a great big whack of skin contact." Fortunately, Hooper is not among those reluctant producers.
He explained, "I wanted to use Riesling to make my orange wine precisely because it's not what I consider a neutral grape."
If this producer wants to turn Riesling à l'orange, we should pay attention because of his impeccable Riesling credentials. Currently he makes some of the finest examples in Oregon.
In 2010, Hooper began developing his Riesling résumé by leaving his native Minnesota to enroll in the winemaking program at the DLR-Neustadt in Germany. The school has operated for more than a century, yet Hooper is one of only two Americans to graduate, a feat made even more impressive by the fact that German is not his native tongue.
"They didn't accommodate me in any way," Hooper said. "Classes were taught in German, and nobody spoke English to me for three years. They even made me take their 'English as a second-language course'."
While studying, Hooper worked at nearby Weingut Odinstal, where he found the inspiration for producing an orange Riesling.

"Andreas Schuman, my mentor at Odinstal, decided to experiment with a skin-contact Sylvaner in amphorae," Hooper said. "It turned out so well, I began thinking about making a similar wine one day with Riesling. It also didn't escape my attention that Noma [a famed restaurant in Copenhagen] bought it all."
After three years in Germany, Hooper felt ready to make Riesling in America. Careful study indicated the Willamette Valley had the best climate and soils for Riesling, so he traveled here in the fall of 2013 to work harvest at Brooks Winery. A stint with a vineyard management company followed, after which Hooper released his first 400 cases of wine in 2014. Hooper's annual production is up to 1,200 cases now, and while his focus at Paetra is on dry Riesling, he also crafts small amounts of Pinot Noir and Pinot Blanc.
Then, there's his orange wine.
The 2015 Paetra "O" Riesling ($35) was made with fruit from Methven Family Vineyards in the Eola-Amity Hills. Hooper is responsible for tending the vines he uses there, relying on Biodynamic farming practices, permaculture and canopy management techniques he learned in Germany. One visually striking aspect of Hooper's farming is the impressive collection of cover crops he uses to improve the soil and suppress noxious weeds. Dozens of plants and herbs, from chicory to yarrow, fill the rows between the vines, reaching heights of five to six feet. When those plants bloom, it's quite a sight.
Hooper makes the "O" Riesling like he makes Pinot Noir, de-stemming all the grapes and placing them in a 1,000-liter stainless steel tank; after daily punch-downs, he seals it at night to minimize oxidization. "I want fresh flavors, not the kind of notes you can get with oxidization." The wine is fermented with native yeasts and remains on the skins for three weeks. The juice is then pressed off and left to sit in topped tanks, without oxygen or sulfur, on the gross lees — large grape debris such as seeds, skins and stems — for six months. Sulfur is added as needed before bottling.
I have participated in many orange debates through the years, and, invariably, the phrase "Just because you can, doesn't mean you should" surfaces. Yet, if you embrace that philosophy, you can miss out on a stellar wine like this one.
At first glance, its rich copper color conjures up images of wildfire
sunsets. At first sniff, the "O" is equally vivid. Scents of honeysuckle and German chamomile rise from the glass, followed by bursts of Golden Delicious apple and spicy orange pekoe. Mr. Woolf, if any expressive qualities were sacrificed here, I'm almost afraid to know what they were!
On the palate, "O" unleashed nostalgia in flavors of candied tangerines, wet slate and a touch of bitter grapefruit pith united to make me think for the first time in decades about Flintstone chewable vitamins. The acidity is modest, and bodacious tannins provide tea-like astringency, which makes this wine so baffling. Is it a white or a red? I can tell you with certainty it is dry with 13 percent alcohol and simply delicious. After that, you are on your own.
Hooper bottled only 66 cases of the "O" in 2015 — he skipped 2016 altogether because the vintage delivered high-acid fruit, which he feared would make a "screechy" orange wine. Will there be an "O" in 2017? Hooper smiled and replied, "You never know; it's still too early to tell. Let's just say interest is high!" As well it should be.
Michael Alberty is a writer based in the vibrant community of Tualatin. He has published in areas as diverse as international environmental politics, wine, coffee and major league baseball. He long ago abandoned academia to enjoy lengthy careers in natural foods, espresso and wine retail. Maintaining the abandonment theme, he recently closed his wine store to pursue full-time wine writing.