Now Showing
"Three Days of Glory" to screen in Portland
What is Burgundy?" Oregon importer Scott Wright and filmmaker David Baker pose this question in their forthcoming movie, "Three Days of Glory," which premiered in Beaune Nov. 19, 2017, to an invitation-only audience of Burgundy's elite at Les Ateliers du Cinéma.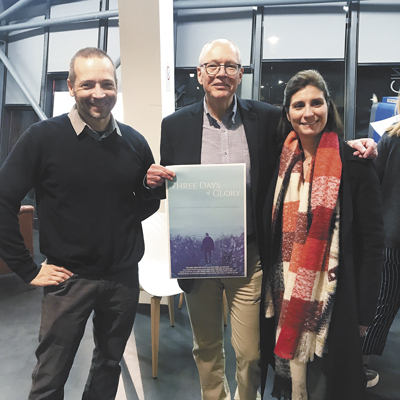 For those who missed the premiere a world away in France, the movie will show its debut screening at Cinema 21 in Portland, May 17.
The film title pays homage to Les Trois Glorieuses, Burgundy's annual three-day post-harvest celebration centered on the prestigious Hospices de Beaune wine auction. Not coincidentally, the "Three Days of Glory" premier dovetailed with the 157th Hospices de Beaune auction.
The documentary opens with opulent aerial shots of the Cote d'Or, Clos de Vougeot and Domaine de la Romanée-Conti before unfurling into an epic saga about heroic, small-family producers and their quest to survive the 2016 harvest, a ruthless triple-punch of brutal frost, destructive hail and noxious mildew.
In unflinching detail, the camera captures the indomitable spirit of these vignerons grappling with what they call "a difficult season." Intimate interviews pivot around Thiébault Huber of Domaine Huber-Verdereau in Volnay; Patrick Essa of Domaine Buisson-Charles in Meursault; Thierry & Joannès Violot-Guillemard of Domaine Thierry Violot-Guillemard in Pommard; Caroline Parent-Gros of Domaine A.F. Gros in Beaune; Fabio Montrasi of Château des Rontets in Fuissé; and chef Jean-Michel Lorain of La Côte Saint-Jacques in Joigny. Many of them lost more than 70 percent of their fruit in 2016.
Admits Wright, "Getting honest, candid reports on the depth and impact of the economic difficulties the winemakers are facing … It just blew us away while filming them."
Deft cameos by Burgundy luminaries provide a broader perspective, and include Aubert de Villaine of Domaine de la Romanée-Conti in Vosne-Romanée; Dominique Lafon of Domaine of Comtes Lafon in Meursault; Véronique Drouhin of Maison Joseph Drouhin in Beaune; and Allen Meadows of Burghound.com. Additionally, appearances by industry professionals Mike Stephens of VinsDivins in Beaune and Christine Monamy of BIVB (Bureau Interprofessionnel des Vins de Bourgogne) supply an analytical counterbalance.
"I'm so happy that the Burgundians who attended the sneak preview [in Beaune] responded so positively," Wright said. "I confess to having had my stomach in knots before the first screening, thinking to myself, 'What am I doing here, an American guy, trying to show these Burgundians what Burgundy is all about? What was I thinking!?' When the vignerons exited the screening, two were in tears, telling me how moved and touched they were that we had captured the reality of it all, had shown the truth."
For Wright and Baker, perhaps the greatest challenge proved editing 25 hours of footage into an hour-and-15-minute movie.
"People should see this film to get a look at, and a feel for, the real Burgundy," urged Wright, "The Burgundy that outsiders rarely get to see, the non-sexy, non-glamorous life of the vignerons, and the incredible spirit that brings them all together. It may be unique in all the world of wine."